Parking at SeaTac Airport
Seattle–Tacoma International Airport is one of the top 10 busiest airports in the United States! Our Sea-Tac parking guide can help you save both time and money by providing all the SEA parking information on the most affordable offers. Keep reading to discover parking options, rates, maps, reviews, and discover links to other useful sites.
UPDATES COVID-19: Please call any parking structure or lot before parking to confirm if the airport shuttle service is operating.
We also advise you to compare Seattle Airport parking prices and read customer reviews! Our users review their experience after they park at the airport. We offer their feedback to our new customers to help them decide on a Sea-Tac parking lot.
Top Tips for Finding Cheap Seattle Airport Parking in 2022
Be sure to pre-book parking and reduce your expenses with our great parking package! If you reserve at least two weeks before departure, you'll get a lower price. The best Seatac coupon parking promo code in 2022 is a Web coupon from MasterPark, which offers 7 days of parking at the rate of $69.95.
Searching for cheap parking at Seattle-Tacoma Airport with a free shuttle service to the terminals? The airport offers the most convenient Terminal Direct Parking for $42/day and General Parking for $34/day, while off-site parking services include lots like Sea-Tac FastTrack Airport Parking, which is available for only $4 per day.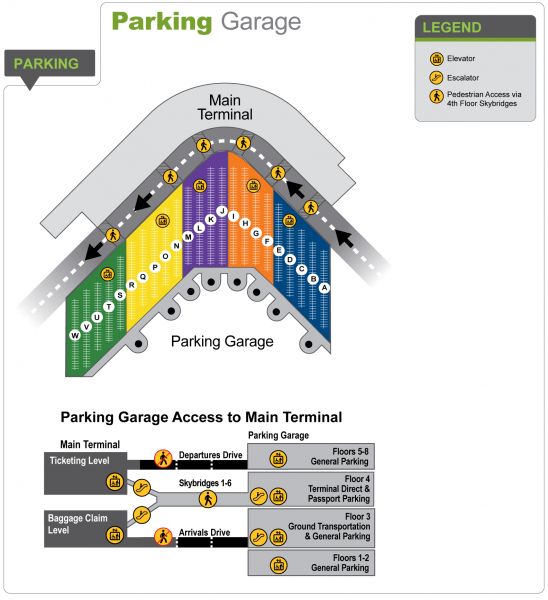 As one of the USA's busiest airports, SEA serves millions of passengers every year. So, due to such a high number of travelers and limited on-site offers, it's difficult to find a cheap and convenient parking space. For this reason, booking in advance with a trusted source like parkingaccess.com is a must.
We provide many car parking options at and near Sea-Tac and thus allow you to find a reasonably-priced spot for both short and extended stays. The off-site parking lots include Seattle Airport shuttle services before and after your trip.
Other trusted sources you may wan to look into CheapAirportParking, AirportParkingReservations and Way.
Compare the On-Airport Parking Fees at Seattle Airport
Please note: Prices are subject to change. Availability upon demand and not guaranteed.
Short-Term Parking Rates
General Parking: $6 per hour or $34 per day;
Terminal Direct: $7 per hour or $42 per day.
Passengers using the General Parking option for longer than 7 days pay the $169 maximum weekly rate. So, if you stay for a week, your SEA parking cost will be $24.15/day.
The official Seattle Airport parking services are very convenient and close to the terminal, but they are quite expensive, especially for extended stays. So, we suggest that you keep scrolling down and discover more affordable options nearby.
Electric vehicle charging stations at SEA are on the 5th floor of the General Parking Garage and floor 4 of Terminal Parking.
Live flight departure updates - Get flight updates and status information for Seattle-Tacoma Airport arrivals and departures.
How to make a long-term parking reservation?
Enter the drop-off/pick-up date and time into the search form above to uncover the latest Seattle Airport long-term parking deals. See all the options and rates before you opt for the one that meets your requirements. After booking a spot, you'll receive a booking confirmation email with turn-by-turn directions to the parking lot.
Tip: After leaving your car, use your phone to take a picture and remember the exact location of your Seattle Airport parking spot.
The most convenient: On-site Sea-Tac parking is your go-to choice if you value convenience. You may choose between uncovered and covered parking spaces, and all of them are a short walk from the airport terminal building. The daily rate is $34 (General Parking) or $42 (Terminal Direct).
The cheapest: Sea-Tac FastTrack Airport Parking offers parking spots for as low as $4 per day. The weekly rate is $28 (plus taxes & fees), which is cheaper than a daily rate at SEA!
What are the off-airport parking companies at Seattle Airport? Many off-site parking facilities are available near Sea-Tac. We're going to list a few of them, as well as the rates, while the entire list is available at the top of this page.