Last Updated on April 23, 2022 by Snezana Grcak
The town of Nahant is a pleasant 30-minute drive away from Downtown Boston and offers a beautiful coastal reservation. Operated by the Massachusetts Department of Conservation and Recreation, Nahant Beach Reservation covers 67 acres and is an excellent place for relaxation. The beach is open year-round from sunrise to sunset, and Parking Access will help you find a safe parking space near the shore. Keep reading to learn the nitty-gritty of Nahant Beach parking, including the locations, daily fees, and winter parking regulations. You'll also learn how to avoid driving and use public transit to get to this charming town.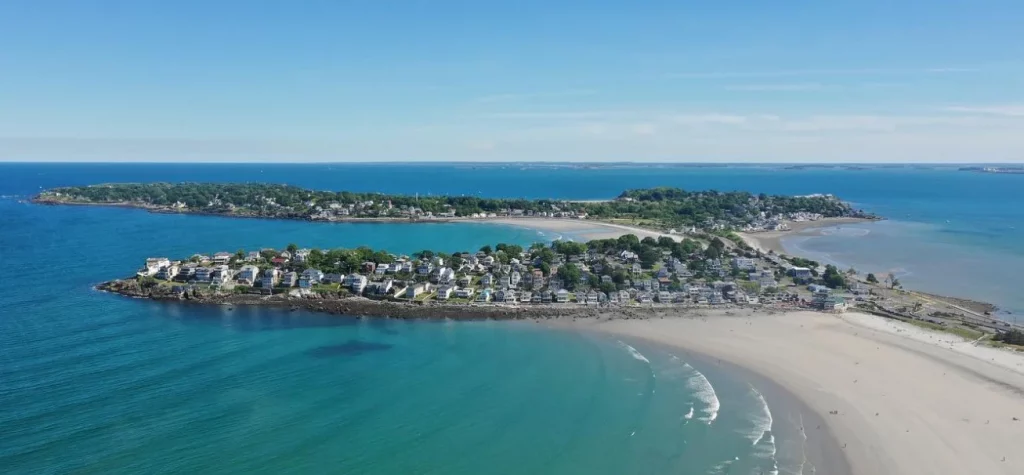 Where To Find Nahant Beach Parking
Searching for parking in Nahant can be frustrating since most areas and lots require a resident parking sticker. For this reason, many tourists find this small town unwelcoming. If you live in or plan to move to Nahant, visit City Hall Systems to get yourself a Nahant Beach sticker.
Visitors who want to park close to the beach should use the wide public parking lot along the Nahant Causeway. It stretches for over a mile—from the entrance to Nahant Beach Reservation to the Ward Bathhouse near the Nahant rotary. So, it's suitable for those headed to Long Beach, too. 
If you'd like to check out Lynn Beach or King's Beach, look for street parking along Lynn Shore Drive. Click here to see the full map of Nahant Beach & Lynn Shore Reservation.
How Much Is Parking at Nahant Beach?
The Nahant Beach parking fee applies between 8 AM and 6 PM from mid-May to the end of October. MA residents pay $10 per day, while the car parking cost for non-MA residents is as high as $40. The annual parking pass for Massachusetts residents is $60.
If you arrive before 8 AM, park your vehicle and enjoy the sun, but come back to the kiosk at 8 AM to purchase a Nahant Beach parking pass. Rates are subject to change, so be sure to check the posted sign before entering the lot.
ADA Parking Availability
Accessible parking for Nahant Beach visitors with disabilities is available near beach entrances and other entry points. There are several van-accessible stalls as well. The number of these spots is extremely limited, so early arrival is a must during the summer months. Standard parking rates apply, and a disabled parking permit is required.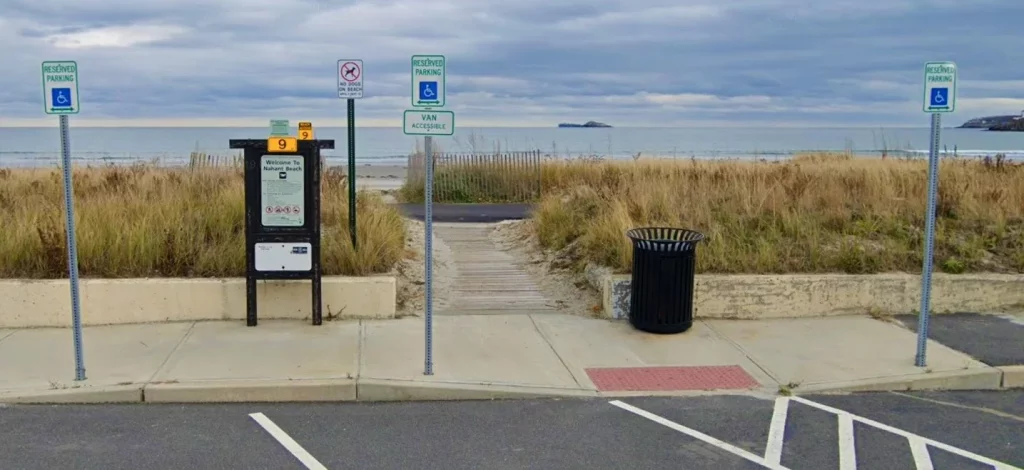 Free Winter Parking in Nahant
During winter, Nahant Beach parking is free but slightly more limited. A winter parking ban is in effect between 12 AM and 6 AM from December 21st to March 20th. If you leave your vehicle on the street overnight during this period, it will be subject to tickets and towing. However, residents may apply for the winter parking sticker and get permission to park overnight despite the ban.
If you just want to spend a few hours enjoying the beach, leave your car in the parking area along Nahant Rd. It's significantly easier to find convenient parking during the winter months, and you'll be able to park free of charge.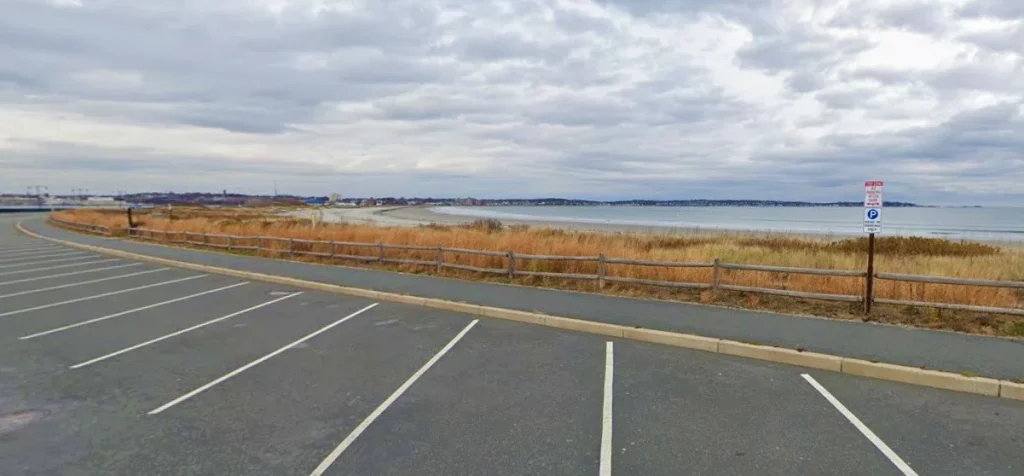 Taking Public Transit to Nahant Beach 
Whether you're coming from Boston or flying into Logan International Airport, the best way to get to Nahant Bay is by taking the following steps:
Take MBTA's Blue Line to Wonderland Station in Revere.
Hop on the MBTA bus #439 towards Nahant.
Get off the bus at the Castle Rd @ Ward Rd bus stop.
Our Revere Beach Parking guide has additional info on how to reach Revere—check it out to find all bus lines that serve Wonderland Station. Once you get there, the #439 bus will take you to Nahant in approximately 20 minutes. You should also consider visiting Revere and checking out all the local beaches. 
Those who search for a quicker airport transfer to Nahant should pre-book a Boston Airport Shuttle.
Find Parking in the Greater Boston Area Easily!
In addition to the Nahant Beach parking guide, our team has covered other popular beaches north of Boston—learn more about Revere Beach Parking or Salisbury Beach Parking, and plan your visit down to the smallest detail! We'll also help you find convenient and affordable spots at the following locations in Greater Boston.
Flying out of BOS and looking for discounted parking? Look into our Boston Airport Parking guide to compare, find, and book a spot in a few clicks! We offer all the info about on-site parking fees, private parking lots with airport shuttles, and hotel deals.