Last Updated on November 7, 2022 by Usama
Downtown Boston, Massachusetts, offers the oldest city park in the country—the Boston Common. It's next to the Boston Public Garden, and both are free and open year-round to the general public. If you're planning a visit, Parking Access will help you get there and find convenient parking. You'll discover the Boston Common parking options, daily fees, street parking information, and how to reach the park using public transit. Use all the info and our top tips to have a hassle-free day!
All About the Boston Common Parking Garage
The Boston Common garage parking facility is situated at 0 Charles Street, underneath the park, and it provides 1,350 car parking spots. The spacious garage is also an excellent option for those headed to the State House, Back Bay, Downtown Crossing, etc. It offers short-term and long-term parking services and allows online reservations. Keep reading to discover the standard and discounted parking fees, or call 617-954-2098 for more info.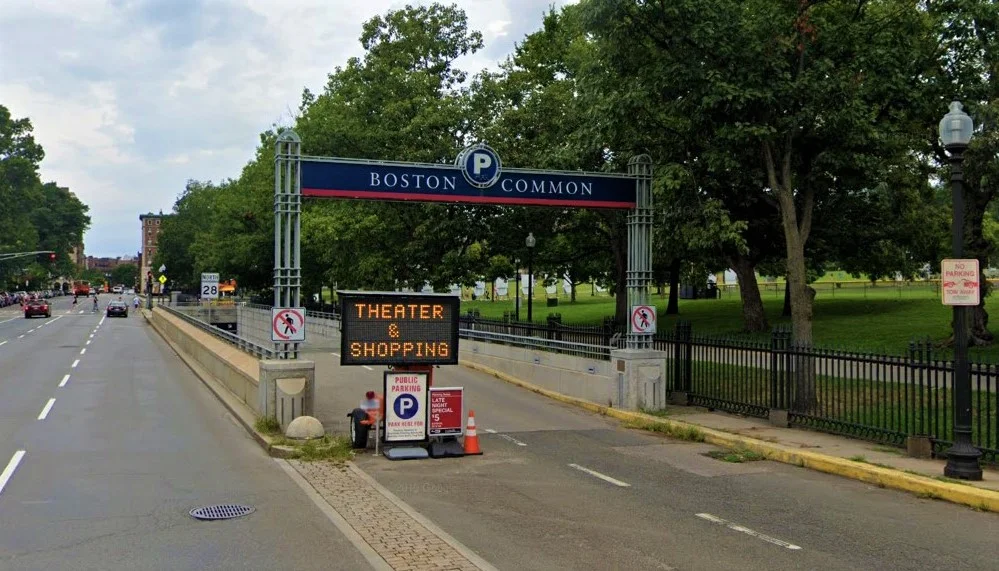 How Much Is Parking at the Boston Common Garage?
Here are the Boston Common parking garage rates that apply on weekdays from 6 AM to 4 PM:
| | |
| --- | --- |
| Duration | Parking Fee |
| Up to 1 hour | $12 |
| 1–2 hours | $18 |
| 2–3 hours | $24 |
| 3–10 hours | $28 |
| Up to 24 hours | $32 |
In addition to standard daily parking prices, the garage offers safe monthly parking. The cost for a non-reserved monthly spot is $400 per month. There's also a special monthly rate of $150 for parking between 4 PM and 10 AM on weekdays and all-day parking on weekends.
How To Save Money: Garage Special Deals & Groupons
The garage offers discounted prices on evenings, weekends, and holidays, and for online bookings. 
A weekday late-night special rate of $5

applies for those who pre-book a spot between 9 PM and 8 AM Monday through Friday.

On weekday evenings, weekends, and holidays

, the daily parking price is $14 or $18 if you stay the night. If you book an overnight parking space online, you'll pay only

$16.
A discounted daily rate of $18

is available for medical personnel, students, staff, and guests of nearby hotels.
Another way to reduce the expenses is to take advantage of a Boston Common parking coupon or Groupon. Click here to see Groupon's Boston Common Parking Deals obtainable for as low as $10. 
Additional Parking Near Boston Common
Finding an alternative public parking garage near the Boston Common is easy, but scoring a more affordable deal is tough. Our team looked into the short-term parking rates in the area, and here are the best nearby garages that allow online reservations:
Ritz Carlton Garage

at 47 Boylston Street charges $19 for 3-hour parking on a weekday afternoon. The walk to the park takes approximately one minute.

Clarendon Garage

at 400 Stuart Street provides valet parking a 10-minute walk away from the Boston Commons. The cost for 3 hours is $19.

AVA Theatre District Garage

at 45 Stuart Street is just a couple of minutes from the park and charges $20 for valet service.
The best way to cut your costs is by booking a personal parking spot through SpotHero. Alternatively, you can circle the area and try to find a more convenient option or cheaper drive-up rate.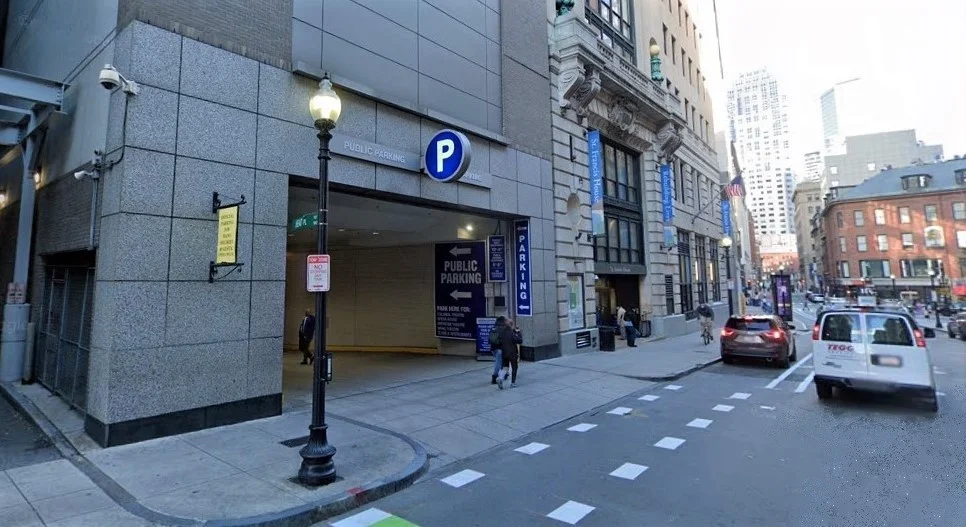 Street Parking Around Boston Common
Free parking near the Boston Common is available on the streets on Sundays and holidays if you're lucky enough to find a vacant spot. On other days, Boston parking meters are in effect from Monday to Saturday between 8 AM and 8 PM. The time limit in this area is usually two hours, so be sure to comply with the regulations and avoid pricey Boston parking tickets. Metered parking rates vary according to location.
Taking Public Transit to the Common
Boston's public transportation system is excellent and offers several convenient ways to get to the Boston Common. The most popular MBTA transfer is the T or subway, but you can also take several bus and commuter rail lines.
Park Street Station is located on the park's northeast corner and is served by the T's Red Line and light rail lines B, C, D, and E. Boylston Station is on the south side of the park; you can reach it via rail lines B, C, D, and E or the following buses: 15, 39, 43, 57, and SL5. Most of these bus lines also serve a couple of other bus stations on the streets around the park. 
Here are the MBTA fares:
The one-way subway fare is $2.40

.

The local bus fare is $1.70

.

Commuter rail fares range from $2.40 to $13.25

.
Other Helpful Boston Parking Guides
Parking Access has covered countless locations and points of interest across the country, including airports, venues, museums, parks, etc. In addition to the Boston Common parking guide, the residents and visitors of Greater Boston can use our help to learn more about the following.
We can also assist you in finding visitor parking at or near the most popular beaches north of Boston, including:
Also, if you plan on flying out of BOS and searching for a cheap spot near your terminal, look into our Boston Airport guide to find and book parking in no time!