Last Updated on October 14, 2022 by Usama
This post also contains affiliate links and we will be compensated if you make a purchase after clicking on our links.
The Xfinity Center has been hosting a variety of exciting events in Mansfield, Massachusetts, for years! Formerly known as the Comcast Center and commonly as Great Woods Center, the outdoor venue can accommodate nearly 20,000 visitors! Aside from the high seating capacity, the Xfinity Center also provides plenty of event parking spaces. The Parking Access team will take you through all the Xfinity Center parking options and provide some hot tips. Discover where to find free parking and how to avoid waiting in long lines after the show!
All About the Xfinity Center Parking Lots
The Xfinity Center provides over a dozen surface lots with ample parking spots for visitors who purchase show tickets. You can choose from the following options.
General Parking
VIP Parking
Premier Parking
General lots offer free parking. If you want to take advantage of Premier or VIP Parking, the Xfinity Center requires you to upgrade your ticket—this means an additional charge. Red Lot, White Lot, and Blue Lot guests enjoy the quickest exit time due to preferred exits. See the locations of all lots in the following Xfinity Center Parking map.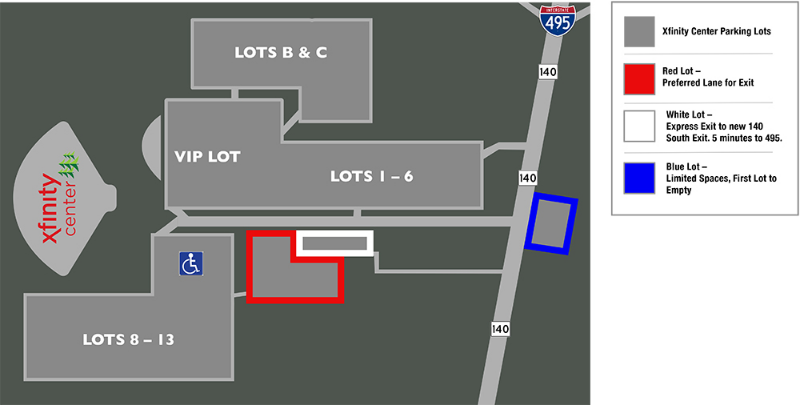 How Much Is VIP Parking at the Xfinity Center, Mansfield?
The Xfinity Center VIP parking service provides the ultimate convenience—it gets you right out through a designated VIP traffic lane. Each visitor must purchase the Xfinity Center Parking pass in advance or on-site, and we recommend doing that ahead of time through platforms like Vivid Seats.
Although a VIP parking pass is usually as low as $50, you can get one at a lower price if you reserve parking on Vivid Seats. Prices vary based on the event and time of the purchase, but we found a VIP spot for only $30!

Oversized Vehicle & Bus Parking
The venue has a designated lot for oversized vehicles and buses. Buses can either stay in the Xfinity Center Mansfield parking area or leave and then return by 9 PM to pick up guests. The security staff always assists in boarding to ensure that there is no underage drinking. Parking availability varies according to the event; look for a specific event to purchase a bus parking pass in advance.
Accessible Parking
Convenient parking for guests with disabilities is available for any guest who presents a valid disabled parking permit or placard. When you arrive, show the staff your placard, and they'll direct you to an ADA lot near the main ticket gates. Note that accessible parking at the Xfinity Center is free and limited, so arrive as early as possible. All bathrooms and stands within the venue are accessible, too.
Helpful Parking Tips on Saving Time & Money
Our team did extensive research into the Xfinity Center parking options and put together several top tips to help you reduce the costs and traveling time.

If you're able and willing to

pay extra for VIP or Premier Parking

, we highly recommend you do that. It's pricey but worth every penny since it gets pretty crowded in other lots.

If you opt for a standard parking lot without Express Exit,

arrive early and park as close to the exit as possible

. Otherwise, you may get stuck in a long queue for hours.

The best thing you can do when you park in a general lot is to

leave early

. It's not fun to miss the end, but you'll save yourself at least 45 minutes of sitting in your vehicle.

When it comes to parking near the Xfinity Center, you might come across a few nearby options, but

don't leave your car in an unattended area

. Either find a lot not associated with the venue or check if neighbors sell their lawn parking.

If you want to avoid parking altogether,

grab a cab or arrange Uber or Lyft

. These transportation services usually drop off in Lot 3.
Tailgating at the Xfinity Center
If you and your friends plan to tailgate, you can park in the Xfinity Center parking lots; tailgating is available for all ticket holders. As long as you are respectful to other guests and the environment, you'll have a blast! While public intoxication is prohibited, you may purchase alcohol within the Xfinity Center.
Tailgating activities must end at least half an hour prior to the scheduled game. Before heading home, please clean up your parking area; reach out to any crew member if you need trash bags. If you'd like to spend extra time with your group, head to one of Mansfield's pubs—Flynn's Irish Pub and Jimmy's Pub & Restaurant are a short drive away.
Find Parking Easily Wherever You Go!
Aside from the Xfinity Center parking guide, Parking Access covers countless venues, airports, and other popular locations across the country! Whether you live in or plan to visit the Greater Boston area, we'll help you find short-term parking near major venues and city attractions. Check out the following guides for more information.
If you plan on flying out of Boston, check out our Boston Logan Airport Parking guide and book a spot in no time! It contains on-site parking availability, off-site lots with BOS shuttles, nearby hotels, and more!