This post also contains affiliate links and we will be compensated if you make a purchase after clicking on our links.
Find and Book TD Garden Parking Deals!
Going to an important game or big event at TD Garden? Discover the most convenient parking options before the game day! This way, you will not spend a fortune on Boston public parking garages or waste precious time in search of a good spot. The TD Garden Parking Guide offers directions to the arena, short-term parking rates, off-site parking availability, and a few money-saving tips!
TD Garden
Commonly known as the Garden, TD Garden is a multi-purpose arena situated within a mile of the Boston city center. It's also 4 miles away from Boston Logan International Airport. The Garden is the home of the Boston Bruins and the Boston Celtics, so hockey and basketball are mostly played here. The arena has also been hosting concerts, family shows, ice shows, and other TD Garden events. 
Its address is 100 Legends Way, Boston, MA 02114, and the drivers should use the driving directions to TD Garden if going there for the first time. Public transit is the most convenient and affordable way to get there; see the final section to find out how to reach the Garden from North or South Station. If you prefer to stay behind the wheel, see below for information on TD Garden event parking availability, car parking prices, and more!
TD Garden Parking
The North Station Garage is the official TD Garden parking facility. It provides many covered parking spaces directly underneath the Garden. For directions to the garage, navigate to 121 Nashua Street, Boston, MA 02114 or 140 Causeway Street, Boston, MA 02114. Electric vehicle drivers will be happy to hear that this TD Garden garage parking is equipped with several electric vehicles charging stations. EV charging stations are on levels 1 and 3. >>Reserve on Vivid Seats
The Garden parking garage has a flat event rate of $54 for visitors who enter the facility 3 hours before the game. This parking rate is valid for 8 hours. After that, $5 will be charged per additional hour. AAA members are entitled to a special TD Garden Parking AAA discount. The arena suggests using Ticketmaster for pre-purchasing Celtics or Bruins parking passes.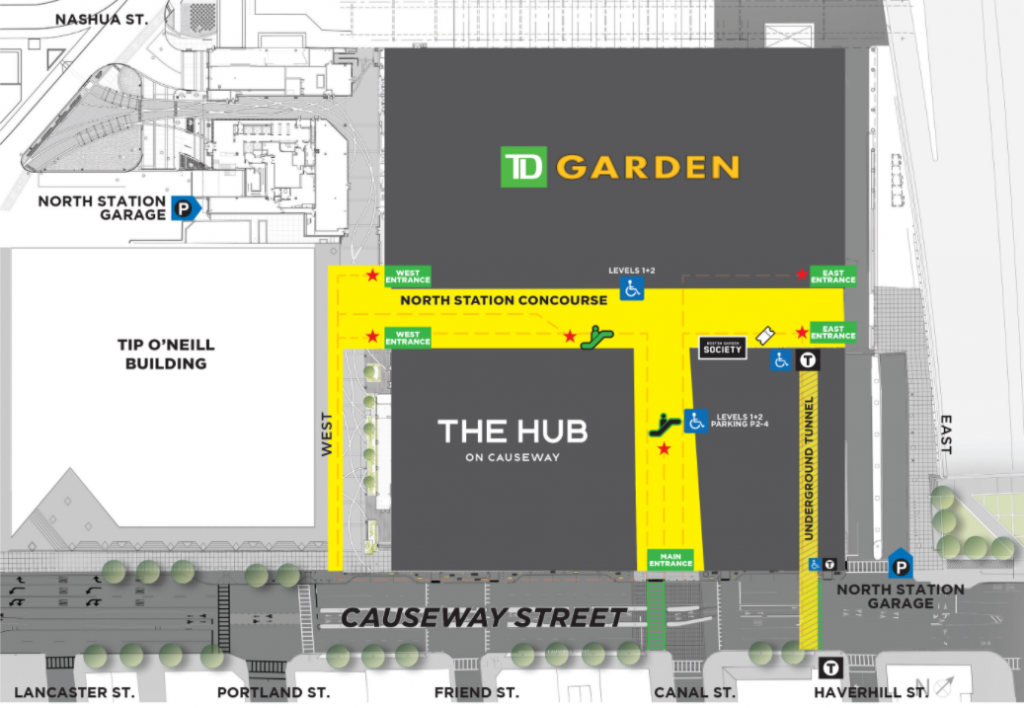 Accessible Parking
ADA parking is available in the official garage on Causeway/Nashua Street, as well as many other visitor parking lots near the Garden. To use the TD Garden handicapped parking, a visitor has to own a disabled parking permit or license plate. Standard parking rates apply for all TD Garden events. Passengers driving oversized vehicles should know that the height restriction in the garage is is 6'8″. 
Non-Event North Station Garage Parking Rates
It is open from 5 AM to 1 AM, and the daily parking rates vary. First, let's introduce you to the non-event hourly parking rates:
| | |
| --- | --- |
| Duration | General Parking Rate |
| Up to 30 minutes | $8 |
| Up to 1 hour | $15 |
| 1-2 hours | $22 |
| 2-3 hours | $26 |
| Maximum until 6 PM | $30 |
| Maximum daily rate | $75 |
The flat non-event rate for visitors entering after 6 PM is $20. There's also an Early Bird Special—if you enter by 9 AM and exit by 6 PM, your parking fee will be $26.
Bruins Parking Near TD Garden
To avoid spending a fortune on official parking spaces, you can park your car in one of the numerous car parking garages and parking lots near the arena. To find the cheapest nearby parking spots, you might have to go farther away from the Garden, which means that the walk to the arena could take up to 15 minutes.
However, considering the difference in prices, these off-site parking areas are worth taking a short walk since they can save you up to $42. Here are the best public parking options in downtown Boston Massachusetts:
| | | |
| --- | --- | --- |
| City Parking Structure | Event Rate | Distance |
| Alcott Garage | $50 | 3 minutes |
| 60 Staniford St. Garage Parking | $45 | 4 minutes |
| Government Center Garage | $30 | 8 minutes |
| 41 Stillman St. Lot | $25 | 7 minutes |
| Dock Square Garage | $15 | 15 minutes |
| 4 Emerson Place Garage | $15 | 9 minutes |
| Center Plaza Garage | $13 | 12 minutes |
| 112 Congress Street Garage | $9 | 17 minutes |
If you choose to park on a street, be careful and read the signs thoroughly to avoid Boston parking tickets!
Tailgating at TD Garden
Even though tailgating is prohibited at TD Garden parking facilities, you still have an array of bars and dining options available at the arena and nearby. We suggest that you visit one of the following lounges and bars in the area and have some fun on the game night:
Transportation to the Garden
Since it is located above the MBTA's North Station, visitors can use public transportation services like Amtrak or MBTA train to TD Garden and quickly reach the arena. The North Station is a one-minute walk away from the event venue. If coming from the South Station, take the Red Line to the Park Street stop and then the Green Line to the North Station stop. Then, enter the Garden at the East or West entrance. Using public transit is the easiest way of traveling — it saves your money, and you don't have to worry about finding a convenient parking space on a busy game day. If you need a cheap ride from Logan Airport, reserve a shuttle from BOS in no time!
Additional Boston Parking Guides
While in Boston, don't hesitate to do some sightseeing and check out the Boston attractions. Some of them are the USS Constitution, the Museum of Science, Long Wharf, the Quincy Market, and the Institute of Contemporary Art. In addition to TD Garden parking, we cover many other popular city locations, including:
Thanks to Parking Access, it's easy to find and reserve the best overnight parking at airports and cruise terminals, as well as off-street parking lots near ballparks. Try us out whenever you need short or long-term parking information and see how simple it is to find parking spaces at the lowest prices!