Last Updated on July 12, 2022 by atta
Hard Rock Stadium Parking
Whenever you need a convenient but discounted parking spot, simply look for it on Parking Access, and find a reserved parking garage in Miami Gardens within minutes. Stop circling around the stadium in search of safe event parking – we provide all public parking options at and near Hard Rock Stadium.
Reserve Parking Ahead of Time with Vivid Seats

Whether you are going to check out a football game or your favorite artist's concert, make an advanced reservation and enjoy the event without worrying about your car. This Hard Rock Stadium Parking Guide has all the car parking information; discover driving directions, the Hard Rock Stadium map, pre-paid parking passes for all events, and Hard Rock Stadium.
Rolling Loud Upcoming Events
Hard Rock Stadium
As a multi-purpose venue, Hard Rock Stadium hosts the NFL's Miami Dolphins, the Miami Hurricanes football team, the Orange Bowl, Miami Open, Super Bowls, and other events. The seating capacity of the stadium is over 65,000 for all football games.
So far, six Super Bowls have been held in the stadium, and Super Bowl LIV was in February 2020. This was the 50th National Football League championship and the sixth Super Bowl in Miami Gardens. It was broadcasted by Fox, and Jennifer Lopez and Shakira headlined the halftime show. This Super Bowl was the eleventh one played in South Florida.
HardRock Stadium is situated at 347 Don Shula Drive in Miami Gardens, about 1.5 miles from the city center. The public bus lines that stop near the stadium are 99 and 297, while taxis pick up at Gate 4. If you want to drive, check out our guide and book car park spots in advance. Even though countless parking spaces are available around the stadium, advanced reservations and parking passes will allow you to save a lot of time and get a quick self-parking service. 
Hard Rock Stadium Parking
Parking at Hard Rock Stadium is well-arranged and provides a lot of space. As you can see on our Hard Rock Stadium parking map, they divided short-term parking structures into the following groups: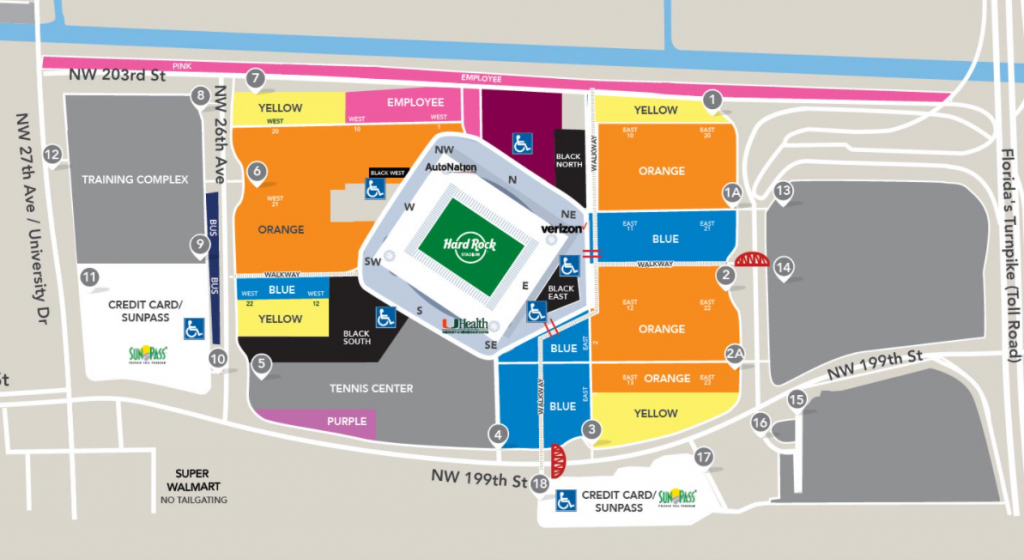 Black North/South
Purple Parking
Credit Card/SunPass
RV Parking
People coming to see a Miami Dolphins game should know that the best way to get an affordable spot is by signing up for SunPass. Note that you can park your vehicle wherever you want with a blue or orange parking pass. This pass will save you at least $15. Therefore, the Miami Dolphins parking rates are as follows:
Pre-Paid Parking Pass – $25;
On the Game Day with SunPass – $35;
On the Game Day Cash Parking – $50;
Passengers driving oversized vehicles can expect to pay about $80.
If you are searching for a visitor parking area for the Super Bowl, note that the hourly parking fees are likely to increase for such events. 
Free parking is available in Lots 19 and 20, as well as Calder and Norwood parking lots. To get these additional off-street parking spots, you have to reserve them in advance using the Hard Rock Stadium website. These campus parking facilities are at least 13 minutes away from the stadium, so take that into consideration when planning your day.
Hard Rock Stadium Express Shuttle runs to and from the Yellow lot 14, and the shuttle bus ride costs $10 per person. Apart from shuttle service, you can grab a taxi at the same location, as well as near Gate 4, while the rideshare pick-up spot is at Norwood Elementary School.
Rolling Loud Miami Parking
Rolling Loud Miami is the largest Hip-Hop music festival in the world. With headliners including Kanye West, Future, and Kendrick Lamar, Rolling Loud will attract over 100,000 attendees from all over the world. Rolling Loud Miami will be held at the Hard Rock Stadium for the second year in a row.
The stadium parking lots will be used for the stages so parking for this festival will be a bit tricky. Both the Hard Rock Stadium and a Walmart across the street will be offering day-of parking at their lots on a first come first serve basis and Rolling Loud will be offering limited shuttle services for people starting at $50 per day.
If you don't want to wait till the last minute to get your first come first serve parking or think the shuttle service is too pricey, you can also pre-reserve guaranteed parking and cut your costs by reserving a short-term parking space owned by a private individual or business right next to the Hard Rock Stadium.
These spots are usually in a driveway or an unpaved lot within a short walking distance of the venue. Click here for additional pricing, availability, and restrictions.
Accessible parking
It's available on a first-come, first-served basis for visitors with a valid disabled parking permit, placard, or license plate. These spots are situated in the inner and outer parking lots, but you must have an inner lot pass to park there. If you have a yellow pass or cash stub, you must park in a handicapped parking space in the outer lot. Standard parking rates apply for all events.
Visitors driving electric vehicles that might need EV charging stations should check out the map and find electric vehicle charging stations in Miami Gardens.
Tailgating at Hard Rock Stadium Parking
As an amazing part of a game-day experience, tailgating is a very popular activity among football fans. Luckily, it's permitted in almost every Hard Rock Stadium parking facility, and you have a lot of options. Since each parking structure opens 4 hours before kick-off, you should arrive as early as you can and take part in the festivities. We recommend getting to the lot during the first hour in order to find the most convenient parking spot.
If you plan on tailgating with your friends, you must know a few things:
one parking space is permitted per vehicle;
you have to tailgate directly behind your vehicle within the designated space;
you cannot use beer kegs on stadium grounds;
open fires are not allowed;
do not drink too much – visibly intoxicated visitors might be removed from the lots.
Note: Due to the Covid pandemic, tailgating hasn't been allowed since 2020.
In addition to Hard Rock Stadium parking garages and event lots, ParkingAccess.com can get you overnight parking at all the top airports and valet parking availability at cruise terminals. So, check us out whenever you need short or long-term parking services and book the best daily parking deal!
All Rights Reserved.