This post also contains affiliate links and we will be compensated if you make a purchase after clicking on our links.
Located in Miami Gardens, this multi-purpose venue has been hosting a variety of sports games and events, including the Orange Bowl, Miami Open, and six Super Bowls. It's also home to the NFL Miami Dolphins and Miami Hurricanes football teams. If you want to drive to the stadium, we highly recommend getting your Hard Rock Stadium parking ticket in advance. Our amazing guide will provide all the info you need, such as driving directions, car parking structures, locations of ADA spots, and public transit as a top alternative. Discover how to compare on-site and remote parking options and find the best deal in no time.
Getting to the Stadium
HardRock Stadium is situated about 1.5 miles from the city center, at 347 Don Shula Dr, Miami Gardens, FL 33056. Use the link for directions, or take advantage of public transportation. Bus lines 99 and 297 stop near the stadium, while taxis pick up at Gate 4.
If you want to drive, book car park spots in advance. Even though countless parking spaces are available around the stadium, advanced reservations and parking passes will allow you to save a lot of time and get a quick self-parking service. 
Hard Rock Stadium Parking
Parking at Hard Rock Stadium is well-arranged, with lots of spots for visitors. As you can see on our Hard Rock Stadium parking map, they divided short-term parking structures into multiple groups.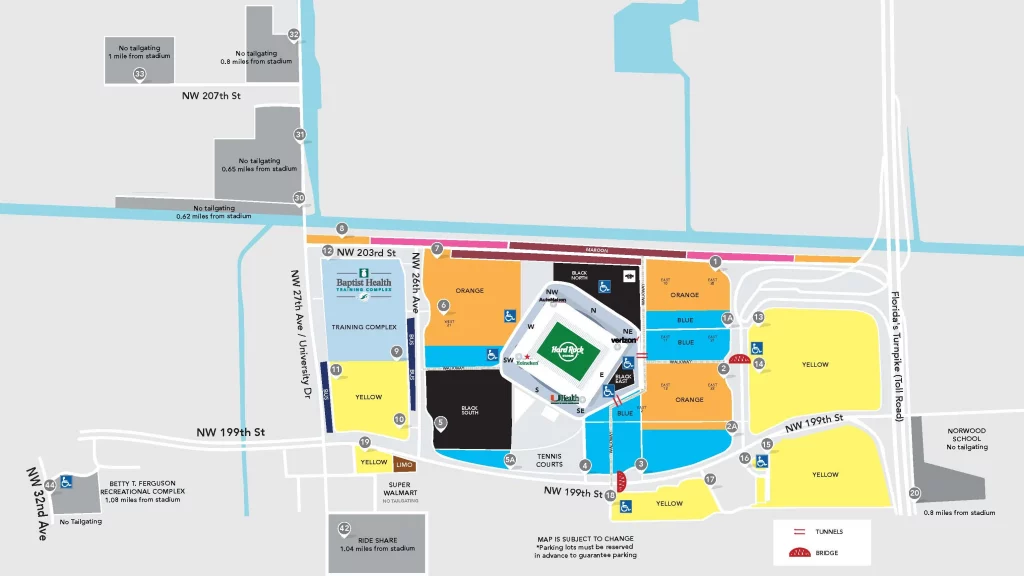 Black North/South
Purple Parking
Credit Card/SunPass
RV Parking
People coming to see a football game should know that they may not be able to park on-site if they don't purchase Miami Dolphins parking ahead of time. For most events, the standard Hard Rock Stadium parking pass is $25, while those driving oversized vehicles can expect to pay around $80. Fees are likely to increase for events like the Super Bowl.
The best way to get the most suitable deal is to reserve parking through Vivid Seats.

Accessible Parking Availability
ADA spaces are available for visitors with a valid disabled parking permit or license plate who purchase "Inner Lot ADA Reserved" parking passes in advance. Visitors who have passes for Yellow or Grey Lot must park in an ADA parking spot in their designated lot. Note that these stalls are obtainable on a first-come, first-served basis, so early arrivals are highly recommended. Accessible shuttles are also available on demand.
Rolling Loud Miami
Hard Rock Stadium also hosts the largest hip-hop festival that attracts over 100,000 attendees from all over the world. Due to high attendance, event parking can be challenging, but our team will help you out. Click here to learn all about Rolling Loud Miami tickets, parking, and other valuable info.
Additional Options in the Area
Sunpass discounts aren't a thing anymore for Dolphins games, so the Parking Access team did a little digging to provide a few low-cost alternatives. Here are some helpful tips:
There's usually a guy at the nearby Sonic drive-in selling parking for about $20. Be sure to use it if you come across an available spot; it's affordable and convenient.
Some residents offer their parking spots to Hard Rock Stadium visitors. However, the cost normally ranges from $30 to $40, and the walk may take up to 20 minutes.
Free parking used to be available in Lots 19 and 20, as well as Calder and Norwood lots. Check the Hard Rock Stadium website for its availability and up-to-date info.
Tailgating at the Stadium
As an amazing part of a game-day experience, tailgating is a very popular activity among football fans, and it's allowed in many Hard Rock Stadium parking lots. Since each parking structure opens 4 hours before kick-off, you should arrive as early as you can and take part in the festivities. If you plan on tailgating with your friends, you must know a few things:
You have to tailgate directly behind your vehicle within your designated space.
Open fires are not allowed.
You cannot use beer kegs on stadium grounds.
Visibly intoxicated visitors will be removed from the lots.
See the complete list of guidelines here.
We Make Event Parking a Breeze
Aside from Hard Rock Stadium parking options, our guides cover other popular locations in the Miami Metropolitan Area, including the following.
You should also look us up when searching for affordable Miami Airport Parking.