Salisbury, a small beach town on the Atlantic Ocean, is a popular summer resort north of Boston, Massachusetts. Its 3.8-mile-long coastline is a quintessential ocean destination with multiple dining and accommodation options. Since the most convenient way of getting to the town is by car, we'll help you get there and find parking without any hassle! Discover all the options, the Salisbury Beach parking fee for MA residents and visitors, and other helpful information and tips.
Between the Memorial Day weekend and Labor Day, the beach is open from 8 AM to 10 PM every day, while the Salisbury beach parking hours are from 8 AM to 12 AM.
Where To Park for Salisbury Beach
Salisbury Beach comprises several parking zones, and visitors can choose between on-street parking spaces and outdoor parking lots. The hourly cost depends on the location, and the fee is charged from May to October only. Discover all parking locations, short-term parking rates, and payment methods in the following sections.
Salisbury Beach Parking Zones 
The beach parking network consists of four zones. All metered parking spots in Zones 3 and 4 have a 3-hour time limit, while the hourly Salisbury Beach parking cost varies according to location.
| | | |
| --- | --- | --- |
| Zone # | Locations | Parking Fee |
| Zone 1 | Oceanfront South and Ocean Street | $5 per hour |
| Zone 2 | 228 Beach Road Town Lot | See the following table |
| Zone 3 | Broadway  | $2 per hour |
| Zone 4 | Driftway, Central Avenue, and Shea Street | $2 per hour |

Municipal Parking Lot
Municipal Lot Parking—officially called the James Hunt Memorial Municipal Lot—offers over 670 visitor parking spaces at 228 Beach Road. It provides 15 accessible parking spots, so it's also suitable for individuals with disabilities. Disabled veterans, Purple Heart recipients, and those with disability plates receive free parking at DCR facilities.
The standard Salisbury State Beach parking fee depends on the duration of your stay.
| | |
| --- | --- |
| Duration | Fee |
| Up to 1 hour | $2 |
| 1–2 hours | $4 |
| 2–3 hours | $6 |
| Over 3 hours | $20 |
Note: Overnight parking in the Town Lot is available only to town residents.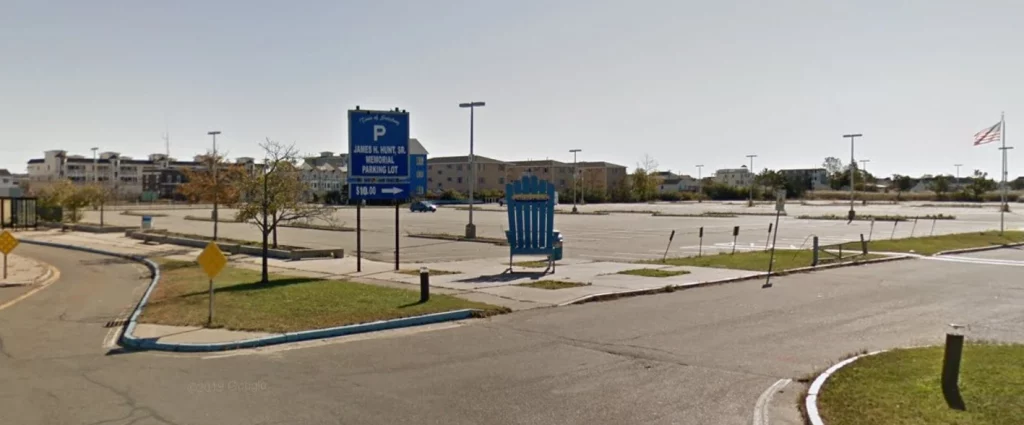 How To Use Salisbury Parking Kiosks
Salisbury has been using convenient parking kiosks instead of meters for a few years, and the payment process is straightforward:
Press Start or any button to initiate the procedure.

Enter your license plate number.

Choose between a new and extended session.

Use plus/minus/max buttons to select the amount of time.

Pay with quarters or your credit/debit card.
Although the pay station lets you print the parking receipt, you don't really need it. Just make sure the payment is verified, and you're free to go! If you're wondering what the Salisbury Beach parking kiosk system looks like, check the following photo.
Remember when your session expires, and be sure to follow other regulations to avoid getting a Salisbury beach parking ticket.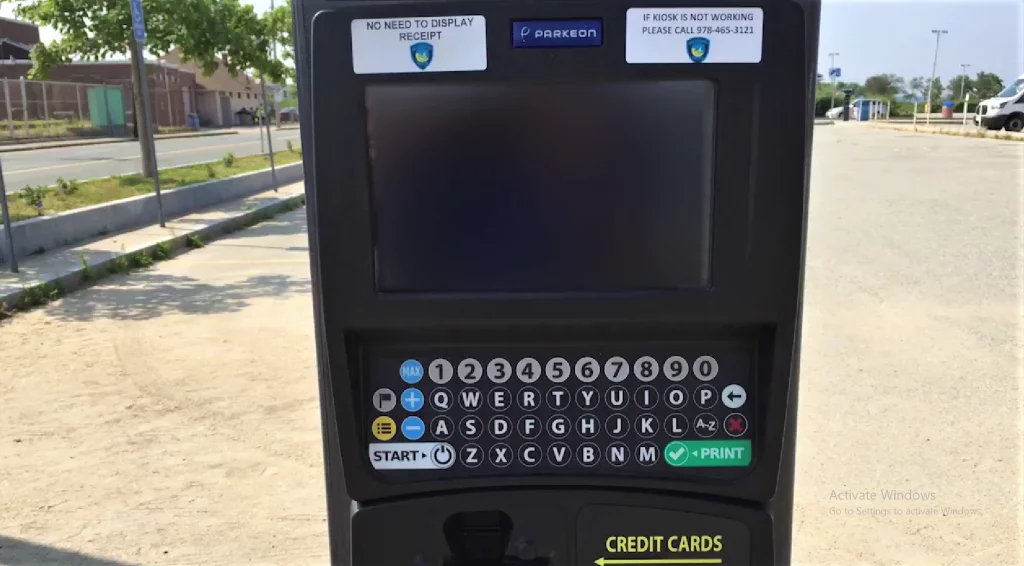 Salisbury Beach State Reservation Parking
If you want to purchase a daily Salisbury Beach parking pass, the price will depend on your residency. The annual permits are for residents only, while the daily reservation fees are as follows:
$15

for Massachusetts residents;

$25

for employees;

$75

for non-MA residents.
You can also get a Town Lot weekly parking permit, which is available for $50. Purchase it in the Town Clerk's office, or fill out the Town Lot Parking Permit Application and email it at [email protected] The most painless way to pay for Salisbury Beach reservation parking is through the Flowbird App—it's available on Google Play and App Store.
Additional Parking Options
In addition to the Municipal Lot, there are two outdoor parking areas on Central Ave. One lot is right in front of the Blue Ocean Event Center, while the other one is next to it. Both offer easy event parking.
If you plan to stick around for a few days, consider booking a room in a town hotel or motel that offers free guest parking. This way, you'll be close to the beach and have a safe parking space for the total duration of your stay. Click here to discover all Salisbury Beach hotels.
Finally, we have some off-topic advice! Don't hesitate to take advantage of everything the town of Salisbury has to offer, including educational programs, camping, canoeing, kayaking, fishing, horseback riding, and swimming facilities.
Find Parking Easily Wherever You Go!
We aim to provide drivers nationwide with helpful, up-to-date parking information on any major venue or location. In addition to the Salisbury Beach parking guide, we cover other beaches north of Boston, including the following.
You can also use our assistance to book parking at or near Boston's popular venues and attractions.
If you plan on flying out of the area, don't hesitate to use Parking Access to find and book a discounted parking spot near your terminal!