Parking in major cities can be expensive, difficult, and outright annoying. Finding street parking is hit or miss, and really, who can afford valet parking?  Luckily, useful apps like SpotHero can come in handy. This service simplifies the parking process by allowing you to reserve and prepay for your parking spot ahead of time. This often includes public parking, event parking, and overnight parking, helping you avoid an expensive parking ticket. SpotHero, like many other parking space marketplaces, does allow you to list your own parking. Rent your parking space, is simple and easy, only 3 easy steps to start earning on your unused parking spot.
Since we're experts in the airport parking field, we decided to give them a try and share an in-depth SpotHero review about the service. 
How Does SpotHero Work?
On the SpotHero home page, it brings you right to a search box to find a parking spot. You can select from hourly, monthly parking, or airport parking. Spots are available in a number of major cities around the United States including NYC, Atlanta, Austin, and many more.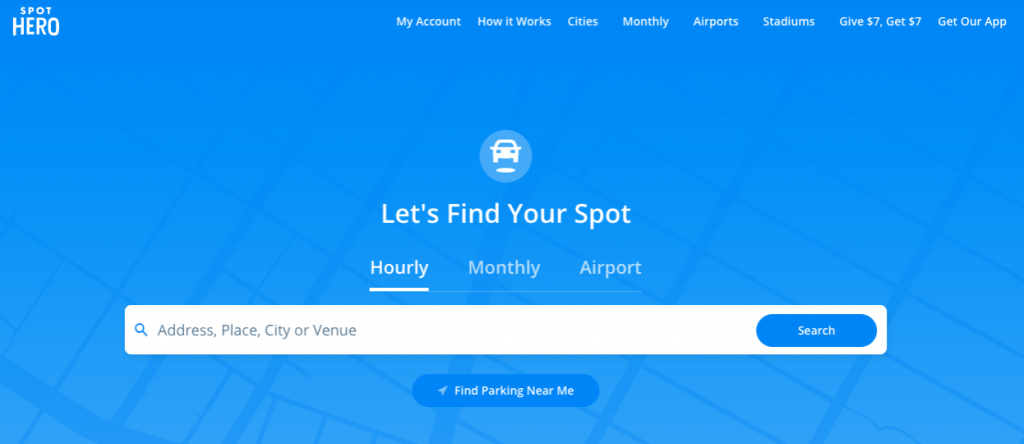 Once you've inputted your location, you'll click the search button to see results. On the next page, you'll find the results as well as the option to edit the date and time you want to park. The website and SpotHero app are both very easy to use. 
Their spots are discounted because they work with parking garages and owners to fill unused inventory. As a result, there are a large number of parking garages and facilities SpotHero doesn't work with. Even so, they offer decent options for many cities. 

Parking Pass
When you book your spot, you're emailed a "parking pass" to show the facility when you get there. You can pull this up through the app or through your email. Most SpotHero reviews are pleased by how easy it is to use your pass. 
Although it has a specific time on the pass, you don't need to enter at that exact time. You can enter at any time after the start time listed on your SpotHero reservation, and you can depart at any time prior to the end time listed. 
Your pass also lists the address of the parking facility, how to redeem your pass, photos of the facility, and more to ensure your trip goes smoothly. 
SpotHero Reviews for Parking Garages
One helpful feature that SpotHero offers is the ability to rate each parking garage if you've parked there before. We saw a few garages that got only 1-star reviews, so we knew to stay away from there. This can be very helpful when choosing from a few facilities. 
Refund Policy
Compared to a vacation, it's more likely you won't end up following through with your parking plans. Their cancellation policy is very generous because of this – cancellations up until the minute of your reservation will be given a full refund. 
SpotHero Parking Complaints
A common cause of issues we found was from people who reserved a spot through SpotHero, but the parking garage was full when they arrived. Although the SpotHero customer service team will help you out and give a refund, this is very inconvenient.  
Does SpotHero guarantee a spot?
Although they state that they "guarantee" your spot, they don't physically hold a certain spot open for each reservation. They try to work with their partners to prevent overbooking, but sometimes issues occur. They're very proud of their customer service team's ability to help if any problems occur. Even so, it's still an inconvenience and shouldn't happen in the first place. 
Limited Selections
Another negative aspect mentioned in SpotHero reviews on reddit is the small number of parking garages and facilities they work with. Often times, there isn't anything close enough to where you need to go or they're sold out. 
When searching for parking at Universal Studios in Hollywood, the closest garage we could find on SpotHero was over a mile walk away and cost $11. This is silly when you can park at the nearby metro station for less than $5 and walk half a mile! 
After performing a few more searches for other areas around Los Angeles, we saw that many facilities said "3 spots left" or even less. There were only a couple of options for each area as well. That being said, SpotHero Los Angeles isn't as popular as other cities. 
However, when switching to Atlanta or another city, there were plenty of parking facilities available.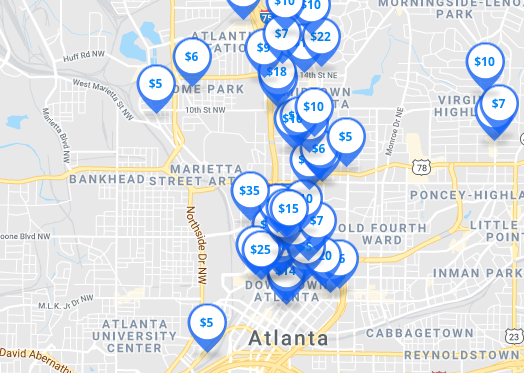 Does SpotHero Save You Money? 
Most of the time, SpotHero prices are discounted from the posted garage rates. This may be anywhere from 20%–60% off. Plus, you can find promo codes online to save even more money. When you refer a friend, you get $7 credit and they get $7 credit. 
Airport Parking (ParkingAccess vs SpotHero) 
Their airport parking feature was intriguing to us, since Parking Access is dedicated to providing the best long term airport parking deals. How do we compare? Since Parking Access is still growing, we don't have as many garages as they do, but all our lots include a free shuttle, economy parking rates as well as short-term parking fees (self-parking and valet).
However, we share many of the same features and we have more options for a number of airports! The SpotHero LAX parking lot list, for example, isn't nearly as impressive as our list. 
Parking Access Features:
Shuttle time included
Parking type included
Sort by the closest, cheapest, or convenient parking facilities
Many lower rates & more facilities to choose from
Final Thoughts on SpotHero
Can you trust SpotHero?
Overall, SpotHero helps save time and money on everyday parking spaces. However, be cautious as there have been many SpotHero reviews where spots weren't actually reserved when people purchased them. 
It's also a good way to simply find out where the best parking rates are, rather than driving around and parking at the first garage you come across (however, keep in mind that many of the rates on SpotHero are discounted from the regular pricing)
When it comes to airport parking, ParkingAccess will offer the greatest deals and have a greater variety of selections. We aim to make airport parking easy and as inexpensive as possible!