This post also contains affiliate links and we will be compensated if you make a purchase after clicking on our links.
Dodger Stadium Parking
Home to the Los Angeles Dodgers major league baseball team, Dodger Stadium is one of the largest venues in the city, with a 56,000 seating capacity. The ballpark is located a short drive away from downtown L.A. and is accessible via car and public transit. Our top guide will help Dodgers fans choose between the two options. Discover a perfect place to park your vehicle, general game-day fees, free street parking, and off-site areas with shuttle services for the disabled. Pre-book a space to save time and avoid high prices. To avoid busy traffic, learn about local transportation alternatives and find the closest station in the area.
Dodger Stadium Parking Prices
The list below offers general parking rates for all MLB games: 
| | | |
| --- | --- | --- |
| Parking Type | In Advance | At the Gate |
| Off-site | / | $5 |
| General | $25 | $30 |
| Preferred | $40 | $50 |
| Oversized Vehicles | $40 | $50 |
Dodgers parking passes are also available for season ticket holders, but the price varies depending on the type of season tickets you get. You'll need to request this while filling out the form for your season tickets or call their phone number (866-DODGERS) to purchase. Parking for concerts and other special events will be different. It's best to check on the event's website. 
Los Angeles Dodgers Parking Lots
The 16,000 Dodger Stadium parking spaces at the stadium are spread out across many different lots. There are five different Dodger Stadium parking entrances for general admission parking. Make sure to check the map below to see which parking gate you should enter for the easiest access to your seats.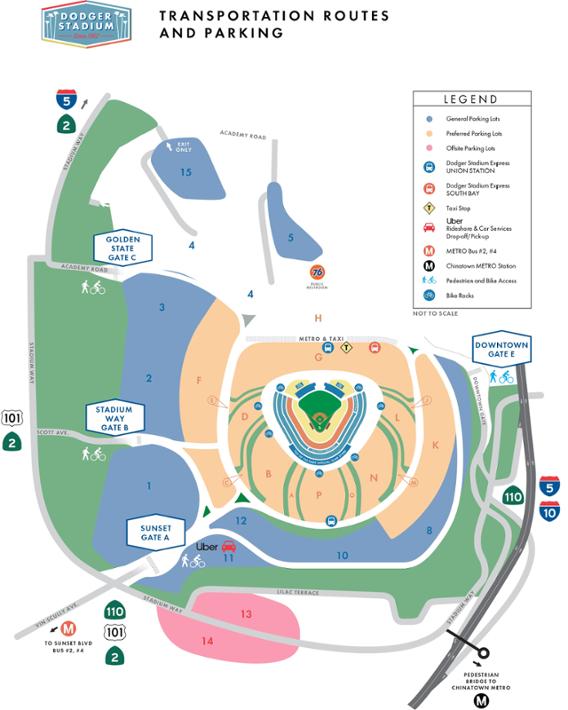 Dodger Stadium Parking Gates:
Sunset Gate A – Lots 1, 2, and 12
Scott Gate B – Lots 2 and 3
Golden State Gate C – Lots 3 and 4
Academy Gate D – Lots 5 and 6
Downtown Gate E – Lots 7, 8, 10, and 11
The preferred parking lots are named by letters and include B, D, F, G, H, J, K, L, M, N, and P. Many of these are for season ticket holders, but lots F, H, & K are available for public parking either in advance or on the day of the game. Lots F and K offer access to seats on any level of Dodger Stadium, while Lot H has the best access to Field and Pavilion. Numbers 13 and 14 are the off-site parking lots that are available for only $5 per car. 
Disabled Parking Availability 
There are plenty of handicapped spots available in lots B, D, F, H, K, L, N, and P. Plus, the cheaper offsite lots offer shuttle services for disabled guests to avoid the 15-minute uphill walk to the venue. Shuttles are available an hour before the beginning of the game. Make sure to bring your placard!
Dodger Stadium Parking Tips
Although the cheapest official parking near the stadium is a pretty good deal, you still have alternatives that can save your money, as well as time spent in traffic. We'll share a few other tips to make Los Angeles Dodgers parking a breeze!
Look for Street Parking
If you're early enough, you can often find free street parking in nearby neighborhoods. Although you might be in for a short walk, you'll be able to avoid traffic after the game. Make sure to check the street signs for parking information to ensure you don't get an LA parking ticket.
You could even consider finding a street parking space a mile or two away and calling an Uber, then getting dropped off slightly before the venue. Once the game is over, you can walk a few minutes and call an Uber to avoid the traffic getting out of the Dodgers Stadium parking lots.  
Check Parking Apps
Parking services like SpotHero and ParkWhiz sometimes have cheaper deals than the official parking lots. It's hard to find anything cheaper than the $5 Dodgers off-site lots, but perform a quick search to check. Feel free to go through our ParkWhiz or SpotHero reviews to see how the services work and what to expect!
Take the Metro
The Metro is an excellent way to get around Los Angeles. You can get off at Union Station or the South Bay, then take the Dodger Stadium Express bus, which is free with a ticket. The Red, Purple, and Gold lines connect to the Union Station (as well as Metrolink and Amtrak), while the Silver Line and Torrance Transit connect to South Bay.
Many bus lines also run to Union Station. To find the best particular route information, check out their website to use their trip planner. The only downside is that these public transportation stations tend to be crowded on game day. 
FAQs
Is there free parking at Dodger Stadium?
The only free parking you might be able to find at Dodger Stadium is in nearby Los Angeles neighborhoods. 
What time do Dodger Stadium parking lots open?
The Dodger Stadium parking entrances open 1.5 hours before the scheduled game. If you want the best Dodger Stadium parking spot, we recommend arriving right when the lots open. However, many people like to arrive later (even after the game starts) to avoid traffic. 
Is tailgating allowed at Dodger Stadium?
Tailgating is strictly prohibited in all Los Angeles Dodgers parking lots, as well as the consumption of alcohol.
L.A. Parking Made Easy 
Parking Access supports you through any parking process. Learn more about the following attractions in Greater Los Angeles.
Also, if you plan on flying out of the city, check out our LAX Parking guide.