Last Updated on November 16, 2019 by Laurice W
Home to the Los Angeles Dodgers major league baseball team, Dodger Stadium is one of the largest venues in the city (even larger than the historic Hollywood Bowl). In addition to baseball games, the stadium holds plenty of other events including Cirque Du Soleil as well as a number of concerts. This article will guide you through the Dodger Stadium parking process and provide valuable tips to find cheaper parking. 
Where Is Dodger Stadium Located?
This stadium is located at 1000 Elysian Park Avenue in Los Angeles (slightly north of downtown).
Dodger Stadium Parking Prices
Parking Rates For MLB Games: 
Offsite: $5
General: $17 in advance, $25 at gate
Oversized (General): $40 in advance, $50 at gate
Preferred: $40 in advance, $50 at gate
Reserved (personal parking spot for all season's home games): $5,600 or $8,000 depending on the lot
There is also a Dodgers parking pass (preferred) available for season ticket holders, but the price ranges depending on the type of season tickets you get. You'll need to request this while filling out the form for your season tickets or call their phone number (866-DODGERS) to purchase. Additionally, parking for concerts and other special events will be different. It's best to check on the event's website.
Various Lots
The 16,000 parking spaces at the stadium are spread out across many different lots. The area you receive will depend on what type of parking you purchase, what gate you enter, and which lots have already been taken up. There are 5 different gate entrances for general admission parking. Make sure to check the map above to see which gate you should enter for easiest access to your seats.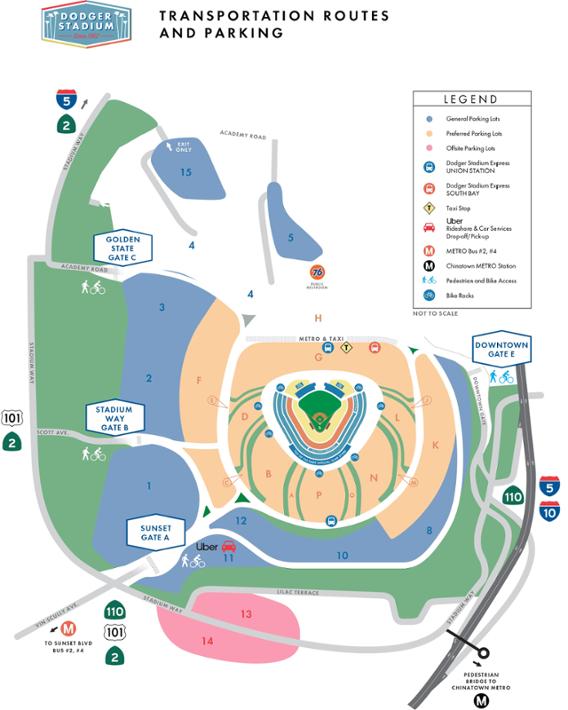 Dodger Stadium Gates
Sunset Gate – Lots 1, 2, and 12
Scott Gate – Lots 2 and 3
Golden State Gate – Lots 3 and 4
Academy Gate – Lots 5 and 6
Downtown Gate – Lots 7, 8, 10, and 11
The preferred parking lots are named by letters and include B, D, F, G, H, J, K, L, M, N, P. Many of these are for season ticket holders, but lots F, H, & K are available for public parking either in advance or on the day of the game (if availability allows for this). Lots F and K offer access to seats on any level of Dodger Stadium. Additionally, Lot H has best access to Field and Pavilion. The offsite parking lots are number 13 and 14 ($5 per car). 
Is there disabled parking at Dodger Stadium ?
There are plenty of handicapped spots available in lots B, D, F, H, K, L, N, and P. Plus, the cheaper offsite lots offer shuttle services for disabled guests to avoid the 15-minute uphill walk to the venue. Shuttles are available an hour before the beginning of the game. Make sure to bring your placard in order to get your handicap parking space.
Dodger Stadium Parking Tips
Although the cheapest official parking at this stadium is a pretty good deal, there are still other parking options to save even more money (and time spent in traffic). We'll also share a few other tips to make parking a breeze.
Look for Street Parking
If you're early enough, you can often find free street parking in nearby neighborhoods. Although you might be in for a short walk, you'll be able to avoid traffic after the game. Make sure to check the street signs for parking information to ensure you don't get a costly parking ticket.
We would even consider finding street parking a mile or two away and calling an Uber, then getting dropped off slightly before the venue. Once the game is over, you can walk a few minutes and call an Uber to avoid the traffic getting out of the Dodgers Stadium parking lots.  
Also, you can try to find a scooter sharing service like Bird, Lime, or the options available on Uber and Lyft. These are cheap, fun, and you'll be able to save lots of time spent in traffic. However, don't get your hopes up as these have become very popular in Los Angeles and are often unavailable around event venues.
Check Parking Apps
Parking services like Spothero and Parkwhiz sometimes have cheaper nearby deals compared to the official parking lots. You might not find much cheaper than the $5 Dodgers offsite lot, but it's easy to perform a quick search and check. Check out our ParkWhiz review or Spothero review to see how the services work and what to expect.
Consider Arriving Late & Leaving Early
If you care more about avoiding traffic than seeing the whole game, we'd recommend arriving a bit late and leaving a bit early. You'll be able to avoid the hectic traffic leaving the parking lots.
Take the Metro
The Metro is an excellent way to get around Los Angeles. You can get off at Union Station or the South Bay, then take the Dodger Stadium Express bus (free with ticket). The Red, Purple, and Gold lines connect to the Union Station (as well as Metrolink and Amtrak). Additionally, the Silver Line and Torrance Transit connect to South Bay (also known as Harbor Gateway Transit Center). 
There are also many bus lines that connect to Union Station. To find the best particular route information, check out their website to use their trip planner. The only downside is that these public transportation stations tend to be crowded on game day (still better than the post-game Dodgers parking lot traffic).
FAQ
Is there free parking at Dodger Stadium?
The only free parking you might be able to find at Dodger Stadium is in nearby neighborhoods. 
What time does parking open at Dodger Stadium?
Parking lots open 2.5 hours before the game starts. If you want the best parking spots, we'd recommend arriving right when the lots open. However, many people like to arrive later (even after the game starts) to avoid traffic. 
Do you have to print Dodger parking?
Their website states to return back for this information coming in 2020.
Bottom Line
Overall, Dodger Stadium parking has a pretty generous off-site parking lot fee. However, their general and preferred rates are definitely spendy. We hope you learned a few ways you can save money and combat the hectic traffic before or after the games!