This post also contains affiliate links and we will be compensated if you purchase after clicking on our links.
Banc of California Stadium Parking
Located in the Exposition Park neighborhood next to the L.A. Memorial Coliseum, Banc of California Stadium is easily accessible via car and public transport. It's home to the MLS Los Angeles FC (LAFC) team and Angel City FC team, but the arena also hosts concerts and other events. Our guide will help you or your friend group book a convenient parking space in the area. Find the closest or most affordable lot and book the best 2022 parking deal, or use Metro to save money. 
The address for directions is 3939 S Figueroa St, Los Angeles, CA 90037.
Find Parking at Banc of California Stadium
The following event parking lots are available for drivers heading to a soccer game or concert at the venue.
Blue Structure

Gold Lot

Green Lot (Lot 6)

Yellow Lot (Lot 5)

Pink Lot (Lot 4)

Orange Structure
Most are available for online bookings. Rates vary according to the event, but the average parking fee is $30 to $40. See the map below for locations and directions.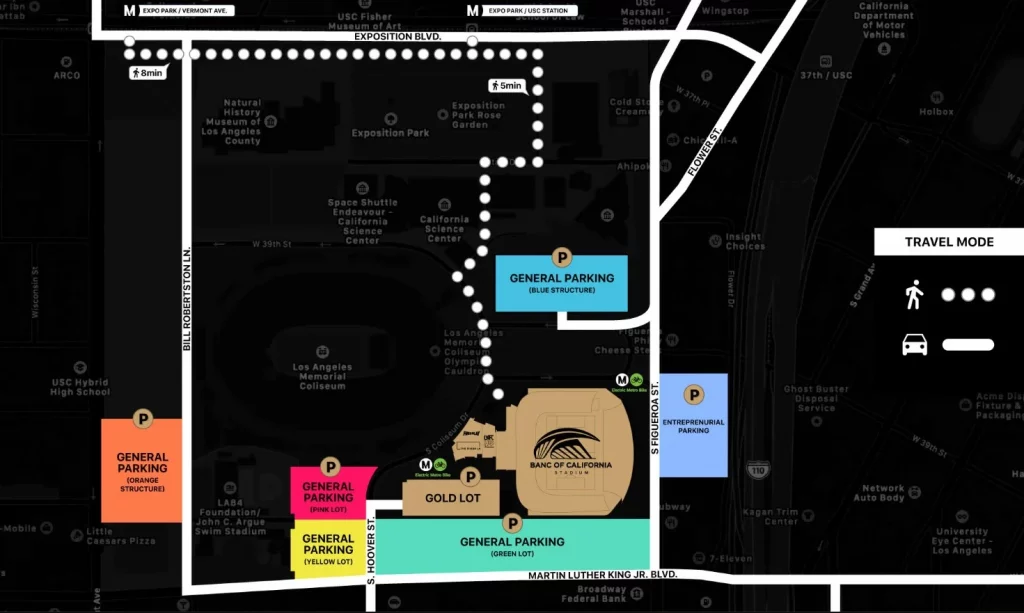 Note: The Banc of California Stadium parking lots often get crowded during big sporting events, so getting in or out can take a while. We strongly suggest you arrive early and leave as soon as the show ends or even a few minutes before. Also, purchase a parking pass in advance for both soccer games and concerts.
Street Parking Availability
A limited number of affordable parking spots are available on the surrounding streets. If you're lucky enough to find a nearby vacant spot, be sure to use it. However, read the signs carefully beforehand. Pay attention to street sweeping, time limits, or any other regulations to avoid getting an L.A. parking ticket.
Other Nearby Alternatives
Apart from the on-site parking areas, you can use the McDonald's lot across the street on MLK or purchase a spot from people living on nearby streets. These are usually slightly more affordable than the official lots.
The Parking Access team recommends parking at an Expo Line Park & Ride lot for a $3 fee and taking public transit to the park. This way, you'll save money and avoid traffic around the soccer-specific stadium.
Public Transportation Options
The Expo Park/USC Station on the Metro Expo Line is on the park's north edge. If you're taking the Purple or Red Line, transfer to the Expo at the 7th Street/Metro Center. Those traveling on the Blue Line can connect to the Expo Line at the Pico Station. Alternatively, hop on a bus at 2, 40, 81, or 550 to get to the venue. One-way fare is $1.75 for both transportation options.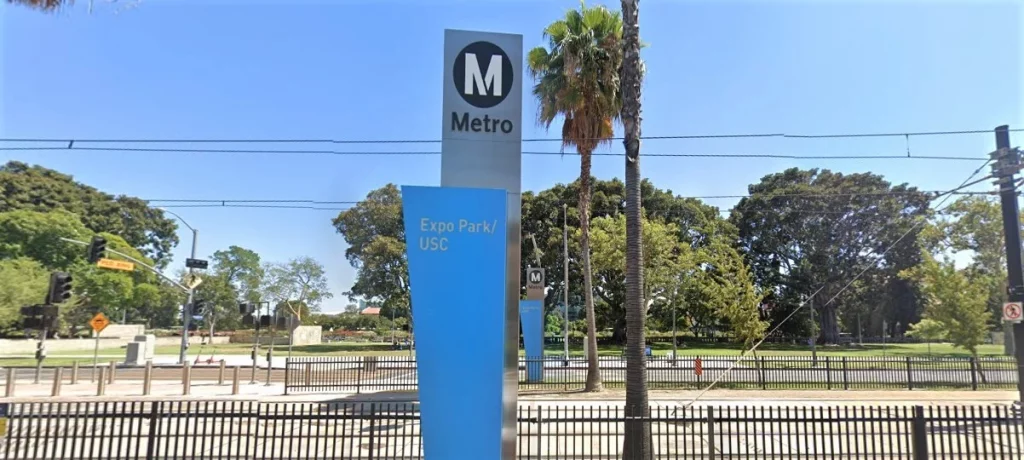 Find Parking in Los Angeles Effortlessly
In addition to Banc of California Stadium parking, our team has covered most points of interest in L.A. Check out some of them below.
We can also help you find and reserve discounted LAX Parking in no time.