This post also contains affiliate links and we will be compensated if you make a purchase after clicking on our links.
Featuring over 2,000 works of art in two stories, The Broad is a go-to art spot for locals and tourists who want to catch a glimpse of Yayoi Kusama's iconic Infinity Mirror Rooms installation. We created The Broad Parking guide to help you plan your parking in advance or secure cheaper parking alternatives. Those looking to skip the hassle of parking entirely may also refer to our section on utilizing public transportation to The Broad. 
The Broad sits at the following address: 221 S Grand Ave, Los Angeles, CA 90012, United States.
The Broad Tickets & Hours
General admission is free at The Broad, but all guests must reserve tickets ahead of time. Admission to Yayoi Kusama's Infinity Mirrored Room is also free. Children in a stroller or who will be carried do not require a ticket, while a guardian must accompany those under 13. 
As of May 2022, there is no standby line for walk-up entry. It's possible to book same-day tickets as The Broad releases them daily, but we recommend booking early to guarantee a slot. We also suggest that you go in the morning for better parking availability. 
Here are The Broad's operational hours: 
Wednesday & Thursday & Friday: 11 AM – 5 PM

;

Saturday & Sunday: 10 AM – 5 PM

.
The museum is closed on Mondays, Tuesdays, Thanksgiving, and Christmas Day. 
Late Visitors
If you're running late, The Broad will allow entrance up to 1 hour after the time printed on your ticket, but you may experience wait times when the museum is full. Visitors are no longer allowed to enter 30 minutes before the museum closes. 
The Broad recommends visitors with tickets to Yayoi Kusama's Infinity Mirrored Room arrive on time. Entry into the installation is only guaranteed within 10 minutes of your ticketed time.
About The Broad Garage Parking
The Broad has its own parking garage located directly below the establishment. The entrance is on 2nd St. between Grand Avenue and Hope Street, and the clearance is 8'0" on the ground level. Bicycle parking and seven EV charging stations are available on level P1. Operational hours are from 9 AM to 10:30 PM from Wednesday to Sunday.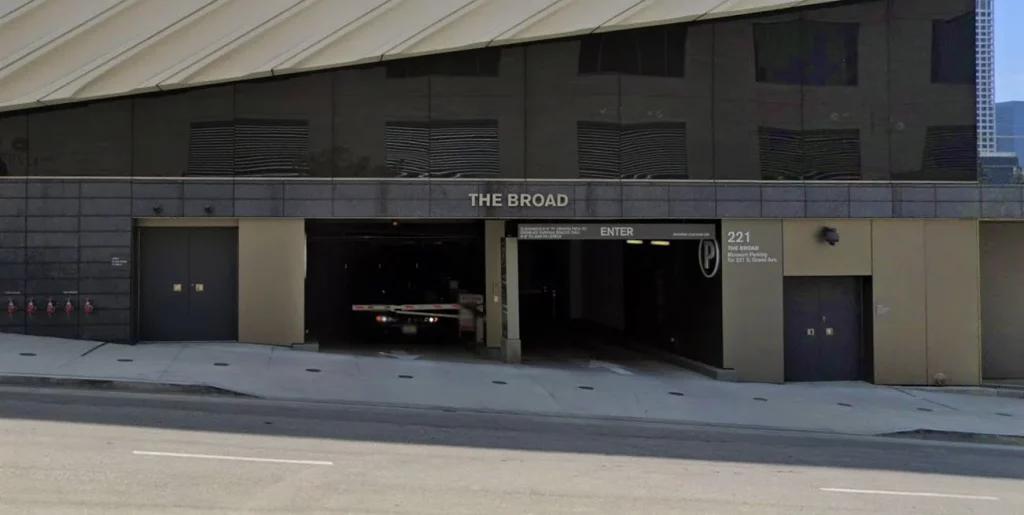 How Much Is Parking at The Broad Garage?
The Broad guests receive discounted parking rates with museum validation—here are the short-term parking prices: 
$17 for 3 hours
$5 for each additional 15 minutes
$27 per day
A $17 flat rate applies after 5 PM and on weekends.
Accessible Parking Availability
The Broad parking garage offers accessible parking spaces for any vehicle with a disability placard or license plate. These spots are available on a first-come, first-served basis. Due to the limited number of ADA parking stalls, we recommend early arrivals. Standard parking rates apply to disabled parking.
Additional Parking Near The Broad
The Broad parking rates can be expensive, especially if you're making a lengthy visit. To help you reduce your expenses, we listed the best parking near The Broad. The listed fees are for a three-hour stay. 
| | | | |
| --- | --- | --- | --- |
| Parking Facility | Rate | Address | Distance |
| World Trade Center Garage | $8  | 333 S Flower St | 0.2 miles  |
| Gas Company Tower – Garage | $10  | 555 W 5th St. | 0.7 miles  |
| Joe's Auto Parks Garage  | $11 | 220 S Spring St. | 0.4 miles  |
| PacMutual Building Garage  | $6  | 523 S Olive St | 0.7 miles  |
| Joe's Auto Parks Garage | $10  | 530 S Spring St. | 0.8 miles  |
Prices are subject to change and may vary across parking platforms or times of the day. Some of the listed facilities may extend the duration of parking at no extra charge through apps like SpotHero.
Where To Find Street Parking Around The Broad
If you're planning to make a quick stop, you may find several metered parking spaces in Downtown Los Angeles near the museum. The metered parking cost ranges from $1.50 to $6 per hour, Monday to Saturday, with a maximum stay of two hours. Fees vary according to location.
Enforcement of metered parking begins at 8 AM and ends at 3 PM, 4 PM, 6 PM, or 8 PM, depending on the location. Parking is free outside these hours. Always pay close attention to the parking signs near meters to ensure that you park properly and avoid an LA parking ticket.
Take Public Transit to The Broad
You can skip the hassle of The Broad parking by taking public transportation to the museum. Thankfully, the museum is easily accessible by bus, subway, or train. The Grand Ave & 2nd St. and the Grand/2nd bus stations are only a minute's walk away. 
The Civic Center/Grand Park Station is the nearest subway station, and you can take the Metro Red or Purple Line to get there. A regular one-way Metro fare is $1.75 for bus and rail services. The Metrolink San Bernardino Line drops off at Union Station, which is approximately a 20-minute walk away. However, you can also take an LADOT bus to the museum.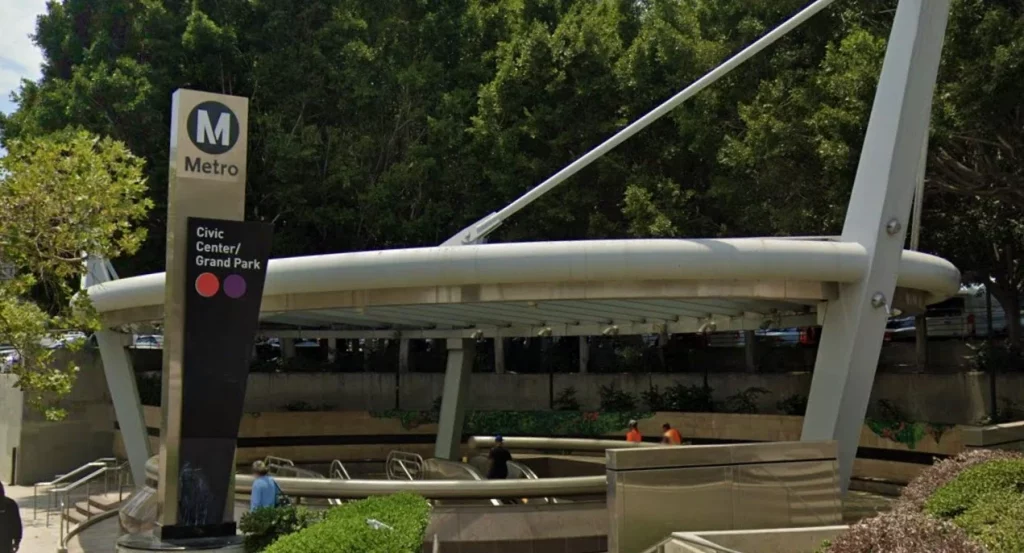 Find Parking in L.A. Effortlessly With Parking Access
As parking experts, we've developed numerous guides on several points of interest across the United States. Aside from The Broad parking, we've covered other popular locations in Los Angeles. Click on the links below and learn more about the parking situation at the following attractions and venues: 
If you're flying out of Los Angeles soon, read our LAX Parking guide to find, compare, and reserve parking at the best airport parking lots.