As one of the county's best live music venues, the iconic Hollywood Bowl hosts plenty of major events, including rock, electronic, and jazz concerts. The urban amphitheater is located in Los Angeles, California, making it easily accessible by car. However, Hollywood Bowl parking can be a hassle, so we'll provide all the info you need to find a perfect place to park your vehicle. Learn about the on-site surface lots or sections, nearby structures with a lower price, and Park & Ride services. To avoid traffic, use public transportation and then take a shuttle bus or walk to the venue. Use our tips to save time, purchase tickets online, and have a hassle-free experience.
Hollywood Bowl Parking Rates
Event parking fees vary according to the occasion. The venue charges the following rates for LA Phil-Presented events.
| | |
| --- | --- |
| Lot A | $24 ($23 in advance) |
| Lot B | $22 ($21 in advance) |
| Lots C & D | $20 |
| Buses & Limos | $55 |
| Motorcycles | $10 |
Prices are slightly higher for Lease Hollywood Bowl events—check them out in the following list.
| | |
| --- | --- |
| Preferred | $60 |
| Lot A | $30 ($29 in advance) |
| Lot B | $28 ($27 in advance) |
| Lots C & D | $26 |
| Buses & Limos | $55 |
| Motorcycles | $10 |
The best way to snatch an on-site spot is by pre-booking it. >>>Reserve parking through Vivid Seats to get the best deal.

On-Site vs. Off-Site Lots 
While a Hollywood Bowl event can be a lovely experience, endless traffic jams at the end of the shows are frustrating. If you insist on driving, we've shared a few pieces of information and tips to save your time or money.
On-Site Parking Lots
Aside from being pricey, on-site lots aren't such a good choice due to limited parking availability. The main issue is stacked parking. The staff will park multiple cars in one spot and block them in, so you won't be able to leave until the cars before you have left. The process could easily take hours. Even if you get out first, the traffic jams will be insane, and we suggest you consider the alternatives.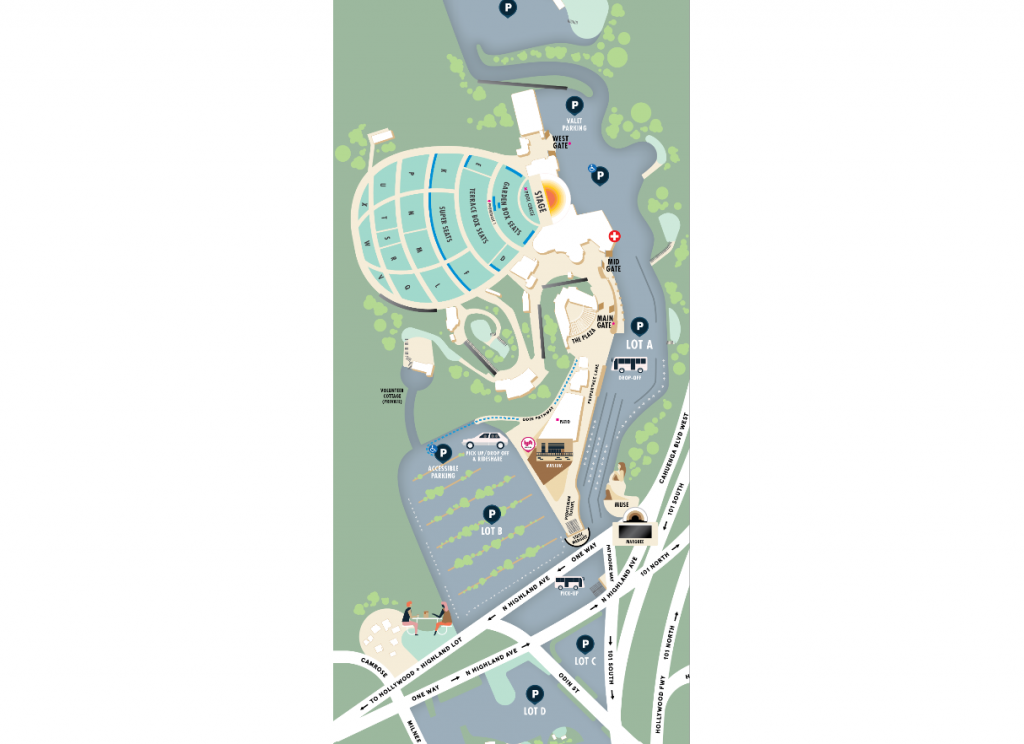 Hollywood Methodist Church Lot
The Hollywood Methodist Church paid parking lot is a short uphill walk, but they don't stack the cars. The daily rate ranges from $20 to $60 per car, depending on the event. Plus, the profit benefits the church – if you want to participate in a good cause, this is the perfect choice forparking at the Hollywood Bowl!
Private Parking Lots
There are a variety of private businesses in Hollywood and Highland that offer parking services during Hollywood Bowl events. Although this isn't the cheapest option (the cost varies from $30 to $50), it's more convenient. Parking is available only for a short time as they fill up spots quickly, so be sure to arrive early!
Park & Ride Bus 
The Park & Ride shuttles depart from various public parking areas in Los Angeles and help reduce the stress of event parking. Getting to the venue will be easy, but leaving by bus often involves long lines. However, the buses do start departing immediately after the show ends. A round-trip ticket costs $7 in advance or $12 at the location (only cash is accepted when purchasing in person). 
Hollywood Bowl Shuttle 
This is a great way to save money on parking. This option includes free parking services at most lots near the Hollywood Bowl and a $6 shuttle service. The shuttle will take you right back to your car once the show ends. Note that the Hollywood & Highland lot isn't free.
How much is parking at Hollywood & Highland?
| | |
| --- | --- |
| Duration | Parking Cost |
| Up to 20 minutes | $2 |
| Each additional 20 minutes | $2 |
| Daily maximum | $20 |
Transportation Alternatives
Dodge the frustrating search for parking and use another transportation option to get to the venue! Ridesharing services and public transit are both affordable and convenient options.
Using Lyft and Uber is a great alternative to driving, but consider getting dropped off a few blocks away to avoid waiting in traffic. When leaving, don't request an on-site pick-up—walk a few blocks to a less congested area. If you wish to be dropped off as close to the venue as possible, the designated spot is in Hollywood Bowl Parking Lot B.
Just like at Universal Studios, riding Metro is a great time-saver. The Red Line stops at Hollywood and Highland, which is almost a mile away. Use your tap card to get a free shuttle ride, or walk for about 20 minutes to the venue. Alternatively, several regular bus routes make stops near the Hollywood Bowl.
Hollywood Bowl Parking Tips
We summed up the most important info and recommendations below.
Don't park in the main lot. We can't emphasize this enough. Nearby short-term parking will always be a better option.
Get there at least an hour early or two if you want to picnic outside the Hollywood Bowl.
Consider alternatives to driving to avoid the traffic hassle and high parking prices. 
Bring warm clothing. Los Angeles can get chilly at night during fall and winter.
Get seats close to an aisle. The majority of seating is pretty cramped with little legroom, and middle seaters will have a hard time getting in and out to use the restroom or grab drinks.
Parking in LA Made Easy
Parking Access can help you find a reliable and cheap spot at or near other venues, locations, and airports in Los Angeles, CA.