Last Updated on January 27, 2022 by Usama
The historic Hollywood Bowl is the most popular concert venue in Los Angeles, CA! It's located on Highland Avenue near U.S. Highway 101 in Hollywood. If you have an upcoming trip to this venue, it's a good thing you're preparing yourself. Not only is Hollywood Bowl parking expensive, but the insane traffic jams and unorganized parking will also leave you stressed out. Use our Hollywood Bowl Parking Guide to sail through the parking process and have a hassle-free trip!
Hollywood Bowl Parking Rates
Parking rates for LA Phil-Presented Events are as follows: 
| | |
| --- | --- |
| Lot A | $24 ($23 in advance) |
| Lot B | $22 ($21 in advance) |
| Lots C and D | $20 |
| Buses and Limos | $55 |
| Motorcycles | $10 |
Parking fees for Lease Hollywood Bowl events:
| | |
| --- | --- |
| Preferred | $60 |
| Lot A | $30 ($29 in advance) |
| Lot B | $28 ($27 in advance) |
| Lots C and D | $26 |
| Buses and Limos | $55 |
| Motorcycles | $10 |

While a Hollywood Bowl event can be a lovely and painless experience, it also can be frustrating with an endless traffic jam at the end of the show to top it all off. If you insist on driving, we've shared a few parking information and tips for this venue.  >> Reserve on Vivid Seats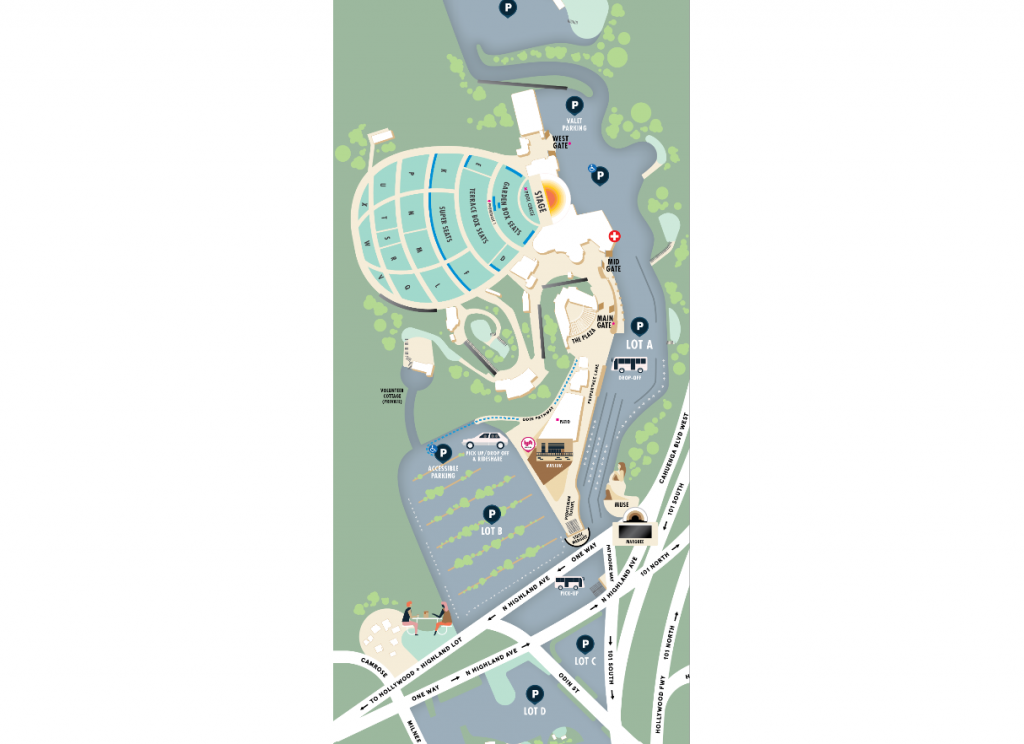 Where To Find Hollywood Bowl Parking
On-Site Parking Lots
We listed the prices to park at the venue's on-site lots above. However, these lots aren't such a good choice as parking availability is limited, so they use stacked parking (they will park multiple cars in one spot and block them in). You won't be able to leave until the cars before you have left—it could easily take hours to leave the venue. Even if you're able to get out first, the traffic jams are insane. So, it's best to take your cash and head to another lot.  
Hollywood Methodist Church Lot
The Hollywood Methodist Church paid parking lot is a short uphill walk, but they don't stack the cars. The daily rate ranges from $10–$30, depending on the event. Plus, the profit benefits the church – if you want to participate in a good cause, this is the perfect choice for parking at the Hollywood Bowl!
Private Parking Lots
There are a variety of private businesses in Hollywood and Highland that offer parking services during Hollywood Bowl events. Although this isn't the cheapest option (the cost varies from $30–$40), it's more convenient. Parking is available only for a short time as they fill up spots quickly, so be sure to arrive early! 
Park and Ride Bus 
The Park & Ride shuttles depart from various public parking areas in Los Angeles and help cut down on the stress of event parking. Getting to the venue will be easy, but leaving by bus often involves long lines. However, the buses do start leaving immediately after the show ends. A round trip ticket costs $7 in advance or $12 at the location (only cash is accepted when purchasing in-person). 
Hollywood Bowl Shuttle 
This is a great way to save money on parking. This option includes free parking services at various lots near the Hollywood Bowl and shuttle service for $6. The shuttle will take you right back to your car once the show ends. Note that the Hollywood & Highland lot isn't free.
How much is parking at Hollywood & Highland?
| | |
| --- | --- |
| Duration | Parking Cost |
| Up to 20 minutes | $2 |
| Each additional 20 minutes | $2 |
| Daily maximum | $18 |
Valet Parking at the Bowl
The venue offers exclusive valet parking to La Phil. You need to donate $2,000 for a private parking deck, $3,500 for the closest West Gate entrance, and $5,500 for access to a dedicated lane to exit or covered parking. If you want these benefits for a single night, you'll need to donate $500 prior to the concert (and you'll still need to pay the $60 parking fee). Valet parking service is always based on availability.
Parking Alternatives—Getting to Hollywood Bowl
Dodge the frustrating search for parking and use another transportation option to get to the venue! Ridesharing services and public transit are both affordable and convenient options.
Uber or Lyft 
Choosing to use Lyft and Uber to the Hollywood Bowl is a great alternative to driving, but consider getting dropped off a few blocks away to avoid waiting in traffic. When leaving, don't request a pick up at the Hollywood Bowl area – you will have to wait a long time for the driver to get through the traffic jam. Walk a few blocks to a less congested area. If you wish to be dropped off as close to the venue as possible, the designated spot is in parking lot B.
You can Uber from home, or opt for metered street parking in a neighborhood near the venue if you live too far away. Make sure to read the street sign carefully and avoid a pricey LA parking ticket. In addition, you can use ParkWhiz or a similar service to find a cheaper parking garage within a couple of miles, then take a quick Uber to the venue. Garages typically range from $10–$30 flat rate, but may also charge hourly parking. 
Public Transportation
Just like at Universal Studios, using the metro is a great time-saver. The red line stops at Hollywood and Highland, which is almost a mile away. You can use your tap card and get a free ride on the shuttle, or you can just walk to Hollywood Bowl—the walk takes about 20 minutes. Aside from the metro, there are regular bus routes that will take you near the Hollywood Bowl. 
Hollywood Bowl Parking Tips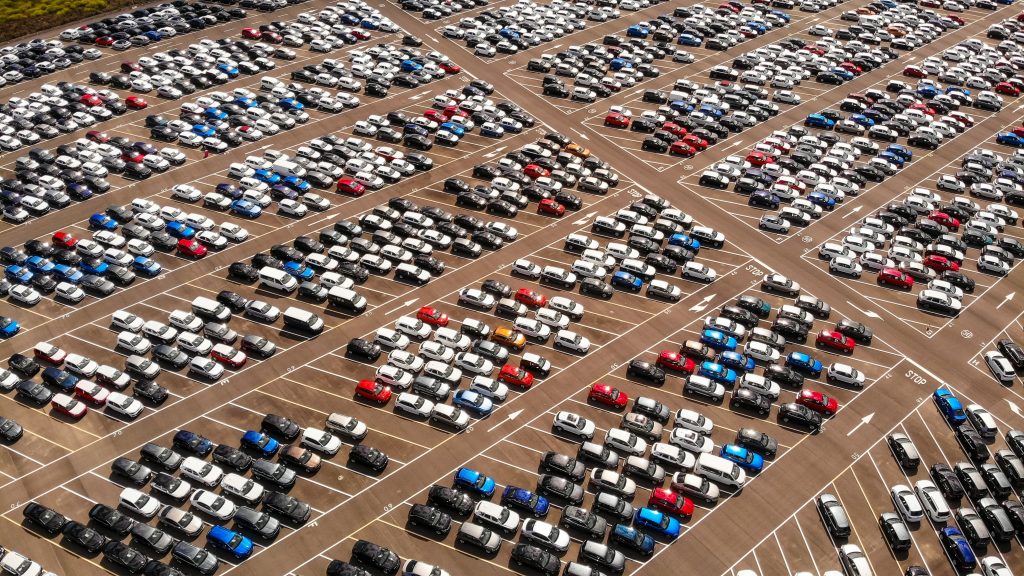 If you drive, don't park in the main Hollywood Bowl stacked parking lot. We can't emphasize this enough. Stacked parking means you have to wait for everyone else to get out, which can take quite a long time. Since it's so close to the venue, you will be stuck in hectic traffic even if you do get out early. Nearby short-term parking will always be a better option.
Be at least two hours early if you want to picnic outside the Hollywood bowl. Don't forget to bring a picnic towel or blanket for the experience! 
Arrive early, even if you don't want to picnic. We recommend arriving at least an hour early. Hollywood Bowl parking causes a bad traffic jam before and after the shows, especially popular weekend shows. Pre-show traffic can put you in a bad mood before the concert even starts, and the traffic jam afterward can ruin a good night. 
Bring warm clothing. Bring a jacket or sweater because Los Angeles can get chilly at night during fall and winter, especially when it's windy. You could also bring a blanket to snuggle up with. 
Get seats close to an aisle. The majority of seating at the Hollywood Bowl is pretty cramped with little legroom. Middle seaters will have a hard time getting in and out of the seat to use the restroom or grab some drinks.
Pack your meals. Food at the Hollywood Bowl can be expensive, so it's more practical if you bring your own meals. Light snacks and finger foods are ideal. 
Wear walking shoes. Whether you're going to use public transportation or insist on driving, it's advisable to wear good walking shoes since you will likely do a significant amount of walking. 
Consider alternatives to driving. Parking in the Hollywood Bowl area or near the venue can be extremely stressful. Try considering the list we have up above! 
Bottom Line
We hope these tips will help you have an awesome experience at some of the most historical events in Hollywood. Driving can be quite a nerve-racking experience. Even so, there are alternatives to the main Hollywood Bowl parking lot that can take hours to get out of after the event.
Parking Access can help you find a reliable and cheap spot at or near other venues, locations, and airports in Los Angeles CA, including: