This post also contains affiliate links and we will be compensated if you make a purchase after clicking on our links.
Walt Disney Concert Hall Parking
The Walt Disney Concert Hall is a part of the Los Angeles Music Center, one of the country's biggest performing arts centers. It's located in downtown Los Angeles, at 111 South Grand Avenue, and offers ample parking to its guests and LA Phil admirers. The Parking Access team will provide all the info, directions, and alternatives to parking at the Walt Disney Concert Hall. Plan your visit to a tee, and have a stress-free day in downtown LA.
Parking for Walt Disney Concert Hall Visitors
The Walt Disney Concert Hall parking garage is beneath the venue with entrances on Second Street and Lower Grand Avenue. It opens at 6 AM on weekdays and at 7 AM on weekends, while the closing time is at midnight daily. The Hope Street entrance for those who prefer valet service opens two hours before the show.
Several street closures are in effect throughout 2022 and allocate extra time for your trip to the venue. If you're headed to the Lower Grand entrance, approach it from 4th Street or Olive Street. Check out the Walt Disney Hall parking map below to see the exact locations and accessible routes.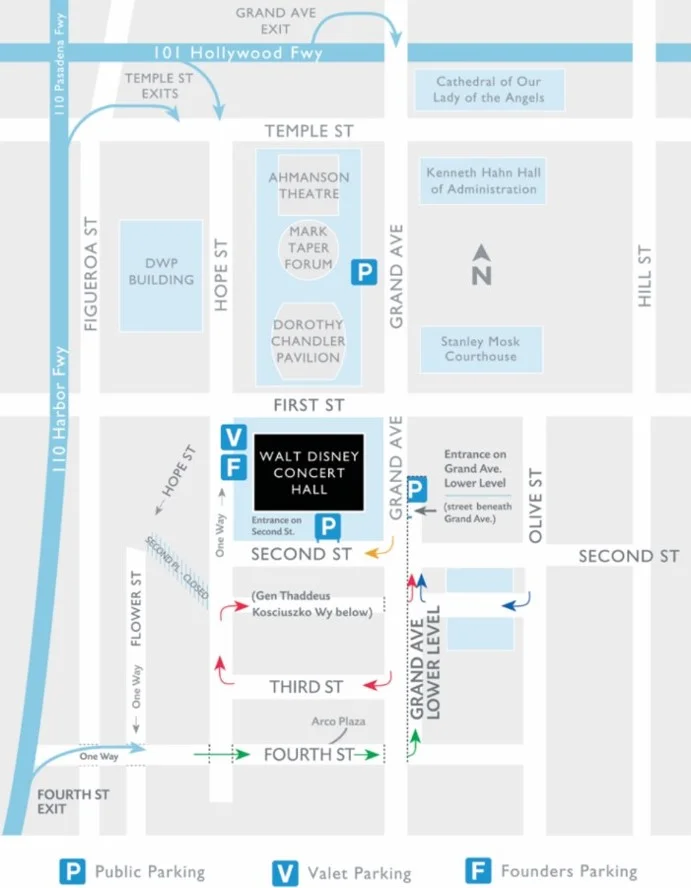 How Much Is Parking at Walt Disney Concert Hall?
The Walt Disney Concert Hall parking rates vary according to several factors. The $9 event rate applies on weekdays after 4:30 PM and all days on weekends. At other times, the rate is  $3.50 per 15 minutes, while the daily maximum is $20. The same fees apply to all Music Center parking.
If you're willing to pay more for a quicker and more convenient process, head to the Founders Parking entrance. The valet parking service is available for $23 starting two hours before the evening concerts.
Additional Event Parking Near Walt Disney Concert Hall
Free parking near the Walt Disney Concert Hall is non-existent, but our team discovered amazing parking alternatives in the vicinity. We singled out the top 5 closest and most affordable options and their event rates. These rates differ from standard daily parking fees and can vary across platforms or according to the occasion.
| | | | |
| --- | --- | --- | --- |
| Parking Facility | Event Rate | Address | Walking Distance |
| PacMutual Building Garage | $6 | 523 S Olive St. | 12 minutes |
| World Trade Center Garage | $9 | 333 S Flower St. | 6 minutes |
| Bank of America Garage | $10 | 333 S Hope St. | 7 minutes |
| Gas Company Tower Garage | $10 | 555 W 5th St. | 9 minutes |
| Joe's Auto Park Garage | $10 | 220 S. Spring St. | 11 minutes |
ADA Parking Availability 
Accessible parking spots are available on a first-come, first-served basis on all levels of the Walt Disney Garage. All visitors occupying an ADA spot must have disability parking placards or license plates. Standard Walt Disney Concert Hall parking fees apply.
The most convenient alternative is the Music Center Garage, which charges a $9 event rate just a couple of minutes away. Accessible self-parking spaces are placed on the second and fourth levels of the facility. The Broad Parking Garage is also very close but more expensive; rates start at $17.
Skip the Parking Hassle: Use Public Transit
Taking the Metro Red (B) Line or Purple (D) Line is the best way to avoid traffic and cut your travel time. The underground Civic Center/Grand Park Station is a 4-minute walk away from the venue. In addition to rail, Metro's J Line serves the station's street-level bus stops. Several other bus lines stop on the streets around the Walt Disney Concert Hall, including 4, 28, 37, 45, 90, and 799.
The regular Metro fare for both bus and rail services is $1.75. Click here for schedules and additional info.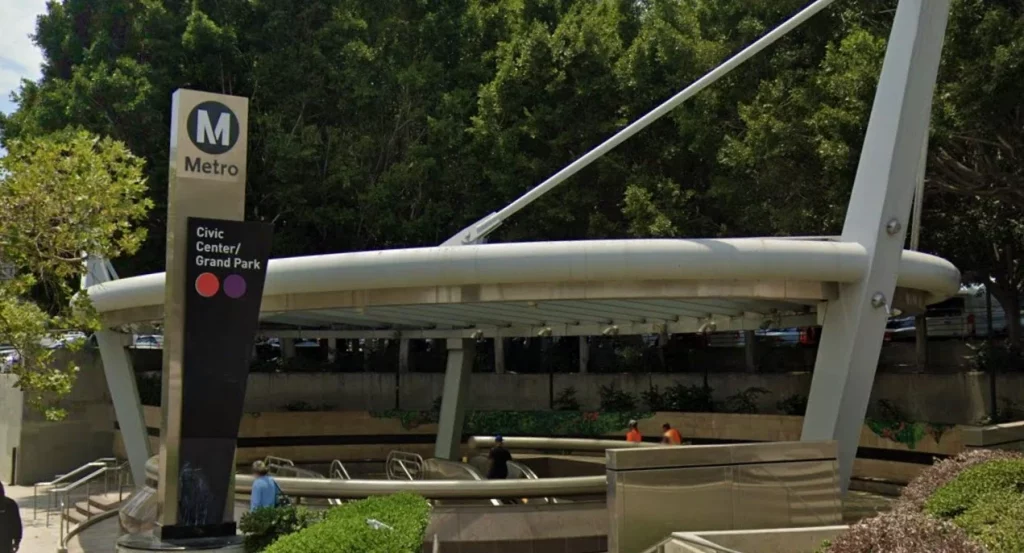 Find Parking at Other Locations in Greater LA
The Parking Access team has created countless guides covering airports, venues, and other locations across the world. Residents and visitors of the City of Los Angeles can use our help to find much more than Walt Disney Concert Hall parking information. Go through our links below to learn more about parking at the most popular locations in the area.
If you're organizing a trip out of Los Angeles International Airport, read our LAX Parking guide to discover, compare, and book parking at the best airport lots.