This post also contains affiliate links and we will be compensated if you make a purchase after clicking on our links.
The Santa Monica Pier is an ideal location for entertainment, fishing, and those who want to enjoy the breathtaking sunset views. It provides an array of activities for people of all ages, including an amusement park, restaurants, concession stands, and summer outdoor concerts. With over 9 million guests every year, finding a convenient Santa Monica Pier parking lot can be tricky, but that's where we step in! Learn the nitty-gritty of public parking for Santa Monica Pier visitors, and discover the top parking and transportation alternatives. 
Click here to get driving directions to the site. The Pier is open from 6 AM to 10 PM every day.
Santa Monica Beach Parking Lots & Rates
The Santa Monica Pier Deck rates varied from $12 to $18 per day, but the deck is closed at the moment. Instead, visitors can take advantage of several Santa Monica Beach parking areas. The best short-term parking option is Beach Parking Lot 1 South at 1640 Appian Way. The hourly parking fee is $1, and there's a two-hour maximum stay. Like most beach lots, this one is open from 6 AM to 6 PM.
Santa Monica Beach Parking 1 North is the most popular daily parking option among visitors. It offers convenient parking for standard vehicles, oversized vehicles, and guests with disabilities. Lot 1 North is also the only beach lot that stays open until 2 AM. The list below shows the standard parking fees during summer and winter.
Service
Summer Rate

(Apr 1–Oct 31)

Winter Rate

(Nov 1–Mar 31)

Weekday Car Parking 

$15

$7

Weekend Car Parking

$15

$10

Bus Parking

$90

$42–$60

RV Parking

$60

$28–$40

ADA Parking

Free

Free
Santa Monica Pier Beach Parking Lot 3 North at 1150 Pacific Coast Hwy. has the same fees.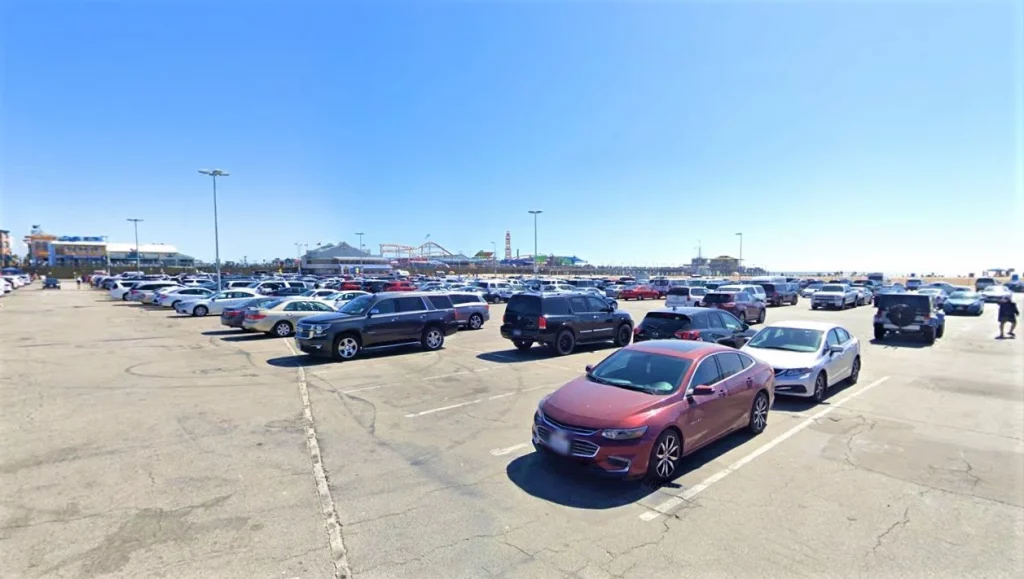 Additional Parking Near Santa Monica Pier
Beach lots tend to fill out quickly, especially during weekends and holidays, so you should always have a backup plan. The Parking Access team will save you time by providing the best Santa Monica Pier parking alternatives in the area.
Civic Center Parking Structure
The Civic Center Parking Garage at 333 Civic Center Dr. is open 24/7 and located less than 10 minutes away on foot. The facility offers covered parking for electric vehicles and bicycles as well. It's suitable for quick stops and long-term parking—check out the standard parking fees:
| | | |
| --- | --- | --- |
| Duration | Monday–Friday | Saturday–Sunday |
| First 30 minutes | Free | Free |
| Every additional 30 mins | $0.50 | $1.00 |
| Daily maximum | $14.00 | $5.00 |

Downtown Parking Lots 
Although slightly pricier, Downtown Lots 27, 29, and 30 are excellent alternatives to beach lots. Lot 30 at 1665 Ocean Ave. is the closest one, but all of them are within walking distance and provide plenty of secure parking spaces. Here are the general rates:
$1.25 per 30 minutes

;

$17.50 per day

.
Parking Structures 1–8 are just north of Lot 30 and also offer ample visitor parking spots. Their average half-hour rate is $2, while the maximum daily cost is $20 to $25.
On-Street Parking for Santa Monica Pier Visitors
You may find a street parking spot near the beach, in the downtown area, and on surrounding streets. If you don't mind taking a long walk, the safest and most affordable spaces are in the neighborhoods north of the Pier. Here are the street parking rates in Santa Monica:
Downtown & Beach Zones: $2.50 per hour

;

Other Zones: $1.25 per hour

.
Those who opt for metered parking should read the signs carefully to avoid Santa Monica parking tickets.
Where To Find Free ADA Parking in Santa Monica 
Individuals with a disabled parking placard looking for free parking near the Santa Monica Pier can find it at many locations:
Santa Monica Beach Lots;

Civic Center Structure;

Downtown Lots;

Main Street Lots;

Mid-City Parking Lots;

Main Library Surface Parking Lot.
In addition to these, there are also free on-street parking stalls for visitors with disabilities.
Take the Expo Line or Metro Bus to Santa Monica
Thanks to convenient public transportation services, avoiding the car parking hassle and heavy traffic is easy. 
The Downtown Santa Monica Station at 4th and Colorado Ave. is a 10-minute walk away from the Pier. It's served by the Metro Expo Line that runs from Downtown Los Angeles for only $1.75 (including free transfers for up to two hours). Trains run every 10 to 20 minutes, depending on the time of the day.
Metro Bus 534 also runs to Downtown Santa Monica and stops at Colorado and Ocean Avenues, while Metro Rapid 720 picks up on 4th Street. The bus fare is also $1.75, while a day pass is $7.00.
Alternatively, you may use one of the Big Blue Bus lines, which stops at Ocean and Colorado, Civic Center, and 4th Street stops. Routes that run to the stops near the Pier include Bus 2, 3, 5, 7, and 8. The fare for local trips is $1.25 per person.
Find Parking in the L.A. Metropolitan Area Easily!
Here at Parking Access, we work hard to provide you with relevant, up-to-date information about countless parking locations worldwide. Greater Los Angeles is among the most popular places in the country and offers a lot of attractions. In addition to the Santa Monica Pier parking guide, our team will help you learn more about the following.
If you're planning a trip out of LAX, check out our comprehensive LAX Parking guide to find and book discounted parking in a few clicks.