There are a million reasons to visit Santa Monica, but before you come, it's important to educate yourself on parking in the city. Some of the rules and regulations may be a little different from what you're used to, so learning about street parking and parking meters is essential to avoiding a Santa Monica parking citation. Learning about parking is also key to helping you avoid heavy traffic, which can help make sure you get to your next appointment or venue on time.
Keep reading to learn all there is to know about Santa Monica parking tickets, including how to pay a parking ticket and how to take care of a Santa Monica parking citation. You'll also learn about ways to dispute a ticket, such as by paying attention to the supporting documentation and deciphering whether it is valid.
How to Avoid Santa Monica Parking Tickets
There are several things to consider if you want to avoid a Santa Monica parking citation. First and foremost, understanding on-street parking rules will be of the utmost help. The easiest way to determine whether you're at risk for a parking ticket is to look at parking signs before you park your car on the street. You can also take advantage of the city's many pre-pay parking options, or if you want, you can always use Santa Monica public transportation to keep from getting a citation. 
Just remember, traffic patterns change throughout the city from time to time, so if you're wanting to visit one of the city's busier areas, like Santa Monica Boulevard, you'll want to book a parking spot in advance to ensure you get a spot.
Discover the Nitty-Gritty of Santa Monica Street Parking
Santa Monica parking enforcement rules are enforced daily, seven days a week, 24 hours a day; this applies to all beach lot parking spaces as well as pay-by-space lots. The same rules apply on weekends and holidays that apply during the week.
Under no circumstances can a vehicle be parked for longer than 72 hours in the same parking space. Also important to keep in mind is that the Yellow Loading Zones have a 15-minute limit Monday through Saturday each week from 7 AM to 6 PM; however, there are some circumstances in which the Yellow Loading Zones' rules change.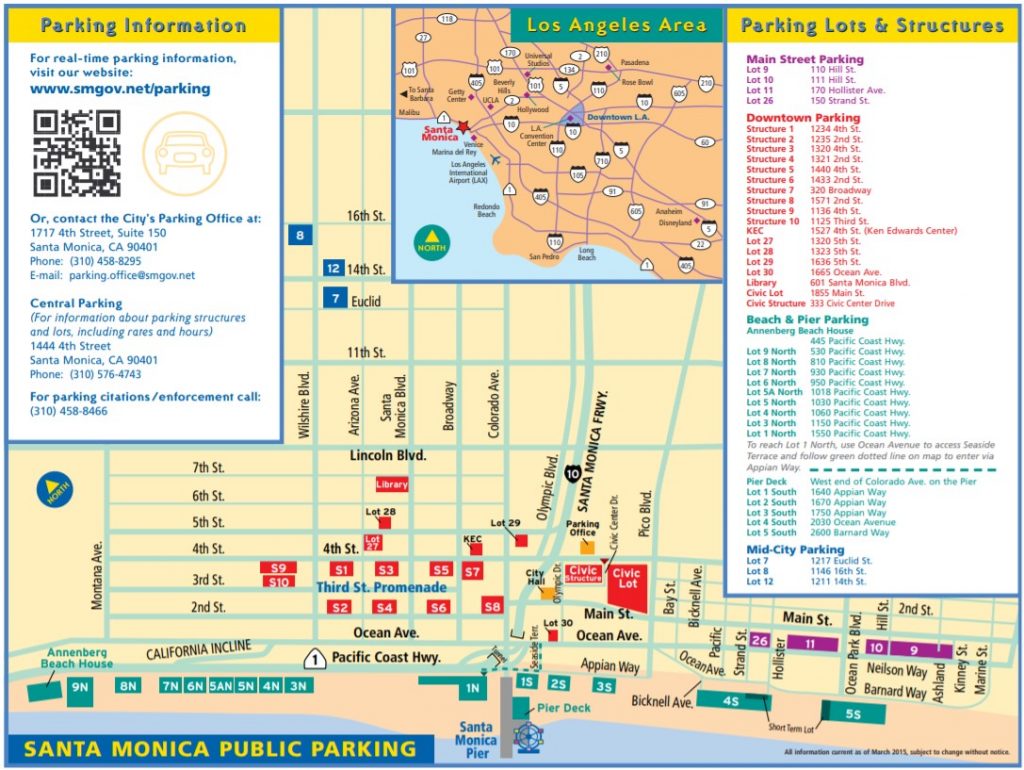 Generally, the following parking rates apply:
| | |
| --- | --- |
| Location | Rate |
| On-street meters: Downtown and Beach Meter Zones | $2.50/hour |
| On-street meters: Citywide Meter Zone | $1.25/hour |
| Main Street lots | $1.25/hour |
| Pier Deck (April 1 – October 31) | $18/day |
| Pier Deck (November 1 – March 31) | $12-$15/day |
| Central Zone Beach (April 1 – October 31) | $15/day |
Booking and Paying for Parking In Advance
There are a variety of service providers that you can use to book your parking in advance. Booking in advance comes with many benefits, such as guaranteeing yourself parking before you arrive. This in itself can save you a ton of time and money and will help make your adventures in Santa Monica all the more enjoyable. It's also wise to book in advance so you can ensure you park in a spot that has a time limit that accommodates your parking needs. Learn more about online booking platforms like SpotHero and ParkWhiz.
Take Advantage of Santa Monica Public Transportation
Understanding how to avoid parking citations in Santa Monica is crucial to help ensure your trip to the city is as enjoyable as possible. If you're staying in a hotel in Santa Monica, you'll want to check out the many parking and transportation services provided by the hotel. A lot of hotels provide easy access to ride-share services like taxis and shuttles. Also, don't forget that the city provides a wide range of public transportation services. 
Santa Monica is known for having one of the most extensive public transportation transit networks. Every week, about 17% of the residents in the city use the Big Blue Bus as a primary form of transportation, and about 12% more use one of the other transit services offered by the city. The city's four main public transportation services include:
Big Blue Bus: Santa Monica's local bus service
Metro: A regional transportation service
Expo Line: A train that can get you from Downtown Los Angeles to the Colorado Esplanade in Colorado in less than 45 minutes. 
Dial-a-ride Senior Service: A low-cost way to take advantage of shared-ride services, including curb-to-curb transportation to an array of destinations in Santa Monica.
Already Got a Parking Citation? It Might Be Invalid!
If you've received a ticket in Santa Monica, the first thing you want to do is make sure that it's valid. There are many reasons why the citation could be invalid, and if you can prove it is, then you don't have to pay for it. Here are some of the ways you can pay attention to tell if tickets in Santa Monica are invalid:
The handwriting on the citation isn't readable
The license plate number on the citation doesn't match the car you were driving
Any of the details relating to the car don't match your car
The time or date of the incident is incorrect
You received a citation for a car that was lost or stolen
You can also go online to see rates for parking meters throughout the city as well as find more information on the agency that gets to issue parking tickets.

Dispute Your Santa Monica Parking Ticket 
If you want to dispute a Santa Monica ticket, you'll need to request an Initial Review. It's imperative to keep in mind that you have only 21 days from the day the ticket was issued to dispute it. If you are appealing an overdue parking ticket, you must request the Initial Review within 14 days of receiving the overdue notice. To see the status of your citation, call 1-800-214-1526.
If you aren't satisfied with the outcome of the Initial Review, you can request an Administrative Hearing. This request must be submitted within 21 days of receiving the Initial Review Results Notice. 
Furthermore, if you aren't pleased with the results of the Initial or Administrative Hearing, you can always dispute the ticket with the Los Angeles Superior Court. To do this, you will have to pay a $25 filing fee and file within 30 days of receiving an Administrative Hearing Notice of Decision. Whatever option you choose, be sure to fight the ticket properly using all the necessary documentation and photographs if needed.
How to Pay Santa Monica Parking Tickets
You can pay parking citations in Santa Monica in person, over the phone, or through the online payment option. If the cost is too high for your budget, make sure to contact the City of Santa Monica to set up a payment plan. A payment plan is also suitable for anyone who wants to use their credit card to pay for a citation.
Paying ticket in person: Monday to Friday from 9 AM to 5 PM at 1575 Westwood Blvd., Suite 100 B, Los Angeles, CA 90024
Pay parking tickets over the phone: 1 (800) 214 – 1526 (within the United States) or 1 (213) 689 – 8423 (calling from outside the United States)
Online payments: Pay online now
Pay by mail: Paying unpaid parking tickets you get in Santa Monica is simple when you take advantage of the pay-by-mail option. You can do so by sending a check, money order, or cashier's check. Payments must be in U.S. dollars. Place citation number(s) on the check or money order. DO NOT send cash, and be sure to make checks payable to the City of Santa Monica. The address is City of Santa Monica, P.O. Box 515213, Los Angeles, CA 90051-6513.
The Takeaway
Whether you're heading to Ocean Avenue, Colorado Avenue, or Arizona Avenue, make sure to check out the various available parking options. Use all of the helpful information in this article to avoid getting a parking citation. And if you happen to get one, follow the listed procedures to dispute or pay it properly.
---
In addition to Santa Monica parking tickets, the Parking Access team has covered many locations across the state; we can help you avoid or contest citations in any of the following California cities: