This post also contains affiliate links and we will be compensated if you make a purchase after clicking on our links.
As one of Los Angeles' most popular attractions, Griffith Observatory is located on the slope of Mount Hollywood. It offers breathtaking views of Downtown LA and the Hollywood Sign, so residents and tourists enjoy coming here at sunset. With more than 1.5 million visitors a year, the observatory is one of the country's most popular informal education sites. When it comes to parking, Griffith Observatory provides a few options, and our in-depth guide has all the info. You'll also discover where to find free Griffith Observatory parking spots and how to use public transport to get to the building. 
Griffith Observatory Tickets & Hours
Admission to Griffith Observatory is free, as well as admittance to its grounds and public telescopes. The Samuel Oschin Planetarium ticket is $7 for adults and children older than 12. In accordance with the City of Los Angeles ordinance, visitors older than 11 must wear face coverings and present proof of vaccination to enter the Observatory building.
The observatory is open three days a week, and its working hours vary according to the day. It opens at 12 PM on Fridays, while the weekend hours are 10 AM to 10 PM. Griffith Park is open to the general public every day from 5 AM to 10:30 PM.
Should you need additional assistance, call the observatory at (213) 473-0800. First-time visitors can use the following address for directions: 2800 East Observatory Road, Los Angeles, CA 90027.
All About Parking at Griffith Observatory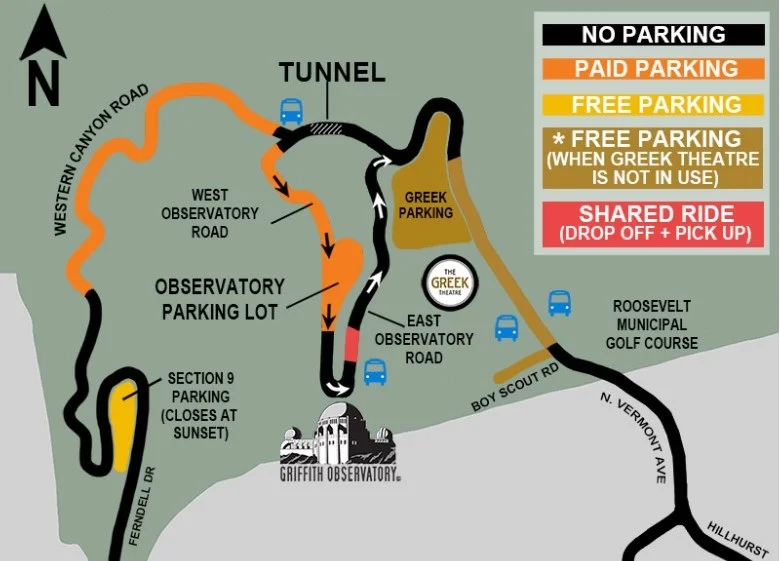 As you can see on the Griffith Observatory parking map, those who decide to drive to the facility or park trails have several options for parking. 
Griffith Observatory Lot
Parallel Parking on West Observatory Road
Parallel Parking on Western Canyon Road
Greek Theatre Parking
Section 9 Parking
The Observatory's paid parking area and street parking on paved park roads require payment during the following hours:
Weekdays: 12 PM to 10 PM;

Weekends: 10 AM to 10 PM.
There's no time limit for public parking at these three locations.
How Much Is Parking at Griffith Observatory?
The Griffith Observatory parking fee had gone up from $4 to $15 in 2020, but the cost is now $10 per hour, according to our resources. Pay stations accept credit cards only, and you can find them at several locations throughout the lot and along the roads. Don't forget to take the parking receipt after making the payment and place it on your dashboard. You might get an LA parking ticket if you fail to do this.
If you're willing to take a 15-minute stroll or a quick bus ride from the Greek Theater, you may find a free parking space. This option is unavailable after 1 PM on concert evenings and during special events. Event parking rates range from $10 to $75, depending on the car parking service.
The Section 9 lot also provides complimentary parking near Griffith Observatory. However, it closes at sunset, so it's not a good option if you plan to come at that time or stay longer.
ADA Parking Availability 
Accessible parking for Griffith Observatory visitors is available in the southern part of the Observatory parking lot. It's limited and available on a first-come, first-served basis, so we recommend early arrivals. Metered parking spaces on West Observatory Road are free for anyone displaying a properly posted ADA placard.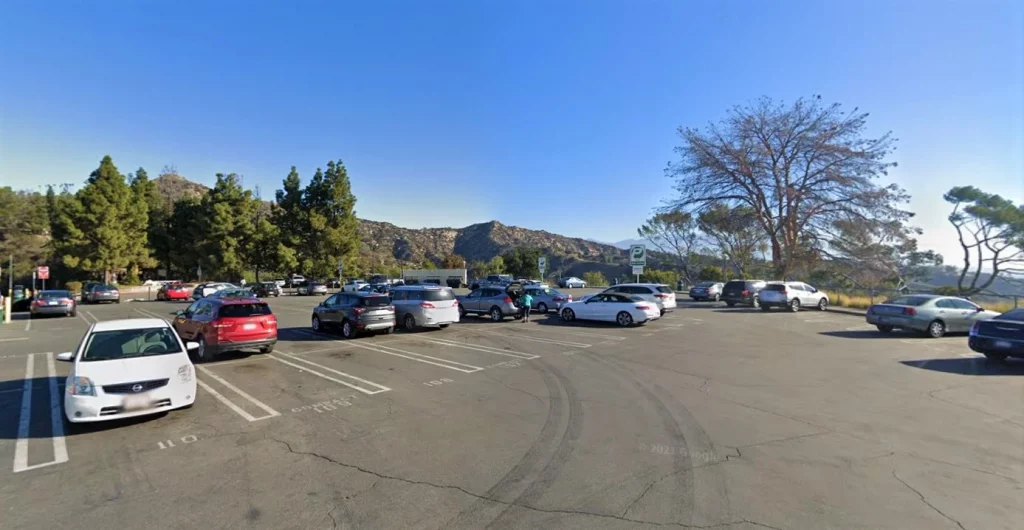 If these are full, park free of charge at the Greek Theater and take a wheelchair-accessible DASH bus ride to the observatory. A disabled parking placard or permit is required.
How To Take Public Transit to the Observatory
Use public transportation to save time and avoid Griffith Park Observatory parking on weekends and holidays. The most cost-effective way is to take Metro Red Line (B) for $1.75 to the Vermont/Sunset station and then hop on a DASH bus to the observatory. The DASH Observatory/Los Feliz bus service operates daily from 10 AM to 10 PM, and the fare is only 50 cents. Buses drop off in front of the observatory approximately every 20 minutes, but you can also hop off at Mt. Hollywood Drive for hiking trails or at the Greek Theatre. Click here for schedules, maps, and other info.
Find Parking in Los Angeles Without Any Hassle!
Parking Access experts have researched parking at countless locations and points of interest worldwide. You may take advantage of our helpful and up-to-date guides wherever you go, including many attractions in Los Angeles. Aside from Griffith Observatory parking, use our help to learn more about the following.
If you're flying out of LAX soon, go through our detailed LAX Parking guide to find all the info regarding on- and off-site parking fees.