This post also contains affiliate links and we will be compensated if you make a purchase after clicking on our links.
The California Science Center offers diverse exhibits, programs, and memorable experiences in Exposition Park, a quick drive southwest of downtown Los Angeles. While general admission to the California Science Center is free, special exhibitions like the Space Shuttle and the IMAX theater require payment. Reserve timed-entry tickets between 10 AM and 4:15 PM since the museum is open until 5 PM. Our California Science Center parking guide will provide all the info and help you find a convenient parking spot before you get there! Use all the info and our hot to have a stress-free visit and save your time and money.
California Science Center Parking in a Nutshell
The California Science Center is located next to the Natural History Museum and LA Memorial Coliseum and across from the University of Southern California. Its convenient location allows visitors to access the science museum easily and provides ample parking. 
General Parking

is available in the Visitor Parking Structure, also known as the Blue Structure, and other nearby lots or on-parking areas.

ADA Parking

is obtainable on a first-come, first-served basis in all Exposition Center parking structures.

Electric Vehicle Stations

are in the Blue Structure, on the north side of Levels A and B. You may use EV charging stations for the duration of your visit.

Bicycle Parking

is located outside the north and south entrances to the building and can accommodate up to 15 bicycles.
Keep reading to discover the California Science Center parking rates and additional information about the listed car parking options. You can also check out the LA Coliseum guide.
Tip: To avoid crowds and find a parking spot quickly, we suggest visiting the California Science Center and its special exhibits on a weekday afternoon. If a weekend or holiday is your only option, reserve parking in advance or get there early.
How Much Is Parking at the California Science Center?
The California Science Center parking cost varies according to the time of the day or occasion. While the standard parking rates are as follows, event rates may vary. 
| | |
| --- | --- |
| Time of the Day | Parking Fee |
| 8 AM – 5 PM | $15 |
| After 5 PM | $18 |
| Special Event  | $18 or more |
Pay for parking at one of the pay stations—see the map below for locations and the traffic flow. We recommend paying upon arrival to avoid queues at the end of the day.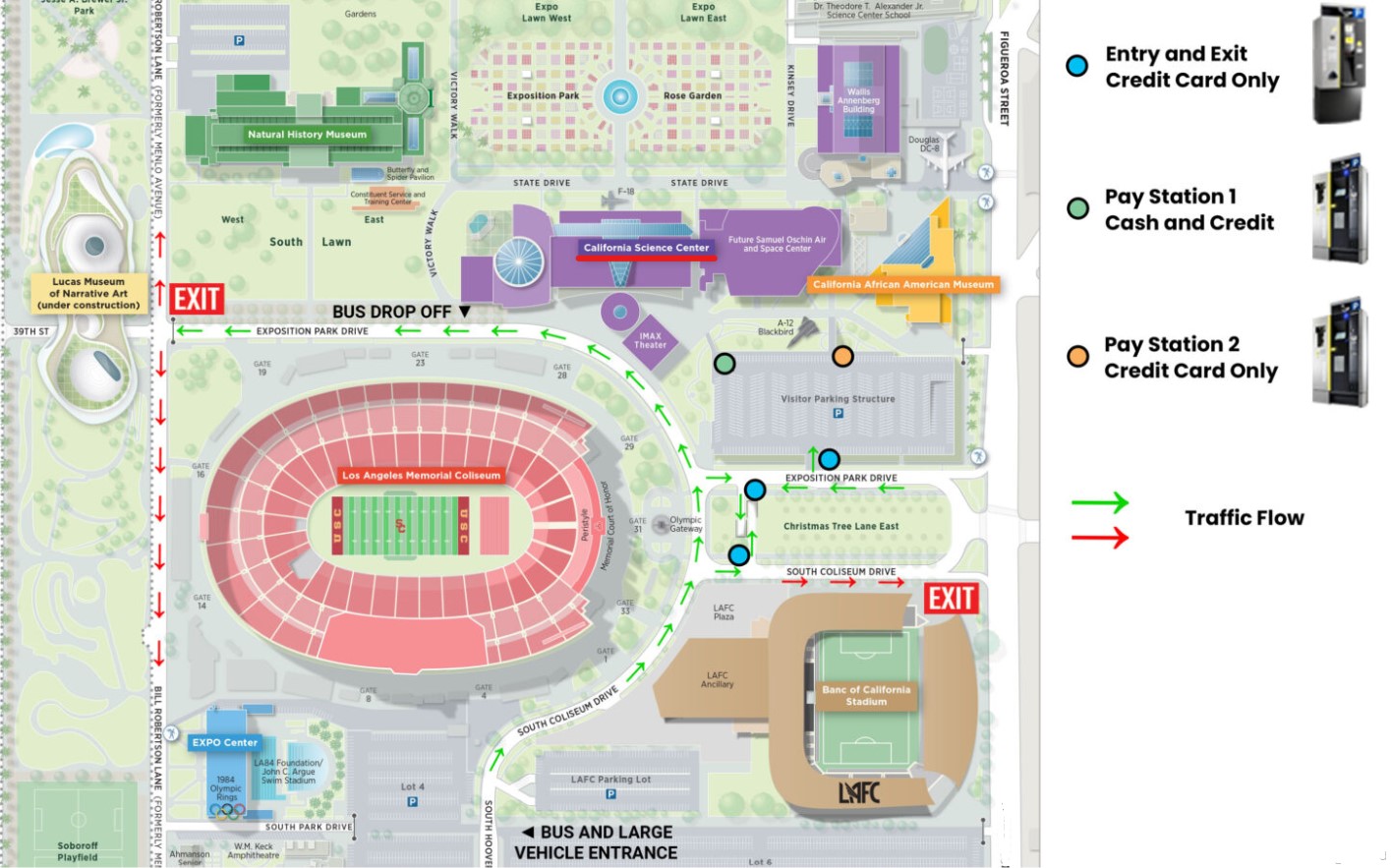 Where Is Handicap Parking at the California Science Center?
Accessible parking for California Science Center guests with disabilities is available on all floors of the Visitor Parking Structure. If you cannot find a suitable spot in this facility, check out another Exposition Park parking area. All of them are ADA-accessible, and you can find them in the LA Coliseum Parking guide.
Convenient Parking for Oversized Vehicles
Oversized vehicle drivers may use the parking lot south of the Los Angeles Coliseum—see the entrance on the map above. For special events, it would be best to request parking ahead of time and thus avoid sold-out situations. To calculate the parking rate for an oversized vehicle, multiply the standard rate by the number of spots the vehicle occupies.
Additional Parking Near the California Science Center
Finding a suitable short-term parking area within short walking distance of the park can be tough, but you have some options. While off-site parking garages require taking long walks, on-street parking might be a better alternative. The nearest metered parking spaces cost around $1 per hour and have various time limits. If you come across a vacant street spot, read the signs carefully to avoid receiving a pricey LA parking ticket. Check the time limit, and see if there's any other parking regulation. We also recommend going through parking platforms and apps in search of budget-friendly parking spots in the vicinity.
When it comes to free parking, California Science Center guests may find it on Flower and Figueroa Streets or Exposition Boulevard. However, these spots are limited and extremely hard to obtain.
Take Public Transit to the Expo Park
The Metro E Line operates between downtown LA and Santa Monica, and it stops at the Expo Park/USC Station. The station is a quick walk away from the California Science Center, and the regular one-way Metro fare is only $1.75. If you live outside LA County, take Amtrak or Metrolink to Los Angeles Union Station, transfer to the Red or Purple Line to 7th St/Metro Center, and then take the E Line to the Expo Park.
You can also fly into Los Angeles and then book an LAX shuttle to the California Science Center or request a Lyft at LAX.
Find Parking in Los Angeles Without Any Hassle!
Our international team covers countless locations across the continent, including major venues, museums, and stadiums. Apart from airport parking, finding event parking has also been a piece of cake, thanks to Parking Access! In addition to the California Science Center parking guide, we will assist you in booking an affordable spot at many other locations in Los Angeles, including the following.
If you live in the area and plan on flying out of Los Angeles International Airport, check out our in-depth LAX Parking guide. It includes all the relevant information regarding on-site and off-site parking services and prices!