Having a car in the City of Boston can be more of an issue than a convenience. Even though it's easier to get around on foot or via public transit, driving and finding parking can be nearly as simple if you plan ahead. That's where we come in—Parking Access will help you develop a plan and learn all you need to know about Boston monthly parking! Discover the average parking rates, the best parking locations, and where to look for a reasonably-priced spot. You will also find out more about MBTA monthly parking, as well as tips on airport and seaport parking.
Monthly Parking in Boston
Doing in-depth research is a must when searching for a safe Boston monthly parking option, and our guide will save plenty of your time! We already looked into city parking companies and providers like ParkWhiz and SpotHero to find the best locations for your vehicle. 
The average monthly rate in Boston is $350, but it varies based on the facility and neighborhood, and the price can go over $500! Downtown Boston is the most expensive part of the city, while garages in the surrounding neighborhoods sometimes offer more reasonable rates. For example, if searching for monthly parking in South Boston, your chances of getting a cheap spot are much higher.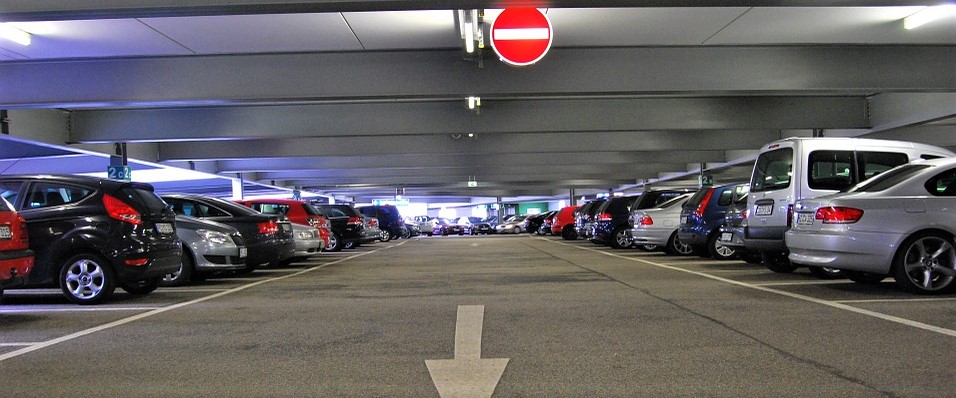 Find Low-Cost Boston Monthly Parking by Neighborhood
We looked into the most popular Boston neighborhoods and created a list that offers at least one car parking facility for each part of the city. Go through the options and prices to find what works for you!
| | | | |
| --- | --- | --- | --- |
| Neighborhood | Parking Garage | Address | Monthly Parking Rate |
| Financial District | State St. Garage | 75 State St. | $530 |
| Downtown Crossing | Lafayette Garage | 1 Avenue de Lafayette | $470 |
| Government Center | Government Center Garage | 125 Bowker St | $400 |
| North End | Cooper Street Lot | 34 Cooper St. | $420 |
| North End | North End Garage | 600 Commercial St. | $370 |
| Waterfront  | Intercontinental Boston Hotel Garage | 500 Atlantic Ave. | $409 |
| Chinatown | Beach Street Garage | 40 Beach St. | $335 |
| Columbus | Atelier 505 Garage | 15 Warren Ave. | $315 |
| Back Bay | The Midtown Hotel Garage | 220 Huntington Ave. | $315 |
| South Boston | Cambria Hotel | 6 W. Broadway | $300 |
| South Boston | Silver St. Lot | 270 Silver St. | $147  |
| South End | The Smith Garage | 89 E. Dedham St. | $250 |
| Lower Roxbury | Shawmut Ave. Lot | 855 Shawmut Ave. | $240 |
| Allston | Gerald J Realty Lot | 975 Commonwealth Ave. | $212 |
How To Reduce Boston Monthly Parking Costs
Getting a monthly parking spot is much better than searching for safe street parking daily, and it keeps you from getting a Boston parking ticket. However, this option can be immensely expensive as well. We have a few money-saving tips—check them out below to see how to find a cheap Boston monthly parking spot!
Timing discounts
Some Boston parking garages offer several monthly options—24/7 parking, parking during certain hours, and overnight parking. The 24/7 service is the most expensive choice, but the other two can be quite affordable. That's why the Silver St. Lot is significantly cheaper than other parking garages.
The 75 State Street Garage is $530 per month, but it also offers a cheaper alternative. You can pay $110 per month and get a reliable parking service from 4 PM to 7 AM on working days and 24/7 on weekends. If these hours fit your schedule, you can pre-book your Boston monthly parking space and save over $400!
Alternatively, if you need overnight parking only, the Beach Street Garage in Chinatown provides such service for $165 per month. The Constitution Wharf Lot in Charlestown has this option, too—the overnight monthly parking cost is only $60.
Location
Downtown is the most expensive area when it comes to monthly parking in Boston. If you wish to avoid spending a fortune on parking, go farther from the city center. You can even find a suitable spot in another neighborhood and then use public transit to the city. MBTA parking may come in handy for this option—see below for more info!
Booking
Pre-book your Boston monthly parking service to get the lowest price! Make a reservation online or call a parking company—you can also use this opportunity to ask any question. Here are some of the best Boston monthly parking garages and providers, as well as their contact information:
| | |
| --- | --- |
| Parking Company | Phone Number |
| Pilgrim Parking | 617-723-1488 |
| SP+ | 617-956-1107 |
| LAZ Parking | 617-828-7369 |
| Propark America | 617-742-8025 |
| B and B Parking | 617-728-3669 |
| Government Center Garage | 617-227-0385 |
| Boston Common Garage | 617-954-2098 |
| North End Garage | 617-742-6759 |
| Atelier 505 Garage | 617-262-8426 |
MBTA Monthly Parking
The MBTA operates many parking lots and garages conveniently placed near bus or subway stations. If you wish to use an MBTA parking structure, you can purchase a monthly parking permit. The price depends on the facility. For instance, the monthly parking pass in the South Station Bus Terminal Garage is $445 or $150 if you need overnight parking only. Go through MBTA stations to find yours and discover public parking information in the area.
Monthly Parking at the Seaport in Boston
If going on a cruise trip or looking for a monthly parking service in the Seaport District for any reason, you have several options. According to the Boston Cruise Parking Guide, the most convenient option is South Boston Waterfront Transportation Center Garage. It offers a few monthly parking options:
Overnight Monthly: $100 
Standard Monthly Parking: $375
Reserved Monthly: $500 
There are several other options, such as the ORA Garage at 295 Northern Avenue, which offers a monthly rate of $299. Dive into the above-mentioned guide for more details about parking near the cruise port.
Monthly Parking at Boston Logan Airport
Boston Logan International Airport offers plenty of long-term parking spots suitable for monthly stays, but the cheapest offers are provided by off-site lots. We suggest using our Boston Airport Parking Guide to see all the options, compare rates, and then make a reservation on the spot! Several independent companies and hotels have great parking deals, such as Thrifty Parking and Rodeway Inn.
Overall
Finding a convenient Boston monthly parking garage is easy, but finding cheap parking can be tough. That's why we listed all the relevant information on monthly parking in Boston neighborhoods, as well as some hot tips on saving money. If you follow them, you can book budget-friendly parking in no time! Choose the garage carefully and book in advance for the best price—these tips apply to the monthly parking process in other cities, too, including Philadelphia and Chicago.
Parking Access takes you through any parking process smoothly and affordably! Check out our guides to parking at other popular locations in Boston, including: