Ever since 2004, we have been helping passengers in finding secure parking options that meet any requirements. Thanks to our long experience, we have made a parking reservation process so simple that you can reserve a discounted Boston Cruise parking spot online within minutes! We offer clear and upfront pricing, reviews, and a guide on how and where to park or stay near Boston Cruise Port.
Flynn Cruiseport Boston
Originally known as Raymond L. Flynn Black Falcon Cruise Terminal, Flynn Cruiseport is a popular Boston port visited by half a million passengers each year from April to November. If you plan a cruise from this port and want to leave your car there during that time, knowing what to expect will save you a lot of time. So, we will provide an extensive list of everything you need to know about Boston Cruise Parking and the port itself. 
Boston Cruiseport is located at 1 Black Falcon Avenue, Boston, MA 02210—use this address for driving directions. Note that you should arrive at least two hours before departure. That way, you will have enough time to park your car, board a free shuttle, and go through security.
The closest airport to the cruise port is Boston Logan International Airport—it's a 10-minute drive away. The fastest transfer between Logan Airport and CruisePort is a water taxi, but you can check out other transportation options, too.
Boston Cruise Parking
Boston Cruise Terminal offers safe and close-in parking, and you can choose between uncovered and covered parking structures. Parking rates depend on a parking service—see your options below.
After dropping your luggage, head to the South Boston Waterfront Transportation Center. Its parking garage is placed at 406 Summer Street, and it's the most convenient parking option. Car parking spaces are available on a first-come, first-served basis, but we suggest making an advanced reservation. Shuttle service to and from Flynn Cruiseport Boston Cruise Terminal is available, too. If the transportation center garage is full, you will be directed to the EDIC parking lot, which is situated at 12 Drydock Avenue.
Both Boston Cruise parking areas accept cash, Visa, and MasterCard. The rates are listed below.
| | | |
| --- | --- | --- |
| Parking Option | Daily Rate | Weekly Parking Rate |
| South Boston Waterfront Transportation Center | $21 | $147 |
| EDIC Parking | $30 | $210 |
Accessible Parking
Boston Cruise Parking offers a limited number of handicapped parking spaces in both parking structures. A parking discount for disabled veterans isn't available at the Black Falcon Cruise Terminal.
Cell Phone Lot
The port's cell phone lot is a convenient parking area for those waiting to pick up arriving cruise passengers. It is located at 22 Fid Kennedy Avenue, very close to the Black Falcon Cruise Terminal. The lot is open whenever any cruise arrives at Flynn Cruiseport Boston Cruise Terminal.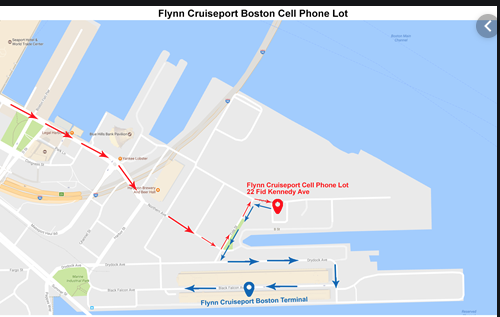 Cruise Parking Near Black Falcon Cruise Terminal
Official cruise parking is not the only option, but you don't have many other possibilities. If looking for a cheaper alternative, you should know that there are no inexpensive parking locations nearby. 
The only cheaper option is the Government Center Garage and their Park 'n Stay Package. It provides parking at $15 per day for those who want to park their cars for 3-30 days. However, you would have to use a taxi or Uber to the port of Boston since this parking garage is about 2.5 miles away.
Don't use street parking for stays longer than a couple of hours if you wish to avoid getting a Boston parking ticket.
Boston Hotels With Cruise Parking Deals
If you want to come a day before your cruise embarkation, there's another parking option for you. Some Boston hotels in the area offer Cruise Packages that provide free parking for up to 1 or 2 weeks and a complimentary shuttle bus service to the cruise port. So, you can get a good night's rest and start your harbor cruise vacation in the morning worry-free knowing that your car is in a safe place.
Reach out to one of the best Boston Cruise hotels, such as Comfort Inn Boston, which offers free parking for the duration of your trip and shuttles to the port between 4 AM and 1 AM. If you choose this deal, you'll have time to explore the city and check out Boston's top attractions!
Boston City Guide
One of the best ways of checking out the downtown area is via the Freedom Trail, a long route that passes by over 15 historic sites. Nearby is the Boston Common park, a great place for relaxation and long walks, as well as Faneuil Hall Marketplace with numerous stores and a promenade.
Those interested in art should visit the huge Museum of Fine Arts. South Boston offers a beautiful peninsula called Castle Island – it is an ideal place for recreation, jogging, or picnic. Sports lovers who want to check out a Red Sox baseball game must go to Boston's Fenway Park.
Boston Cruise Parking FAQs
How long will I wait for a shuttle?
Complimentary shuttles run approximately every 10-15 minutes.
Is there disabled parking at the port, and is it free?
ADA handicap-accessible parking is available at both lots, but they are not free of charge. Standard parking rates apply.
Is the entire parking garage covered?
Yes, all levels of the garage are covered.
What forms of payment does the seaport accept?
Cash, Visa, or MasterCard are accepted.
Who should I call if I have more questions about the Boston Cruise Parking Garage?
For additional questions, feel free to call (617) 482-2487.
Parking Access can assist you in finding parking at other cruise ports! Passengers also searched for: