Last Updated on October 29, 2022 by Usama
This post also contains affiliate links and we will be compensated if you make a purchase after clicking on our links.
Arthur Ashe Stadium Parking
As the world's largest tennis stadium accommodating nearly 24,000 guests, Arthur Ashe Stadium has hosted the US Open since 1997. The venue is located at Flushing Meadows Corona Park in Queens, just south of Citi Field. Our guide will help guests park their cars in safe spots or use the public transport system to reach the Mets-Willets Point station. Discover all about nearby car parking areas, including rates for Mets or tennis games and on-street parking restrictions. Compare all the options in the area and reserve your space now to save time and money.
Find Parking at Arthur Ashe Stadium
The National Tennis Center parking staff and NYPD officers direct visitors to the appropriate Arthur Ashe Stadium parking lot, which varies according to the event.
For the US Open

: Yellow Zone Parking

For New York Mets games

: Orange Zone and Blue Zone Parking
See the location of each area on the following map.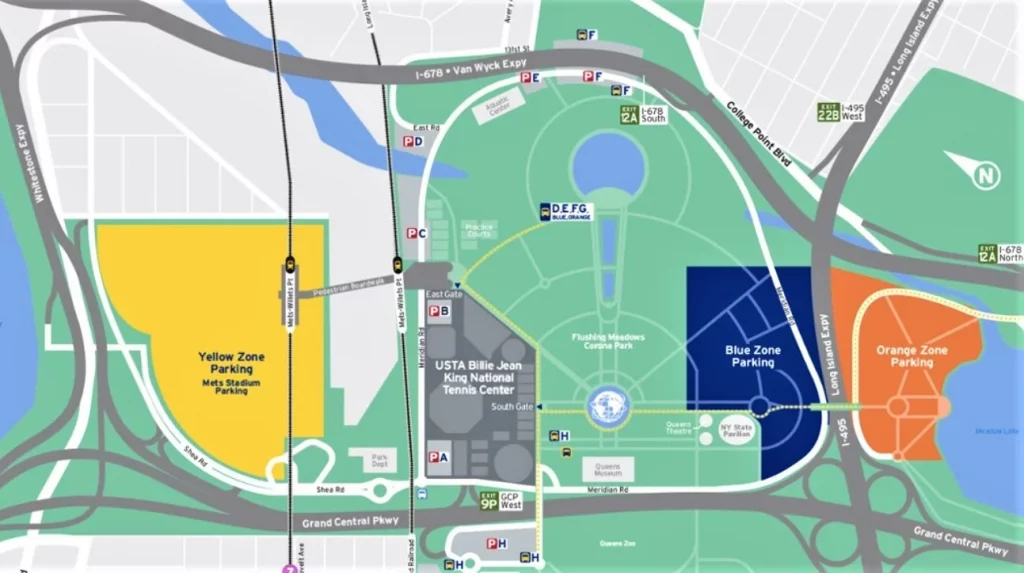 How Much Is Event Parking?
Although the prices may vary according to the event, here are the starting parking rates.
$25

for standard cars

$50

for buses
To avoid sold-out situations and lower your costs, we recommend advanced bookings. Reserve parking through VividSeats to get the best deal for all upcoming events.

Alternatives & Tips on Saving Time & Money
The Parking Access team did some digging and singled out a few most reliable ways to save money. 
Limited street parking is obtainable on some nearby streets. If you want to snatch a convenient or even free parking spot, arrive early. Also, read the signs carefully to avoid

NYC parking tickets

.

Parking areas charging as low as $10 during events are placed about a 30-minute stroll northeast or southwest of the venue. If you're ready to take a long walk, Skyview Mall Garage in Flushing is your best bet. The entrance is at 131 40th Rd.

Park your car near the Flushing–Main Street station or another train stop, and then use public transit to get to the stadium. 
You can also check our guide to Citi Field to gather more helpful information.
Public Transportation Options
If you decide to use the subway, Mets-Willets Point is within easy walking distance of the stadium. The 7 Train operates from Grand Central Terminal and makes multiple stops until it reaches the final stop in Flushing Meadows. The station is also served by LIRR, and you can learn about the rail fares here.
Find Parking Easily Anywhere in NYC
We help drivers find affordable parking at all points of interest across New York City, including the following.
Use our help to reserve airport parking in advance and get the best deal on the spot!