This post also contains affiliate links and we will be compensated if you purchase after clicking on our links.
Fremont Street Experience Parking
If you want to feel the true spirit of downtown Las Vegas, visit Fremont Street and its amazing casinos, hotels, bars, and entertainment events. Despite the high number of visitors and cars, locating affordable vehicle parking areas won't be an issue. In addition to on-street parking spaces, you can park in nearby multi-story garages and private lots. We'll help you find the best space at a low cost, purchase a mobile ticket, and have a hassle-free day. You'll also learn about the public transportation system in the city.
Convenient Parking for Fremont Street Visitors
The official Fremont Street Experience parking garage is placed at 111 S. 4th Street. It's safe, well-lit, and offers 1,300 parking spots on multiple levels, so you'll easily find a spot even during events. The entrance is right across from The D Casino & Hotel: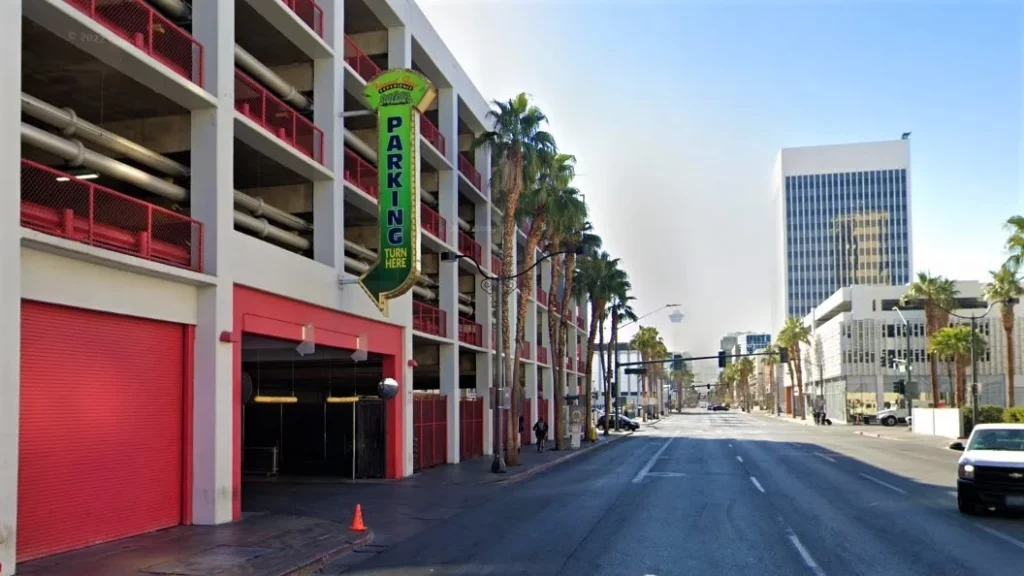 When you return, pay at the kiosks within the elevator lobby, on the garage's second floor, or at the booth upon exit. The exit is on Carson Street, between 4th Street and Las Vegas Boulevard.
Note: The height limit is 8' 2" on the ground floor, but it decreases as you move to the upper levels. ADA parking stalls are available on a first-come, first-served basis on every floor except the fifth.
How Much Is Parking at Fremont Street Experience Garage?
Discover short-term and long-term parking fees in the following list.
| | |
| --- | --- |
| Duration | Rate |
| 1 hour | $4 |
| 2 hours | $8 |
| 3 hours | $12 |
| 4 hours | $16 |
| 24 hours | $20 |
| 1 month | $45 |
On the day of large-scale events, the garage charges a flat rate, which is usually $20.
Tip: Although there's no free parking, many casinos offer Fremont Street Experience parking validations that can lower your expenses. They work differently in each casino, so be sure to ask the staff for information.
Top 5 Lots in the Vicinity
We searched for the most affordable options and listed their rates for 3 hours of parking. All the structures allow you to reserve a parking space in advance.
| | | |
| --- | --- | --- |
| Parking Facility | 3-Hour Rate | Address |
| Carson Lot | $7 | 200 S. Las Vegas Blvd. |
| Neonopolis Garage | $7 | 183 N. 4th St. |
| John E. Carson Lot | $7 | 156 S. 6th St. |
| Triple B Lot | $7 | 112 S. 6th St. |
| Oasis Lot | $9 | 15 Las Vegas Blvd. N. |
Prices are subject to change.
Transportation Alternatives
The following RTC bus lines stop on the nearby streets: 113, 207, 215, CX, DVX, BHX, and Deuce. A two-hour pass is $6, while a 24-hour pass costs $8. See schedules and maps for more information.
Harry Reid International Airport is a 15-minute drive away. If you're flying into LAS and searching for a ride to Fremont Street, arrange a Las Vegas Airport Shuttle or Lyft.
Find Parking in Las Vegas Effortlessly 
Aside from Fremont Street Experience parking information, we can help you find affordable spots near the following locations.
Also, if you're flying out of LAS, don't forget to pre-book at Las Vegas Airport.