Last Updated on November 17, 2021 by Greg Bessoni
Find and Book Barclays Center Parking Deals
Compare reviews and features with other top parking companies.
Finding an affordable parking space has never been so simple! Easily make a parking reservation via ParkingAccess.com and get a discounted parking spot at New York City's Barclays Center in no time. We can also help you discover the best parking deals and offers at numerous airports, cruise ports, and ballparks. 
We offer upfront pricing, reviews, and a complete guide on how and where to park on a game-day, including parking near Barclays. You will also discover whether you can tailgate or locate free parking spots. Let's dive in!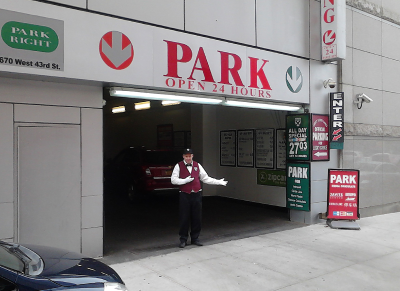 Barclays Center
Barclays Center is a popular indoor arena located in Brooklyn, New York City. It is home to the Brooklyn Nets, as well as the New York Islanders, but it hosts various other concerts and entertainment events since it is a multi-purpose arena. Barclays Center hosted some of the most renowned performers, such as Madonna, The Rolling Stones, Beyonce, Rihanna, etc. It also provides many luxury suites, bars, clubs, and lounges. You can see the event calendar here.
Barclays Center is conveniently situated next to Atlantic Terminal – therefore, it is easily accessible via rail but also via the New York City Subway and MTA buses. So, everyone who plans on using ground transportation will easily discover a quick way to get here on an Islanders/Nets game-day (see more information below).
Barclays Center is located at 620 Atlantic Ave, Brooklyn, NY 11217, and you can find driving directions here. If you are driving to Barclays Center, check our parking guide to discover tips for finding the best places to park your vehicle. A safe parking spot is not always easy to locate, especially when you are going to some important basketball game or a big event. Listed below is everything you have to know about Barclays Center parking locations, parking near the venue, and rates. 
Barclays Center Parking
New York City is lively and bustling, and so to find parking is often both an expensive and stressful endeavor. If you want to find parking spaces at low prices near the arena, you should plan ahead and be prepared to park at one of the parking structures nearby. Also, if you make a parking reservation in advance, you can get a discounted parking rate.
The closest Barclays Center parking options are limited and the most expensive, of course. Therefore, if you want to park in a facility just a couple of minutes away, you have to reserve and pay a higher daily rate. Also, we recommend arriving at the lot a couple of hours before the event. Listed below are the top 5 closest parking providers:
| | | |
| --- | --- | --- |
| Parking Option | Rate | Address |
| Valet Parking – Willoughby Company | $55 | 630 Atlantic Avenue |
| Garage Parking – iPark | $40 | 475 Dean St. |
| Indoor Garage – SP+ | $40 | 472 Dean St. |
| Indoor Garage – Pacific Parking | $37 | 700 Pacific St. |
| Parking Garage – Willoughby Co. | $36 | 670 Pacific St. |
Also, Bicycle Parking Barclays Center is situated at Barclays Center and at Atlantic Terminal, with a total of 100 spaces. >>Reserve on Vivid Seats

Handicapped Parking
Accessible parking is available in all nearby parking facilities, and Barclays Center provides some services related to accessible seating. Vehicles using designated parking spots have to own a disabled parking permit, license plate, or an ADA placard. Standard parking rates apply. For more disabled parking information, click here.
Parking near Barclays Center
People who don't want to spend a small fortune on short-term parking should consider parking areas located a bit farther. Numerous car parking options in the area can provide you with safe car parking and save you some money. So, if you don't mind taking a 10-20-minute walk to Barclays Center, nearby New York City parking facilities are an ideal parking alternative that will reduce your expenses. 
There are discounted self-parking structures, as well as valet service and covered parking garages available on a first-come, first-served basis. So, there's something for everyone, but there's no free parking service. Public garages and lots that offer parking near Barclays Center have rates starting at $9.
| | | | |
| --- | --- | --- | --- |
| Parking Lot/Garage | Rate | Distance | Walking Time |
| 201 S Portland Ave. – Indoor Garage | $9 | 0.2 miles | 3 minutes |
| 325 Lafayette Ave. – Valet Garage | $10 | 1 mile | 20 minutes |
| 182 Schermerhorn Street – Weekends Only | $11 | 0.8 miles | 16 minutes |
| 105 Underhill Ave – Weekends Only | $15 | 0.8 miles | 17 minutes |
| 475 Clermont Ave. – Garage Parking | $19 | 0.5 miles | 9 minutes |
| 545 Washington Ave. – Indoor Garage | $20 | 0.6 miles | 13 minutes |
| 225 Schermerhorn Street – Weekends Only | $20 | 0.7 miles | 14 minutes |
| 470 Hudson Ave. – Valet | $25 | 0.6 miles | 11 minutes |
| 401 Flatbush Ave. – Valet | $27 | 0.6 miles | 13 minutes |
| 201 S Portland Ave – Valet | $35 | 0.1 miles | 3 minutes |
Tailgating at Barclays Center
Everyone who enjoys pulling into a parking lot before a Nets/Islanders game and tailgating with friends will be disappointed since tailgating is not permitted at Barclays Center. However, you and your friends can still have some fun before or after the game. Check out the Barclays Center bars and grab some food or drinks there. Click here to find all the dining options in the arena.
If you wish to visit a bar or restaurant in the Brooklyn area, it's easy to find a good place near the venue, and we have a few suggestions:
New York Transportation to Barclays Center
To avoid an exhausting search for a cheap parking space (and save money), use public transportation or any other popular sort of transport to get to Barclays, such as Uber. The fastest and most convenient way is public transit, such as the subway. New York City's MTA offers great service to all the basketball fans going to Barclays Center, and three stations are located nearby (including one on Atlantic Ave, Brooklyn, NY). Alternatively, you may take one of the 11 bus lines that stop near the venue or use Long Island Rail Road.
For Barclays Center Parking information or any additional inquiries, please call 917-618-6100.
All Rights Reserved.