This post also contains affiliate links and we will be compensated if you make a purchase after clicking on our links.
Yankee Stadium Parking
The most popular ballpark in NYC, Yankee Stadium, attracts a lot of sports fans and New York Yankees admirers to the Bronx. In addition to this Major League Baseball team, the venue is also home to the MLS New York City FC. Our guide will help drivers book convenient car parking spaces for all games or use public transit to get to the field. You'll find details about stadium's garage parking, nearby lots, and current event rates. Use our tips to park safely, save time, and have a hassle-free game day.
Yankee Stadium
Yankee Stadium is a baseball park in the Bronx, New York City, and the address for driving directions is 1 E 161 St, The Bronx, NY 10451, USA.
The home field for the New York Yankees is a perfect place to catch a baseball game, but it's also home to the MLS New York City FC team. If you plan to watch a baseball or soccer game, looking for a decent parking spot can be frustrating before big events, and knowing what to expect will save you a lot of stress.
More than 9000 parking spaces are available in the nearby City Parking facilities, and thousands more are placed in other NYC public lots. We will provide an extensive list of everything you need to know about parking that will help you find the best option for the best price possible.
Yankee Stadium Parking Lots & Garages
Yankee Stadium is surrounded by more than 10 parking facilities, both uncovered and covered, and all of them are a short walk away from the stadium. Wherever you choose to park, early arrival is recommended if you plan to park close to the venue. The list and map below show all the parking structures in the vicinity.
| | |
| --- | --- |
| Yankees Parking Lot/Garage | Distance |
| 161st Street Garage Yankee Stadium | 0.1 mile |
| Gerard Avenue Lot | 0.1 mile |
| River Avenue Garage | 0.1 mile |
| Ruppert Plaza Garage | 0.3 miles |
| 153rd Street Lot | 0.3 miles |
| 153rd Street Garage | 0.4 miles |
| Harlem River Lots | 0.7 miles |

To easily locate any garage or surface parking area, see the following Yankee Stadium Parking map: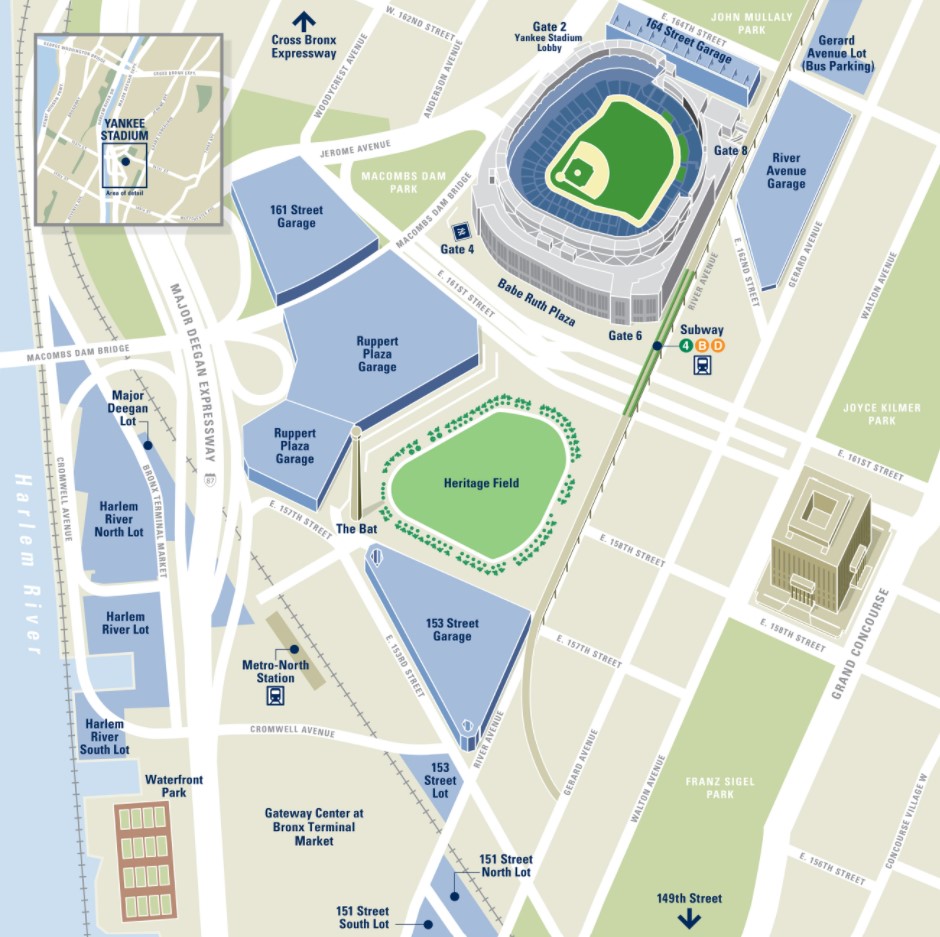 How Much Is Parking at Yankee Stadium?
The Yankee Stadium parking price starts at $25, but rates vary according to various factors. The Yankees neither operate these parking garages and lots nor set parking fees—for additional information, reach out to City Parking at (718) 588-7817. 
If you want to save your time (and money!), reserve parking ahead of time. That way, you may get a discounted parking rate, and you certainly won't have to stress about finding a parking space on a busy game day.
Accessible Parking
There are many designated ADA parking spots in Yankee Stadium parking lots and garages. Note that you will need a visible handicap tag issued through New York City if you want to use those parking areas. Handicap tags from other states are not valid in New York City. For additional information, call Disabled Services at (718) 579-4510.
Parking Near Yankee Stadium
If you want to really cut your costs, consider using a city parking lot or parking garage near Yankee Stadium. A walk to the stadium may take up to 15 minutes, depending on the car park you choose. To see the top parking options and locations, look at our list below. Please, note that prices are subject to change.
| | | |
| --- | --- | --- |
| New York City Parking Facility | Walking Time  | Rate |
| 283 E 164th St. – Valet Lot | 13 mins | $15 |
| 156 W 166th St. – Garage Parking | 11 mins | $19 |
| 380 E 162nd St. – Valet Parking | 15 mins | $20 |
| 210 E 163rd St. – Valet Garage | 8 mins | $25 |
| Gateway Center at Bronx Terminal | 8 mins | $25 |
| 200 E 161st St. – Concourse Plaza | 9 mins | $25 |
Although it's hard to find, you could look for an on-street parking spot near the stadium. Arrive at least a couple of hours before the first pitch, and circle the area to see if there's an available stall. If you come across one, be sure to read the signs carefully and pay attention to time limits to avoid pricey NYC parking tickets.
Tailgating at Yankee Stadium
Tailgating is a great part of the game-day experience, and it is allowed at multiple New York Stadium parking lots nearby. One of the best choices is the Harlem River Lot or the Ruppert Plaza Garage Yankee Stadium, especially on the rooftop parking level. If you plan on going to a Yankees game and tailgate with your friends, remember the following:
Open-flame cooking is not an option in lots and garages.
You can only occupy the spot that you have purchased or reserved.
Consumption of alcohol is forbidden in lots and garages.
Buy a Yankees parking pass ahead of time since some lots don't allow game-day parking without a pre-purchased pass.
Some baseball fans choose bars over tailgating and often visit one of them before the Yankees game to grab a few drinks. According to them, the best places are Stan's, Billy's, and Yankees Tavern.
Taking Public Transit 
If you wish to completely avoid driving and parking, read more about public transportation options including New York City Metro-North, Bus, and Subway options. Buses stop at East 161st Street and the Grand Concourse, which is within a short walking distance of the ballpark.
Subway Line 4 and the D train are the most convenient ways to get to Yankee Stadium. No. 4 and D trains make stops at the 161 St-Yankee Stadium subway station, which is a one-minute walk away from the venue. A standard subway fare is $2.75.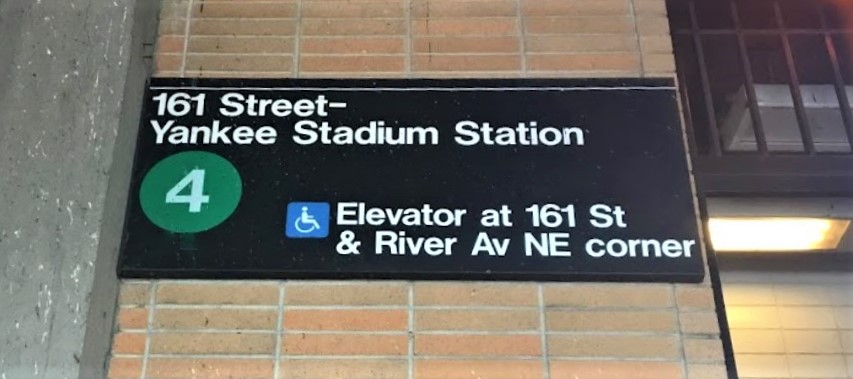 Find Parking in NYC Easily 
Parking Access provides comprehensive guides for drivers across the country who search for safe and low-cost parking near venues and airports! Apart from Yankee Stadium parking information, we cover an extensive range of locations throughout the New York metropolitan area, such as:
If you plan on flying out of the city, check out our guides to LaGuardia Airport Parking or JFK Parking to discover on-site rates, off-site parking lots with airport shuttles, and much more. Use our reliable booking system to save up to 50%!