Last Updated on January 28, 2022 by Usama
Find the Best Citi Field Parking Deals!
Parking Access is your go-to choice whenever you need an affordable and convenient parking spot! The Citi Field Parking Guide tells you where to park and how to find the cheapest visitor parking spot near the ballpark. Discover the event parking prices, downtown parking availability, tailgating information, and a few helpful tips!
How To Get To Citi Field
Built as a replacement for Shea Stadium, Citi Field is a large New York City baseball park located in Flushing Meadows Park. It's home to the MLB's New York Mets, and the stadium has a capacity of nearly 42,000. The ballpark is situated in the borough of Queens and is accessible via several ground transportation options. You can reach it via the IRT Flushing Line of the NYC Subway, and the Mets–Willets Point station is a 5-minute walk away from Citi Field. The Q48 bus services Citi Field, as well as 7 Train, which also stops at Times Square, 5th Avenue, and Grand Central Station. If coming from Long Island, hop on the E train to Jackson Heights and then use the 7 train. Apart from public transportation services, visitors can request rides from Uber, which is allowed to pick up across the street from the park.
Guests who are driving to Citi Field can use the 41 Seaver Way address to get driving directions. Get to the stadium a couple of hours before the game to avoid heavy traffic and delays. We listed the official parking facilities, rates, and other relevant details and tips.
Citi Field Parking
Citi Field offers a wide range of public parking services — several car parks are placed within the fence line of the ballpark, and another five parking lots are outside of the fence line. You can see the exact locations on the Citi Field Parking Map and then look into the daily parking rates and other useful info below.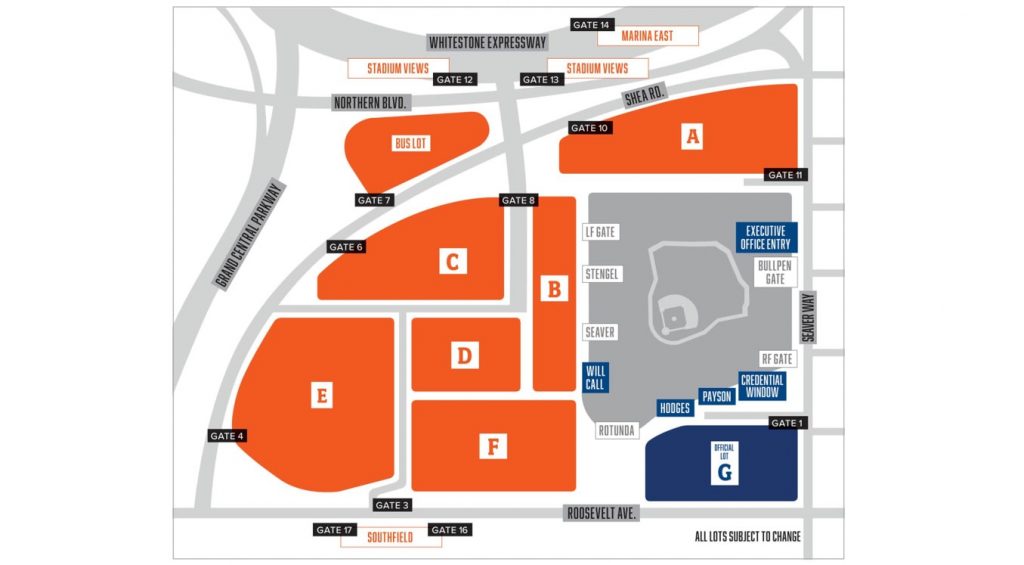 The primary parking structures are the closest and include:
A Lot – employee parking and limited general parking
B Lot – VIP preferred parking only
C Lot –  preferred parking
D Lot –  preferred parking
E Lot –  general parking
F Lot –  preferred parking
G Lot – executive and VIP parking
Only Season Ticket account holders have the option to purchase preferred passes for Mets home games. If you wish to add preferred parking to your account, contact Customer Service at (718) 565-4360 for additional info. 
The rates vary based on the event and season—look at the list below to find out your parking price. Each Citi Field parking area accepts both cash and major credit cards. >>Reserve on Vivid Seats
| | | |
| --- | --- | --- |
| Season/Event | Cars | Oversized Vehicles |
| Preseason/Regular Season | $25 | $50 |
| Postseason | $50 | $90 |
| Special Events | $50 | $90 |
| U.S. Open | $25 | $50 |
Five additional parking areas are within walking distance or a short shuttle drive. The Marina East and Marina West are north of Citi Field, and Stadium View East & West is below the Whitestone Parkway overpass. Flushing Meadows Park offers plenty of parking spots for special events and free shuttle buses to and from the park. The Bus/Oversized Parking, known as Pork Chop Hill, is also north of the stadium. The standard parking cost is $25 for regular-sized vehicles and $50 for oversized ones.

Commuter Parking at Citi Field

The Commuter Parking lot is the most affordable short-term parking service. It's situated on Roosevelt Avenue and is available for commuters between 3:30 AM and 5:00 PM. The lot has a special rate of only $5.00, and all you have to do is purchase the parking ticket in advance. For games starting at noon, the listed parking rate will be in effect until 8 AM. For night games, the rate will be in effect until noon, after which the standard Citi Field parking rates apply.
Accessible Parking

Lots A, B, F, and G provide over 350 handicapped parking spaces, which are available on a first-come, first-served basis. This means that you cannot reserve an ADA spot in advance. To use such a spot, any guest must display a disabled parking permit, license plate, or placard. Standard parking rates apply.
Mets Parking Near Citi Field
Getting a free parking spot in the area is basically impossible. You can come a few hours earlier and search for street parking, but be sure to read the signs carefully and avoid pricey NYC parking tickets. We looked into the city parking options and discovered several decent alternatives to the official Citi Field parking lots.
Some of the locations where you can look for a cheap on-street parking space include 111th Street (near the Hall of Science or Terrace On The Park) and 46th Avenue (near The Roosevelt Hotel). Alternatively, you can go to The Skyview Mall, which has a spacious and covered parking garage, and it's right by the Roosevelt Avenue bridge.

Tailgating at Citi Field
Although tailgating is allowed in the Citi Field surface parking lots, you must stick to the ballpark rules. Open flames and consumption of alcohol are prohibited, and only one space can be used. Also, since no trash bins are available in the car parks, we suggest that you bring a trash bag. Note that the NYPD officers often monitor the lots and may remove visitors who fail to comply with the listed conditions.
Update: Due to health concerns, tailgating has been prohibited. Check out the venue's official website for up-to-date information before you head to any game.
Grabbing a beer with your fellow Mets fans in a nearby bar is a great alternative to tailgating! We looked into the best-rated properties near Citi Field and discovered the top options, including McFadden's, The Porsche Club, Leaf Bar & Lounge, Cali Red Bar & Lounge, and A+ Roof Bar.
Find Cheap Parking Anywhere in NYC
Parking Access has a wide selection of in-depth parking guides that help drivers across the country to find a reliable parking service! Apart from Citi Field parking information, we cover other venues in New York City, including:
Tourists can also use our assistance to learn more about parking at some of the most popular attractions in the city:
If you plan on flying out of any airport in NYC, learn more about LaGuardia Airport Parking, JFK Parking, and Newark Airport Parking!