Central Park Zoo Parking
The Central Park Zoo is the fifth-largest park in New York City and the nation's most visited urban park. The zoo attracts more than a million visitors yearly, but parking is plentiful and easy to find. We narrowed down the nearest and most affordable car parking below with tips on using public transportation.
The zoo sits on the southeast corner of Central Park at the following address: East 64th Street, New York, NY 10021, United States
Zoo Tickets and Hours
Operational hours vary depending on the day, month, and year. Visit the official website for the month's opening and closing hours. The last entry is 30 minutes before closing.
General admission tickets include entrance to the Main Zoo, Tisch Children's Zoo, and one visit to the 4-D Theater. We listed the prices below:
| | |
| --- | --- |
| Visitor | Rate |
| Adult (13 & over) | $19.95 |
| Senior (65+) | $16.95 |
| Child (3 – 12) | $14.95 |
| Child (2 & under) | FREE |
Visitors looking to save may purchase Limited Admission Tickets that do not include a visit to the 4-D Theater. These tickets are $6 cheaper for all ages. Members enjoy free admission to the museum.
All visitors must select a time of entry when purchasing a ticket and may enter the zoo within one hour of their entry time. After entry, visitors can stay for as long as they wish.
Parking Near Central Park Zoo
The zoo does not have on-site parking, but it has partnered with SpotHero to offer nearby parking lots for visitors. To help you in your search for Central Park Zoo parking, we whittled down the nearest and most affordable options below. The prices listed are for a three-hour stay.
| | | | |
| --- | --- | --- | --- |
| Facility | Address | Rate | Distance |
| iPark Valet Garage | 48 E 67th St. | $35.50 | 0.3 mi |
| 605 Park Ave Valet Garage | 110 E 65th St. | $40 | 0.3 mi |
| GMC Valet Garage | 124 E 63rd St. | $47 | 0.3 mi |
| Pronto Parking & MP 66 – Valet Lot | 168 East 66th St. | $25 | 0.4 mi |
| City Parking Valet Garage | 188 East 64th Street | $26 | 0.4 mi |
Several nearby parking facilities have accessible parking. A charging station for electric vehicles is located near 8 E 83rd S.
Prices are subject to change and may differ at different times of the day. Some of the facilities mentioned above may provide free parking extensions when you reserve parking through SpotHero. For more options, check out the SpotHero app.
Street Parking Near the Zoo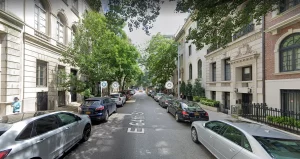 Metered parking areas are available near the zoo, specifically in the lower east 60s streets, but spots tend to run out quickly. Mornings are the best time to find available street parking.
While several spots are free all day, others cost $4 an hour with a maximum stay of 2 hours. NYC employs frequent street cleanings that may prohibit street parking in some areas during specific times of the day. Pay attention to posted signs and meters to avoid incurring an NYC parking ticket.
Alternative Mass Transit Options
The zoo is easily accessible by public subway or bus. Take the R, W, or N subway line and drop by the Fifth Avenue/59th Street station, just a 3-minute easy walking distance from the venue. Alternatively, ride the Lexington Avenue #6 train to the 68th Street/Hunter College station, an 11-minute walk from the zoo.
Bus lines M1, M2, M3, M4, M5, M66, and Q32 stop on Fifth Avenue, between 59th and 65th Streets. The subway and bus fare is $2.75 for most riders.
We Make Parking in NYC a Breeze
Find parking in NYC with the help of our parking experts. Read our guides to the city's most popular destinations:
Compare and reserve parking at NYC airports and cruise ports with our guides: