Covering six blocks between Manhattan's 48th and 51st Streets, Rockefeller Center is a must-see NYC attraction! It encompasses nearly 20 buildings, offering a variety of shopping and dining options and the famous observation deck: Top of the Rock. If you're wondering how to find cheap parking in NYC near Rockefeller Center, we can help! The Parking Access team discovered all the options and singled out the best parking near Rockefeller Center. You'll find the short-term parking rates in the official garage, the cheapest garages in the vicinity, and transportation alternatives.
Rockefeller Center Parking Garage & Rates
SP+ operates parking at Rockefeller Center, and the garage is located at 53 W. 48th Street, just a couple of minutes from the complex. It offers 24/7 indoor parking for standard-sized vehicles, SUVs, motorcycles, and electric vehicles. The height restriction for oversized vehicles is 6'8″.
The list below shows the standard parking fees, which may increase on event days.
| | |
| --- | --- |
| Duration | Garage Parking Rate |
| 3 hours | $35 |
| 10 hours | $50 |
| 24 hours | $55 |
The Rockefeller Center garage accepts all major credit cards. Monthly parking is also available, and the fees start at $591.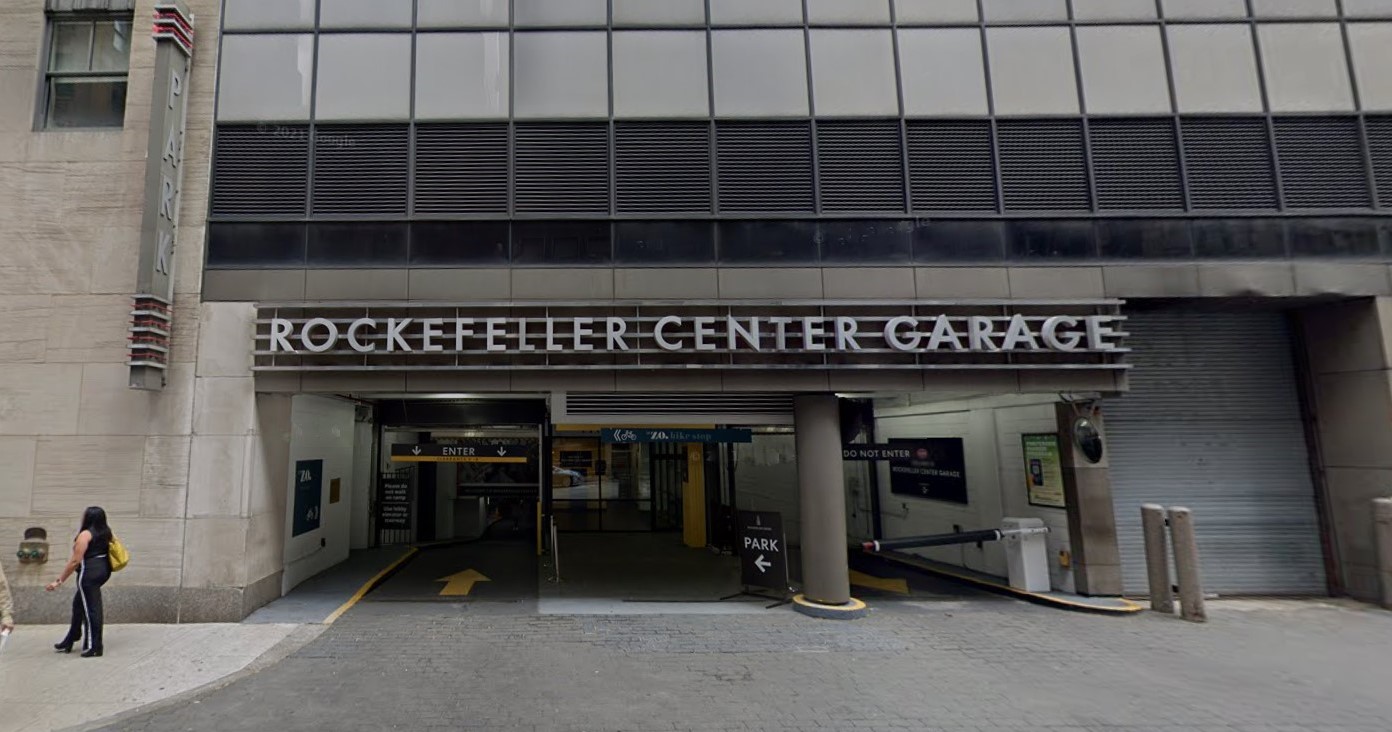 Cheap Parking Near Rockefeller Center, NYC
Multiple public garages offer convenient parking around Rockefeller Center, including CBS Building Garage, Icon Parking, and Dock Parking options. Our team looked into all the garages to find the most affordable services.
We singled out the top 5 nearby parking garages and listed their rates for 4 hours of parking on a weekday afternoon. Note that rates are subject to change, and you can save over 50% if you opt for one of them instead of the official garage.
| | | | |
| --- | --- | --- | --- |
| NYC Parking Location | Parking Fee | Address | Walking Distance |
| Hilton Hotel Valet Garage | $18 | 101 W. 53rd St. | 7 minutes |
| City Parking 53rd St. Garage | $20 | 12 W. 53rd St. | 5 minutes |
| CBS Building Valet Garage | $23 | 31 W. 52nd St. | 7 minutes |
| Gotham 2 Garage | $23 | 23-25 W 55th St. | 8 minutes |
| West 54 Valet Garage | $24 | 159 W. 53rd St. | 9 minutes |
In addition to these, you have even more options if you're willing to take a longer walk. For instance, you can check out our guide to Times Square, which is approximately a 10-minute walk away. It includes the most affordable parking facilities in the vicinity.
Street Parking Near Rockefeller Center
If the parking garage near Rockefeller Center is too pricey for your budget, on-street parking is a better idea, but only if you find a vacant spot. Metered parking is available on some streets around the complex, but it's highly limited, so if you plan to find parking, arrive early.
Meters aren't in effect on Sundays and holidays, so that's when you might be able to find free parking near Rockefeller Center. Whenever and wherever you park, be sure to check the signs and meters for regulations and time limits; this is crucial in avoiding pricey NYC parking tickets.

Use Public Transit Instead of Driving 
Public transportation is a more convenient and less stressful way to get to Rockefeller Center; use it to save both money and time! 
The 47th–50th Streets–Rockefeller Center station is a 4-minute walk away and served by B, D, F, and M trains. Other nearby stops are on 51st Street, 50th Street, and 49th Street—you may use one of the following trains to get there: 1, 6, N, Q, and R. The standard subway fare in NYC is $2.75. Alternatively, you could take a bus, and the closest bus stop is on 50th Street;  M1, M2, M3, M4, and M5 buses pick up and drop off there. If coming from Broadway, hop on the M7 bus. Also, Grand Central Terminal is less than 10 minutes away—plan your visit online and check out the following map for directions.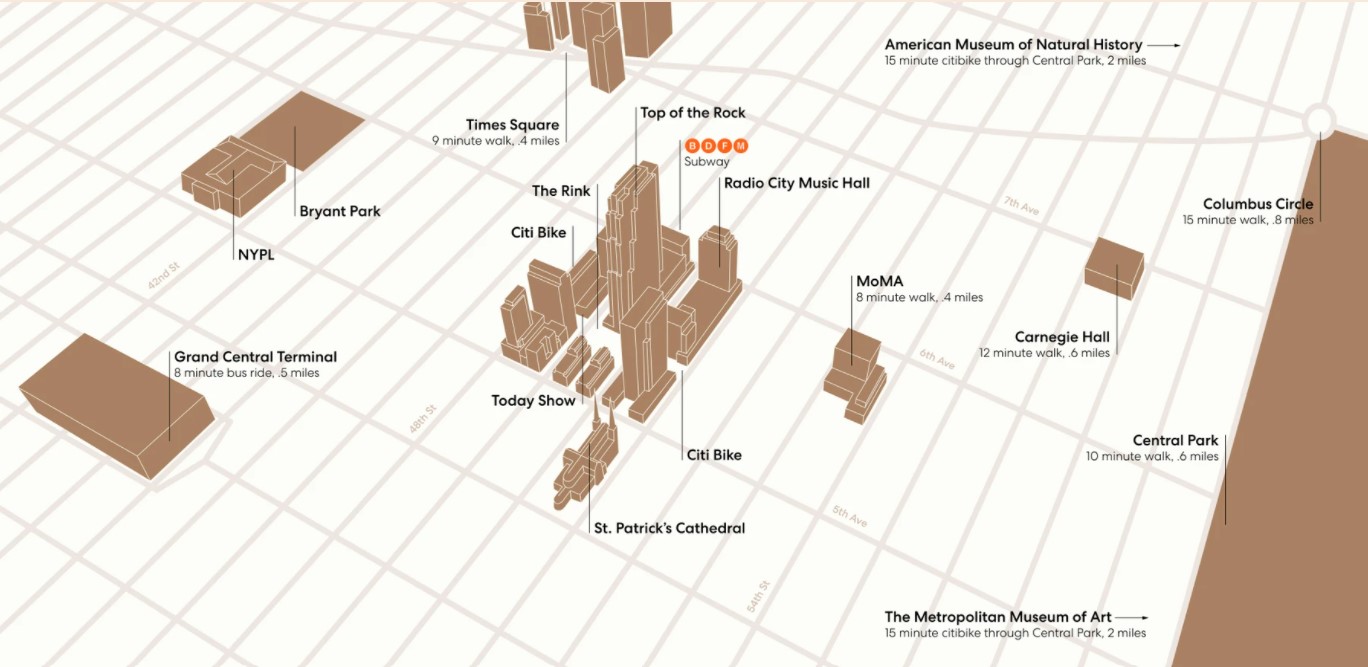 Additional Information & Helpful Tips
While the Rockefeller Center plaza is open around the clock, the Top of the Rock is usually accessible between 1 PM and 9 PM. Finding a suitable car parking space in this area is frustrating, so we have a few tips to make your trip to Manhattan hassle-free!
Provided that you live in NYC or stay in a city hotel, leave your vehicle there and take public transit instead—it's more affordable and efficient.

If you have to drive, look into

SpotHero

and

ParkWhiz

deals—these platforms have cost-effective offers and allow you to secure your spot via quick booking.

If you're flying into New York City and planning to rent a car and drive to Manhattan, we suggest reserving a shuttle ride or private car instead—check out the following links for more information.
We also recommend the Rockefeller Center Tour if you wish to explore the history and architecture of the complex; it's available every 30 minutes starting at 10 AM. If you're coming in December, the Rockefeller Center Christmas tree is a must-see!
Find NYC Parking Without Any Hassle!
Here at Parking Access, you'll find comprehensive parking guides covering countless locations countrywide! If you're visiting New York City or live in the area, we'll help you find cheap and convenient parking at all points of interest. So, in addition to parking near Rockefeller Center, you can check out our top 5 locations in Manhattan.
If you're planning a trip and searching for discounted parking at JFK, LGA, or EWR, click on any of the following links for information about all on-site and off-site parking services.