This post also contains affiliate links and we will be compensated if you make a purchase after clicking on our links.
Rio Tinto Stadium parking
Watching a game at Rio Tinto Stadium? This sports facility in Sandy City, Utah offers several parking options for both event visitors and Real Salt Lake fans ranging from cash lots and public parking to permit-only spaces and metered parking alternatives. Read our guide before match day and learn about the best options within the vicinity, parking fees, and public transportation options.
The Rio Tinto Stadium is located at the following address: 9256 South State Street Sandy, UT 84070-2604.
Parking at Rio Tinto Stadium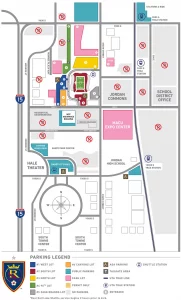 The venue offers several official lots that open on matchdays, as well as private and public parking lots that tend to sell out quickly during major events.
Parking fees for the stadium's official parking lots and cash lots vary depending on the event but expect to pay around $10 – $20 for match-day parking. We recommend buying parking passes for official lots from legitimate online sellers to guarantee a spot and get the lowest rates.
The nearest and most convenient places to park are in the stadium's official parking lots:
West Lot
South Lot
North Lot
90th Lot
Zagg Brands Lot
Canyons Lot
Parking for people with disabilities is available in the West Lot, next to the stadium along the premium and VIP lots.
Additionally, the map above indicates several cash lots within walking distance from the stadium (highlighted in pink) and several public parking spaces (highlighted in cyan) that fill up very quickly during major league soccer games.
Tips for Parking at the Stadium
We did a little digging and found some parking tips to make your parking experience more convenient. Take these into account before selecting where to park.
Visitors looking to save may park for free at Sandy City Hall or the Trax Station. A free shuttle service runs pre- and post-game from the Sandy City Hall parking lot to the stadium's north loading zone.
While the Jordan Commons parking lot is marked "no parking" on the map above, you may be able to park for free if you dine at nearby restaurants.
We recommend parking farther from the stadium to circumvent post-game traffic and congestion.
It is permitted to tailgate in official Rio Tinto Stadium parking lots; however, open fires and charcoal are prohibited.
Street Parking Near the Stadium
Parking on the public streets surrounding the venue is limited to a few designated areas. Moreover, some neighborhoods next to the stadium are strict 'No Parking' zones on event days, and visitors need a valid Sandy City parking permit to park in these areas.
Keep an eye out for parking signs and regulations if you plan to park on public streets. We recommend pre-booking your parking or selecting an off-street parking option to avoid incurring a parking ticket.
Use Public Transport
The TRAX light rail system is the most convenient way to reach the Rio Tinto Stadium. The stadium is connected to downtown Salt Lake City by Station Sandy Expo on the blue line, located approximately 10 minutes away.
Our Experts Can Help You Park Effortlessly in Utah
Going around Utah? We can make your parking easier. We've covered several of Utah's favorite sites including:
Moreover, read our Salt Lake City International Airport parking guide if you're flying out of the city!