Parking Near Pier 36 NYC
Located in Manhattan's Lower East Side, the Pier 36 NYC facility is simple in exterior design but offers a grand exhibit space. It also provides amazing views of the East River, bridges, and city buildings. If you're attending an upcoming event, let our team help you find a safe and affordable spot to park. Read about the main lot, off-street multi-storey garages in the area, and on-street parking restrictions. 
Drivers can use the following address for directions: 299 South Street, New York, NY 10002. Those considering a transport alternative will find subway and bus stops a short walk from the venue.
All Pier 36 Parking Options
Pier 36 NYC has a 55,000-square-feet parking lot adjacent to the building. Event parking rates and availability vary according to the occasion. For instance, the flat drive-up rate in the on-site parking area for the 2021 Immersive Van Gogh Exhibit was $36. If you want to use this lot, we suggest that you call 212-233-5050 in advance to make inquiries.
Convenient Garages in the Vicinity
In case the on-site Pier 36 parking lot is closed, full, or too pricey,  we looked into nearby alternatives. Check out the top nearby facilities. 
275 Delancey St. S Garage is the most affordable option—the cost is $19 for up to 10 hours of parking

. However, for certain events, the flat $29 rate may apply. The facility is a 13-minute walk northeast of the Pier.

148 Madison St. Garage charges $24 for 3 hours of parking.

It's an 11-minute stroll away, and the entrance is at 70 Monroe St, just before Pike St.

Seward Park Garage at 240 East Broadway offers valet service

a 7-minute walk away from the venue. The non-event parking rate for 3 hours is

$25

.
Use SpotHero for more options, including LAZ Parking, Champion Parking, MPG Parking, etc.
Street Parking Availability 
On-street parking around Pier 36 NYC is limited. Some areas are for authorized vehicles only, and most streets are closed for parking on some days due to street cleaning. So, you should arrive early and read the posted signs carefully to avoid costly NYC parking tickets. 
We suggest that you check South, Cherry, and Madison Streets first, as well as their cross streets. If you're lucky, you might even come across a free parking spot.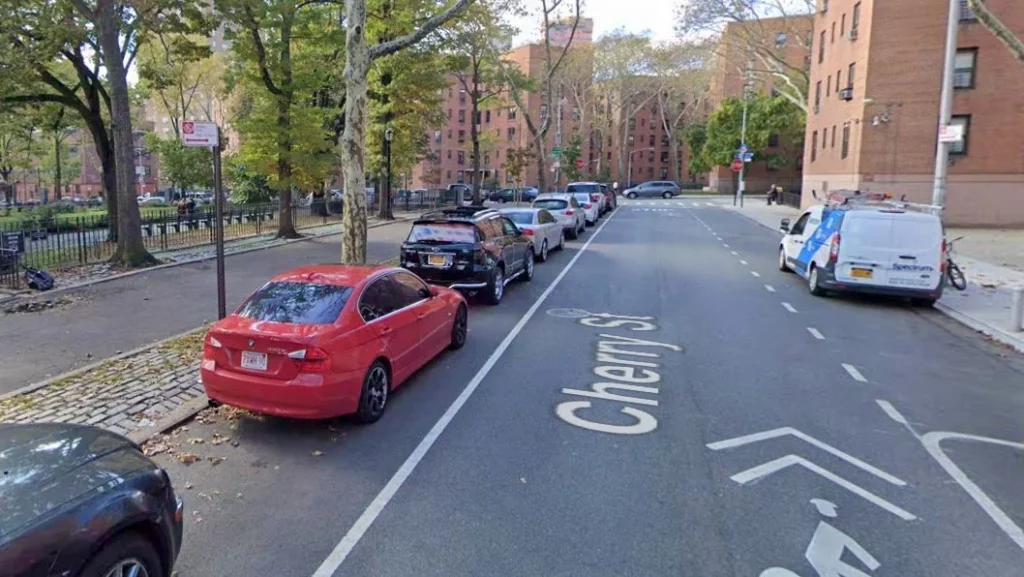 Public Transportation Options
East Broadway Station is on the corner of E Broadway and Rutgers Street, just a 10-minute walk away from the venue. Hop on F Train to get there for $2.75. From Grand Central Terminal, take the 6 Train to Bleecker Street Station and then wait for F Train.
Delancey St./Essex St. and Grand St. Stations are 15 to 20-minute walk away and are served by several subway lines (J, M, B, D).
If you want to take a bus, the following lines stop nearby: M22 on Madison Street, M15 on Pike Street, M9 on Essex Street, and M21 on Grand Street. The one-way bus fare is also $2.75.
We Make NYC Parking a Breeze
In addition to parking near Pier 36 NYC, we can help you with the following.
If you're flying out of the city, click on any of the links below to book a low-cost spot.