Seattle's Burke Museum is placed on the University of Washington campus and is accessible by car, bike, and public transportation. The Parking Access team will help you plan your visit and locate a cheap Burke Museum parking spot near the building. Compare hourly rates in the closest lots to off-site options and street spots, and find what works for you. We'll also list admission prices and explain how to get to the museum via public transit if you decide not to drive. Use all the info and handy tips to have a hassle-free experience.
Admission & Hours
The admission ticket prices are as follows:
$22 for adults;

$14 for students and youth;

Free for UW students/staff and museum members.
Purchase your ticket online, and note that the museum is closed on Mondays. Its operating hours are from 10 AM to 5 PM, Tuesday through Sunday.
Parking at the Burke Museum
The closest and most convenient option is the N1 parking lot situated next to the museum. Burke Museum parking rates vary according to the time of the day and may increase during events.
| | | |
| --- | --- | --- |
| Day & Time | Hourly Rate | Daily Rate |
| Mon–Fri 6 AM–4 PM | $4.00 | $18.75 |
| Mon–Fri 4 PM–6 AM | / | $6.25 |
| Saturday 6 AM–12 PM | / | $6.25 |
| Saturday afternoon & Sunday | Free of charge | Free of charge |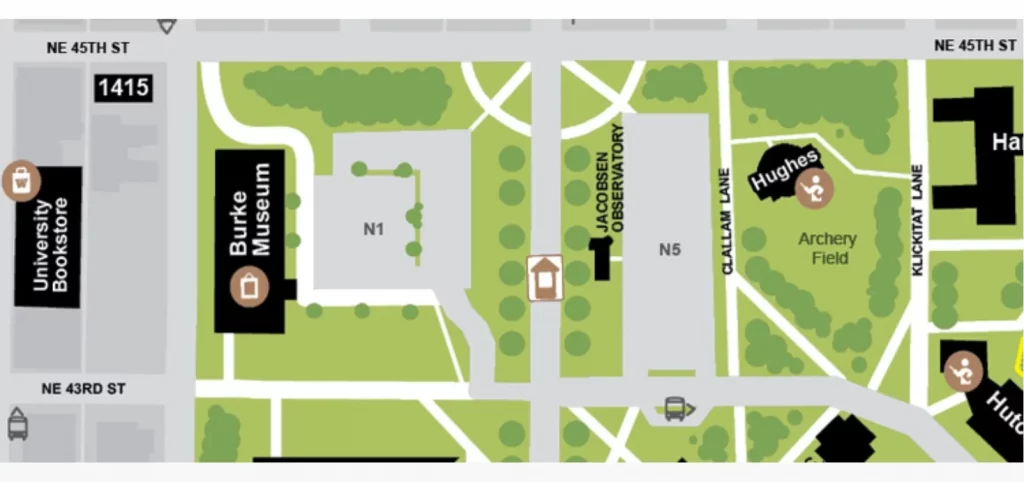 Additional Options
A few car parking lots are available within walking distance of the museum. The nearest on-campus structures are Central Plaza Garage and Padelford Garage. Central Plaza Garage, which is a four-minute walk away, is the only facility with a $12.50 daily rate.
If you want to reserve a spot in advance, we recommend platforms like SpotHero. One of the best options is the 12th Avenue Apartments Garage, which charges $11 for four hours of parking. The entrance is at 1151 NE 47th Street, an 8-minute walk from the museum.
ADA-Compliant Lots
The adjacent N1 lot offers five accessible parking stalls, which are obtainable on a first-come, first-served basis. If those are occupied, or the lot is full, try other UW lots in the area. Standard rates apply.
Street Spots
Visitors can also find convenient short-term spots on the streets. The nearest Seattle street parking is available on 15th, 16th, and 17th Ave., and time limits range from two to four hours. Hourly rates vary from $0.50 to $2.00, depending on the location or time of the day.
Read the posted signs or meters and park properly to avoid pricey tickets.
Public Transportation Options
The U District rail station is down the street from the museum. It's served by Line 1 of Sound Transit Link, which runs from Northgate to Angle Lake and stops at Sea-Tac.
Additionally, many King County Metro buses stop on the streets around the Burke Museum. Use this tool to plan your journey. The single-ride bus fare is $2.75.
Tip: If you take public transit to the facility, mention it at the admission desk before purchasing your admission ticket to get a discount.
Find Cheap Spots Wherever You Go
Aside from the Burke Museum parking info, our guides cover other popular locations in the area, including the following.
We can also help you find a safe monthly spot or top deals at and near Sea-Tac.