Bellevue Square Parking
Along with Lincoln Square, Bellevue Square is a part of Northwest's leading shopping and dining complex called The Bellevue Collection. The urban shopping mall features many department stores, including Nordstrom and Macy's, and car parking structures with 6,000 spaces. Our guide will provide the garage location, valet service pricing, on-street restrictions, nearby parking lots, and public transportation stations. We suggest you find a free space for your motor vehicle in the main West Garage or use the low-cost local transport system.
Here's the address for directions: 575 Bellevue Square, Bellevue, WA 98004, United States.
Free Parking at Bellevue Square
The shopping complex comprises three free garage parking areas with ADA spots and electric car charging stations. All of them are within walking distance of the entrances.
West Drive Garage
Northeast Garage
Southeast Garage
The West Garage is the largest one and accessible from 100th Ave. NE. You can take the NE 4th Street exit from Interstate 405 and then head west to get there. See the following map for locations of all garages and points of entry.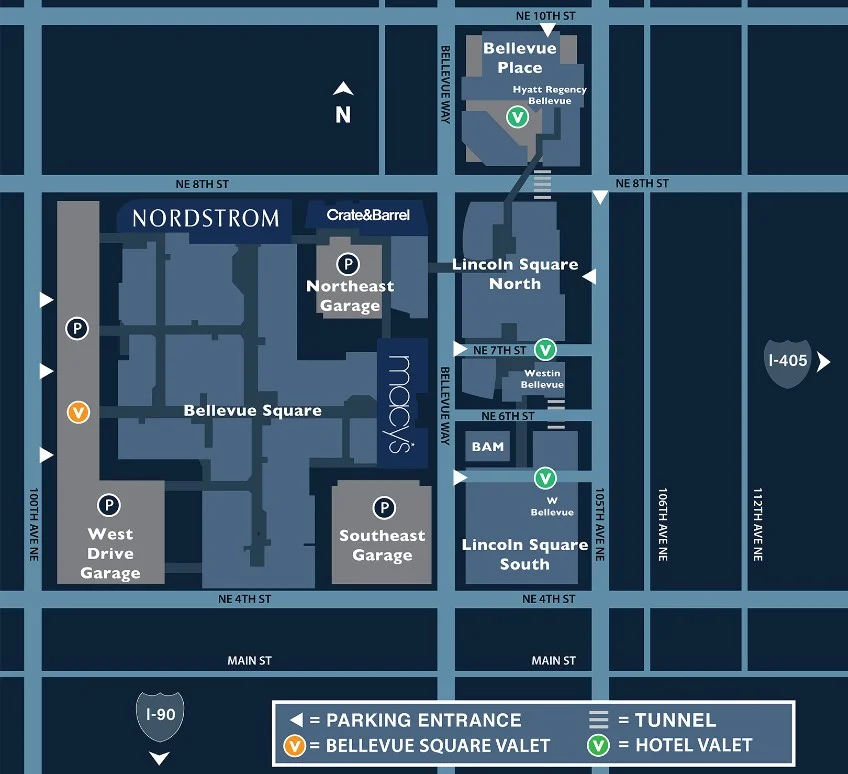 Tip: Leaving your vehicle parked for the entire day might get you a ticket. If there's no amount, it's just a warning. So, unless it's an orange "final notice" sticker, you don't have to worry about it.  
Valet Service & Fees
The most convenient valet parking service is available in the West Garage for only $8 per vehicle. It's available during shopping center hours: 10 AM to 9 PM Monday through Saturday and 11 AM to 7 PM on Sundays.
Hyatt Regency Bellevue, Westin Bellevue, and W Bellevue hotels provide the same service around the clock. Parking rates vary according to the location, but hotel fees are significantly higher than Bellevue Square parking prices.
Nearby Lots & Street Spots 
Since the Bellevue Square parking garage is free, visitors don't need alternatives, but we decided to list some of them anyway.
You may find many off-site self-parking facilities west of the mall. All provide paid parking services and allow reservations through sites like SpotHero. The most affordable option is located at 1086 106th Ave. NE—the Belcarra Apartments Retail Garage charges only $6.
You can also come across a free parking space on a nearby street. Most street spots have a two-hour limit from 7 AM to 6 PM Monday through Saturday. Click here to see the downtown parking zone map. If you've just moved to Bellevue, apply for a residential permit.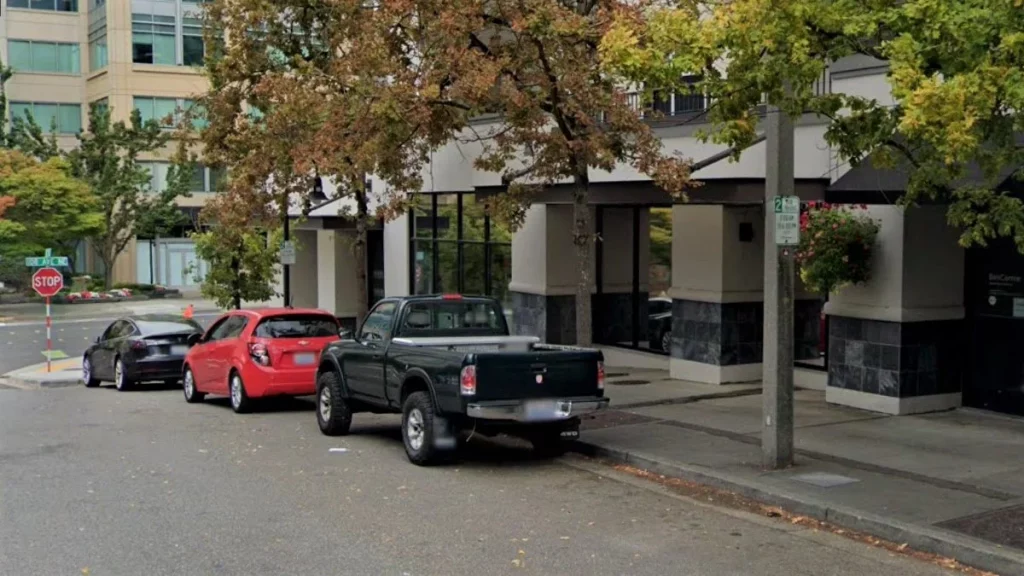 Transportation Options
Bellevue Transit Center is a 6-minute walk away from the mall. You can use the following bus King County Metro bus lines to get there: 226, 240, 241, 246, 249, and 560. Buses 246 and 271 pick up and drop off on NE 8th Street as well. The single-ride bus fare is $2.75. 
Alternatively, you can use Sound Transit routes 550 and 556, which make stops on Bellevue Way NE and NE 4th Street.
We Make Parking a Breeze
Aside from Bellevue Square parking, we help drivers snatch affordable spots near city attractions across Lake Washington.
If you're flying out of Seattle, be sure to pre-book discounted Sea-Tac Parking.