Coney Island beach parking
Thousands of people flock to Coney Island beach along the Atlantic Ocean every year, making it one of New York City's top destinations. This 2.7-mile stretch of sand is part of the Coney Island neighborhood and amusement park – and it bustles with activity every summer. Off-street parking and commercial garages are plentiful in the area, but snagging a spot during the peak season can be challenging. Get directions to the most convenient facilities & free parking lots, or get tips on rates & transportation.
Tips For Parking at Coney Island Beach
Metered street parking along Surf Ave is plentiful, though you may find time limits to be restrictive. If you're planning to make a quick visit or don't mind returning to your parking area every two hours to pay and extend the time limit, metered street parking may be a cost-effective choice. Otherwise, several nearby venues and facilities offer all-day parking for a more expensive rate.
Parking Venues Near the Beach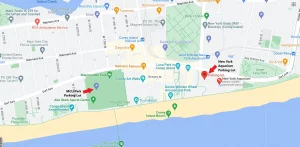 We did a little digging and discovered several Coney Island Beach parking venues and establishments in the area. Here are your choices:
Maimonides Park (MCU Park)
This minor-league baseball stadium sits on Riegelmann Boardwalk at 1994 Surf Ave, just a 7-minute walk from the Coney Island boardwalk. Parking costs are $13 on weekdays and $20 on weekends. Event parking rates may vary.
New York Aquarium
The New York Aquarium at 602 Surf Avenue, just a 5-minute walk from the beach, has an on-site parking lot for Coney Island visitors.
| | |
| --- | --- |
| Duration  | Rate |
| Up to 3 Hours | $18 |
| 3-4 Hours | $25 |
| Over 4 Hours | $40 |
Additional Parking Near the Beach
Here are a few more parking areas just walking distance from the beach. Rates may change without notice.
| Facility  | Address | Rate |
| --- | --- | --- |
| Brighton Beach Municipal Lot  | 3162 Brighton 4th Street | $2/hour |
| Park Here Corp. | 2906 W 12th St | $15 all-day parking |
| City Parking | 1 Ocean Drive Garage | $10 all-day parking  |
| Park Pro Systems | 2960 W 29th St | $10/hour |
Street Parking Alternatives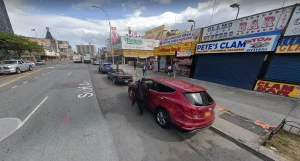 Metered street parking is abundant along Surf Ave, but these spots tend to fill up quickly, especially during the summer. While most spots are free, those that are paid charge $1.25 for an hour and $3.25 for two hours with a two-hour time limit. Metered parking is enforced Monday to Saturday, 9 AM to 12 AM. Keep an eye out for posted signs and time limits to avoid incurring an NYC parking ticket.
Transportation Options
Ride the B36 bus to Coney Island-West 37 St, the B64 or the B68 to Coney Island-Mermaid Av, or the B82 to Mermaid Av-Stillwell Av.
Alternatively, you can take MTA train lines D, F, N, or Q to Coney Island-Stillwell Av or the F or Q train to West 8 St-NY Aquarium. Visit the MTA website for schedules, stops, and fares.
Expert-Made Guides to NYC Parking
In addition to parking near Coney Island Beach, we can help you park at the following venues and attractions.
For affordable parking spaces when flying out of the city, check out the following guides.