This post also contains affiliate links, and we will be compensated if you make a purchase after clicking on our links.
Finding a convenient and cheap T-Mobile Park parking space can be frustrating during big events, but Parking Access is here to help you out! Our in-depth guide offers locations of the best nearby garages, accessible parking stalls, motorcycle spots, and EV stations. Most importantly, we'll list the event pricing range and tips on booking the best deal in advance. If event parking is sold out or too expensive for your budget, park in the downtown area or use public transportation; you'll find the important details about both alternatives in the closing sections. Use all the info and tips to have a hassle-free experience.
About the Venue
T-Mobile Park is a major baseball park in the SoDo neighborhood, less than a mile away from downtown Seattle, Washington. It has a retractable roof and a seating capacity of nearly 48,000. T-Mobile Park is the home stadium of the MLB's Seattle Mariners and hosts numerous games every year. In addition to professional baseball games, the ballpark is used for major non-baseball events, such as the Seattle Bowl.
If you need driving directions, use the following address: 1250 1st Ave S, Seattle, WA 98134.
Mariners Parking at T-Mobile Park
The venue's website recommends the following garage parking facilities, which are within easy walking distance from T-Mobile Park and have thousands of covered parking spots. 
| | | | |
| --- | --- | --- | --- |
| Parking Garage | Event Rate | Address | Walking Time |
| Mariners Garage | $25-$50 | 301-337 Edgar Martinez Dr. S | 2 minutes |
| Lumen Field Garage | $10-$50 | S Royal Brougham Way | 3 minutes |
| Union Station Garage (South) | $8-$30 | 820 4th Ave. South | 10 minutes |
Usually, the best way to lower your costs is to plan ahead and book your spot. Advanced bookings can save you up to 50%! >>>Reserve on Vivid Seats.

Tip: If searching for convenient motorcycle parking, head to Mariners Garage, which offers a $12.50 event rate for motorcyclists.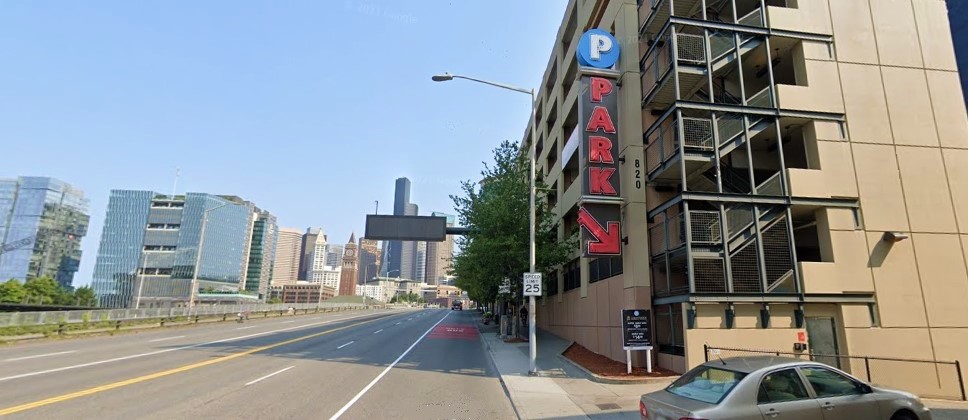 ADA Parking
Accessible parking spaces are available in the Seattle Mariners Garage on a first-come, first-served basis, but you can also pre-book them by calling 206-346-4001. Any visitor who wants to use them has to own a disabled parking permit or license plate. Standard T-Mobile Park parking rates apply.
EV Charging Stations
Electric vehicle charging stations are at the southeast corner of Edgar Martinez Drive and Occidental Avenue. Lumen Field Garage also has ChargePoint chargers, which are placed on the left after entering. The rate is $4.95 per session or $8 per day on non-game days; on game days, it's $15 to $40. 
Downtown Lots & Garages
To reduce expenses, many visitors decide to park in the downtown area or on the streets. If you decide to park in one of the CBD garages and lots north of the park, you'll have to take about a 20-minute walk or take public transit. We suggest that you use SpotHero to find a cheap spot in a facility along the light rail line and then catch a train to the ballpark.
Some on-street parking locations near T-Mobile Park are unavailable during Seattle Mariners games, so pay attention to all posted signs to avoid Seattle parking tickets. 
Public Transportation Options
If you want to avoid the time-consuming search for a cheap and convenient parking area, lower your costs by using public transportation to T-Mobile Park. The following stations are within a 10-minute walk of the stadium: Stadium Station, International District/Chinatown Station, and King Street Station.
Taking Sounder trains or Link light rail is a great way to get to the park. Alternatively, many public bus routes stop within a few blocks of the stadium, and you can use ORCA cards for regular routes.
Find a Cheap Spot Anywhere in the City
Our successful editorial practices make us an expert in the field. Aside from the T-Mobile Park parking guide, we cover other popular city locations, including the following.
Parking Access can also help you find a discounted parking deal near Sea-Tac; call 860 530-0072 for information about availability and pricing.