This post also contains affiliate links and we will be compensated if you make a purchase after clicking on our links.
Compare reviews and features with top parking companies and book Chase Field parking deals!
Plan on going to an Arizona Diamondbacks game next season? This Chase Field Parking Guide allows you to quickly discover all the public parking options at and near the baseball park, short-term parking costs, and on-street parking availability. Book a spot now to save up to 50%!
Parking Access guides offer useful car parking information for numerous airports, cruise ports, and ballparks. The guides include locations, daily parking pass info, off-site parking services, and helpful tips. Whenever you need a discounted parking spot, use our safe booking system to make a reservation in no time. We work with parking lots and may earn a commission for referring our readers to their facilities.
Chase Field
Downtown Phoenix is a vibrant business and entertainment district offering restaurants, galleries, museums, bars, and sports arenas. The best place for baseball fans is certainly Chase Field, situated within walking distance from the city center. The baseball park is home to the MLB's Arizona Diamondbacks, known as the D-Backs. The ballpark has been hosting a diverse array of events and games since 1998.
Chase Field's location allows you to easily reach the stadium, and the visitors can use several transportation services. The cheapest option is public transportation — METRO Light Rail operates daily, and trains run a few times per hour. The 3rd Street/Jefferson and 3rd Street/Washington stations are a short walk away from the ballpark. One-ride fare is $2, while the one-day fare is only $4. Another suitable transportation option from Tucson is D-Backs Express, a shuttle bus service that runs from the Foothills Mall to Chase Field. A round-trip fare is $25 per person.
If you're driving to Chase Field and searching for driving directions, the address is 401 E Jefferson St, Phoenix, AZ 85004. We listed the main parking facilities and rates, as well as downtown parking areas near the ballpark, and a few useful tips.
Chase Field Parking
The most convenient parking service is offered by the closest covered parking structures and a few outdoor lots. The ballpark highlights several car parking garages/lots nearby; we looked into the nearest options and discovered their parking prices. See our list to find a Chase Field parking structure that suits your needs and your budget. The below-listed rates apply on Arizona Diamondbacks game days and during major events. >>Reserve on Vivid Seats. Each parking area is between 1 and 6 minutes away from the stadium.
| | | |
| --- | --- | --- |
| Event Parking Chase Field | Daily Rate | Address |
| Chase Field Garage | $20 | 401 S. 4th St. |
| OPUS at Collier Center | $20 | 262E E. Jefferson St. |
| Jefferson Street Garage | $15 | 333 E. Jefferson St. |
| Convention Center East Garage | $12 | 601 E. Washington St. |
| Diamondback Right Field Lot | $10 | 220 S. 9th St. |
| Appl Parking Lot | $10 | 348 S. 2nd St. |
| Appl Parking Lot | $10 | S. 1st St. & E. Jackson St. |
| US Airways Center Facility | $10 | 201 E. Jefferson St. |
| Chase Field Self Park Lot #2 | $8 | 811 E. Jackson St. |
| Lincoln Lot | $5 | 659 E. Lincoln St. |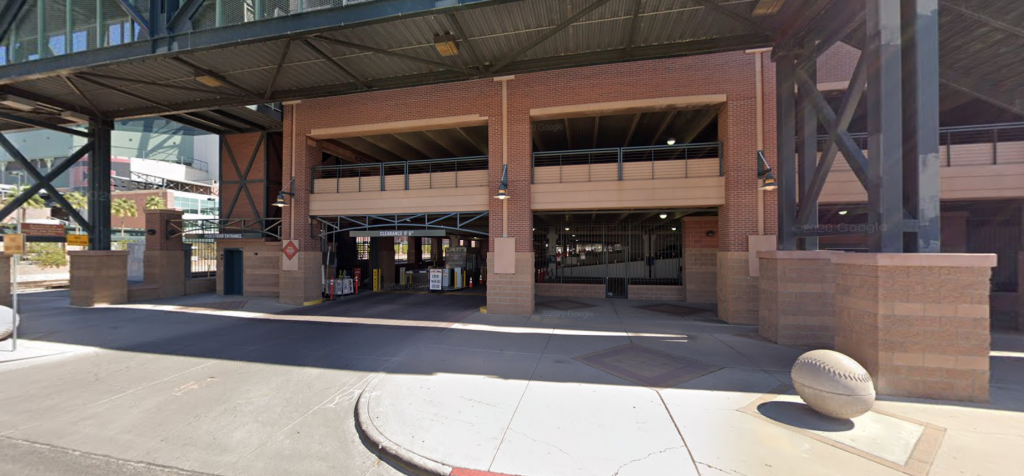 Electric vehicle charging stations are accessible on E Jackson St. and just West of 4th St. and Chase Field. Three free Blink L2s are available free of charge. Alternatively, you can use EV charging stations on the 4th floor of the Phoenix Convention Center East Garage or the 1st level of Heritage Garage.

Accessible Parking Chase Field
The most convenient ADA parking spaces are in the main Arizona Diamondbacks parking garage. The handicap parking spots are available on a first-come, first-served basis to anyone who owns a disabled parking permit or placard. Standard parking rates apply for all games and events.
Arizona Diamondbacks Parking near Chase Field
Many guests search for a city parking space nearby to lower their costs. Although Chase Field offers many car parks with a wide price range, it's still possible to find a cheaper or even free parking area. Street parking is available but limited, and you would probably have to take a long walk to the stadium if you find cheaper spots. There is, however, another choice if you wish to save money — park in a shopping mall and catch the train to the park. You can use the Valley Metro Ridekick app that will help you plan your trip and hop on the right train to the Arizona Diamondbacks' home field.
Tailgating at Chase Field
Tailgating is prohibited in all Chase Field event garages and lots, but don't let that ruin your game day. A great number of downtown restaurants and bars can provide you and your friends with tasty food, cool drinks, and a party-like atmosphere. We looked into the places near the ballpark and listed the best bars in the area for all the Arizona Diamondbacks fans:
Check out the Arizona Diamondbacks schedule for the 2021 Regular Season Schedule or 2021 Spring Training Schedule; see when the D-Backs play vs. the Colorado Rockies, Cleveland Indians, or Los Angeles Dodgers.
Parking Access also helps you book long-term parking at Sky Harbor PHX at many cruise terminals and airports like LAX, Newark Liberty International Airport, LaGuardia, JFK, Sea-Tac Airport, SFO, and more. Reserve parking in advance to save up to 50% and get a low-cost event parking pass for any event, game, or trip!