Last Updated on January 28, 2022 by Usama
If searching for a simple way to always get a low-cost car parking space, Parking Access is the way to go! We offer countless extensive guides with plenty of valuable information on overnight parking lots at venues. Our Coors Field Parking Guide informs you of all the visitor parking options at the baseball park, as well as off-site parking alternatives. We'll provide general field information, daily parking rates, downtown parking availability, street parking, details about tailgating, and more!
Coors Field
All MLB fans in Denver know about Coors Field, a home field of the Colorado Rockies. The venue has been hosting games and concerts since 1995 and has a capacity of more than 50,000 people for baseball games. It's situated in the downtown area, a 5-minute drive away from the city center.
If you plan to drive, the Coors Field address is 2001 Blake St; type it into your phone mapping app to get directions to the park. We suggest that you arrive a couple of hours before the event to avoid crowds or delays. We're going to help you find the cheapest short-term parking service in Denver — keep reading for all the Coors Field parking information.
Coors Field Parking
The baseball park has three official vehicle parking structures, situated close to the park and managed by Central Parking Systems. Each campus parking facility is well-lit and paved and opens two and a half hours before a Colorado Rockies game. Although cash and major credit cards are accepted upon arrival, it's safer to book in advance and get a reserved parking spot. Free bicycle self-parking is available at Gates A and E. >>Reserve on Vivid Seats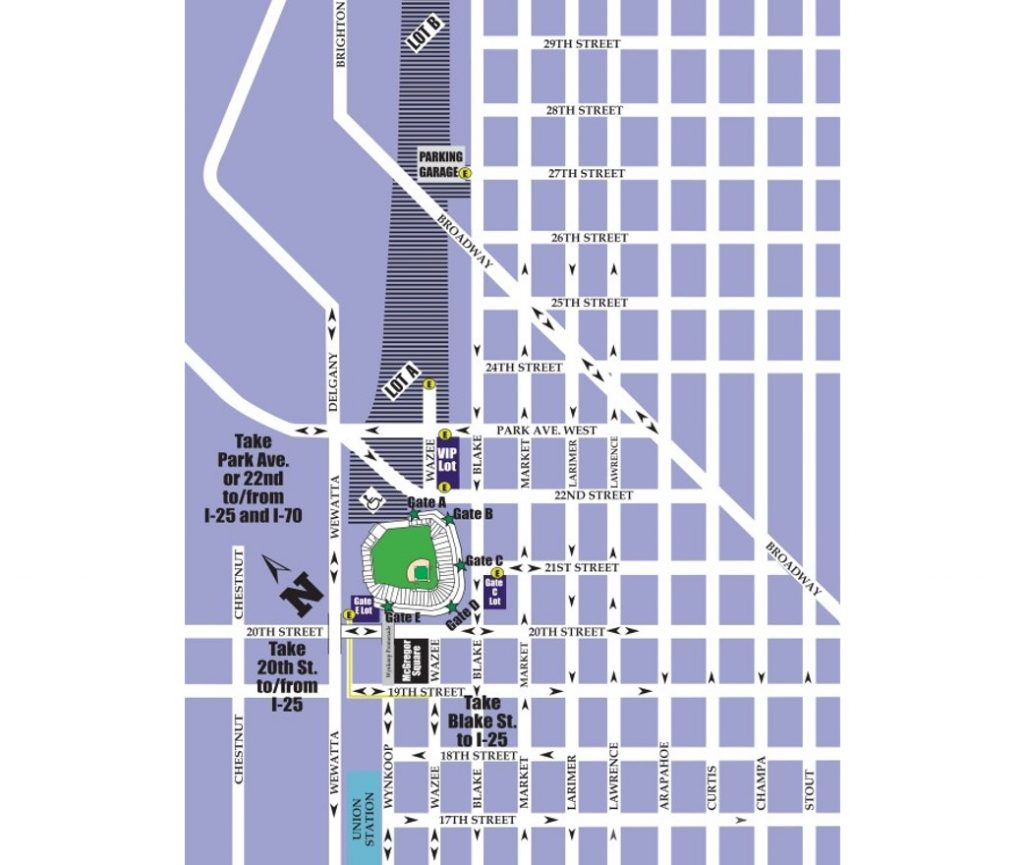 The main parking lots include:
Coors Field Lot A has a standard parking rate of $19 (Monday-Thursday) and $24 (Friday-Sunday).
Lot B is a covered parking garage with 950 indoor parking spaces. It has a daily rate of $17 (Monday-Thursday) and $22 on Friday and weekends.
Lot C is a public parking area within walking distance from the park that also costs $17.
Valet Service is available in the VIP car parking lot, and the valet parking price is $35.
Parking Garage has a $5 daily rate on non-game days, while event rates vary.
Four electric vehicle charging stations are placed on the ground parking level of the Coors Field garage parking structure. Payment is required for the use of EV charging stations, and the price is $23 on Rockies game days. It's free of charge for ChargePoint card owners only.

Accessible Parking 
ADA parking spots are adjacent to Gate A; passengers with disabilities may use elevators, ramps, and escalators to get access to any level of Coors Field. A disabled parking permit, license plate, or placard is a must. The general parking cost for handicapped parking is $17.
Colorado Rockies Parking Near Coors Field
In contrast to other MLB facilities, Coors Field parking prices are quite reasonable, but there's still a way to reduce your expenses! To save some money, visitors often try to find Denver street parking spots or other car parking facilities in the area. Parking Access will help you save some time, too — we discovered additional Colorado Rockies parking services near the field and listed them below for you. Additionally, you'll find the special online rates that are available if you reserve a spot in advance!
| | | |
| --- | --- | --- |
| Denver Parking Areas | Rate | Walking Distance |
| Dairy Block Garage – 1560 19th St. | $18 | 3 minutes |
| Music Garage – 1615 18th St. | $14 | 7 minutes |
| Beverly Lot – 2000 Larimer St. | $10 | 4 minutes |
| Atrium Garage – 1678 19th St. | $10 | 5 minutes |
| Kristi Lot – 2060 Larimer St. | $8 | 5 minutes |
| Garage – 1549 18th St. | $8 | 6 minutes |
| MVP Lot – 2201 Blake St. | $6 | 6 minutes |
| 2061 Arapahoe St. Lot | $5 | 8 minutes |
| 1150 20th St. Outside Parking Lot | $5 | 6 minutes |
Tailgating at Coors Field
If you wanted to tailgate with your friends before the Rockies games, unfortunately, that won't be possible in the Coors Field public parking lots since tailgating is not permitted. However, nearby bars and restaurants are a great alternative for pre-game fun. Several places in the area offer craft beers, tasty burgers, pool tables, and everything else you need to have some fun before games. We singled out the best-rated bars near Coors Field that you should definitely visit; check them out!
ViewHouse Ballpark
Falling Rock Tap House
Jackson's LODO
Lodo's Bar & Grill
ChopHouse & Brewery Denver
Blake Street Tavern
Transportation to the Ballpark
Denver Union Station is a short walk away from Coors Field and allows visitors who aren't driving to easily and affordably get to the park. You may use several RTD rail lines to reach this station — A, B, C, E, and W Lines. The standard RTD fare for a local ride is only $3. Uber is another reliable and cost-effective transportation service; two pick-up/drop-off areas are available near the field. Taxicabs are more expensive than public transportation but also more convenient, and the stands are a short walk from Gate A. 
Find Cheap Denver Parking Wherever You Go
In addition to the Coors Field parking guide, Parking Access offers an array of useful articles, and we can even help you find cheap Denver monthly parking. Our team can assist you in finding and booking:
Plan on flying out of Denver soon? Have you considered where you're going to park your car? Our Denver Airport Parking guide has all the info: on-airport parking rates, handicap parking availability, and off-site parking lots with shuttles to and from the terminals. If you want to spend a night at a nearby hotel before the trip, look into Denver Airport Hotel Park & Fly offers!