This post also contains affiliate links, and we will be compensated if you make a purchase after clicking on our links.
As home to the Colorado Rockies, Coors Field is a popular destination among baseball fans in Denver. Thanks to its convenient downtown location, it's easily accessible by car and public transportation alike. If you plan to drive to the venue, our guide will help you find a safe and cheap Coors Field parking spot in the area. Discover the official lots and top off-site options and compare their event rates or locations to find what works for you. You'll also learn about public transit, the most affordable alternative to driving.
Parking at Coors Field
The baseball park has three official vehicle parking structures managed by Central Parking Systems. Each campus parking facility is well-lit and paved and opens two and a half hours before a Colorado Rockies game. Although cash and major credit cards are accepted upon arrival, it's safer to book in advance and get a reserved parking spot. >>Reserve on Vivid Seats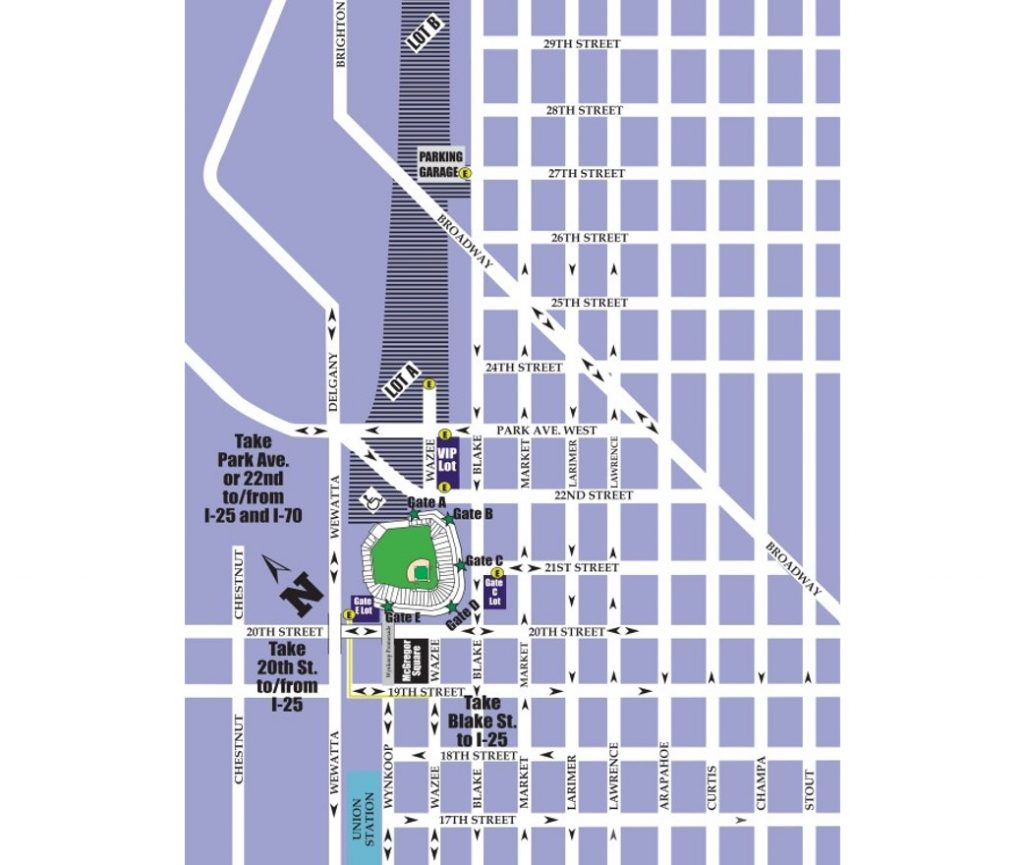 The non-event rate is $5 in the garage, while the event rates for all lots are in the following list.
| | | | |
| --- | --- | --- | --- |
| Coors Field Lot | Event Rate | Location | Walking Time |
| Lot A | $19 | Outside Gate A, adjacent to the venue | 1–10 minutes |
| Lot B + Parking Garage | $17 | Next to Lot A, accessible from 27th and Blake Street | Up to 15 minutes |
| VIP Lot | $35+ | Between 22nd St. and W. Park Ave.  | Less than 5 minutes |
Note: Spots in Gate C and E Lots are sold out, but the cost was the same as in Lot B. 

Four electric vehicle charging stations are placed on the ground parking level of the Coors Field garage parking structure. Payment is required for the use of EV charging stations, and the price is $23 on Rockies game days. It's free of charge for ChargePoint card owners only.
Accessible Parking 
ADA parking spots are directly adjacent to Gate A. Passengers with disabilities may use elevators, ramps, and escalators to access any level of Coors Field. A disabled parking permit, license plate, or placard is a must. Rates are subject to change, but the standard cost for handicapped parking starts at $17. Call Central Parking Systems at (303) 312-2040 for more info.
Additional Options Near Coors Field
Unlike other MLB facilities, Coors Field has reasonable prices, but there's still a way to reduce your expenses. Our team singled out the best off-site parking lots available on sites like SpotHero, which allows you to reserve your spot and save over 60%.
| | | | |
| --- | --- | --- | --- |
| Parking Structure | Average Event Rate | Address | Walking Distance |
| Beverly Lot | $6 | 2000 Larimer St. | 4 minutes |
| Kristi Lot | $6 | 2060 Larimer St. | 5 minutes |
| Blossom Lot | $8 | 1801 Market St. | 5 minutes |
| Music Garage | $15 | 1615 18th St. | 7 minutes |
| Flo Lot | $15 | 2108 Larimer St. | 5 minutes |
Note: Rates are subject to change and may vary according to various factors. Make a reservation far in advance to get the best deal.
Park on the Street
Streets around the venue offer convenient short-term spaces. You'll easily find street parking meters within walking distance, and don't hesitate to use them if you're lucky enough to come across an empty stall. Rates and time limits may vary according to the location. Read the posted signs and meters carefully and park your car properly to avoid getting a pricey ticket.
Transportation to the Ballpark
Denver Union Station is a short walk away from Coors Field and allows visitors to get to the park easily and affordably. You may use several RTD rail lines to reach this station — A, B, C, E, and W Lines. The standard RTD fare for a local ride is only $3.
Alternatively, Uber is an excellent alternative for quick rides; two pick-up/drop-off areas are available near the field. 
Find a Cheap Spot Wherever You Go
Our excellent editorial practices and thorough research make us an expert in the field, so don't hesitate to check out our other guides and find parking at many other locations.
Plus, you can take advantage of our booking form to get a cheap spot near Denver Airport.