Did you know that the Guinness Book of Records lists Virginia Beach as having the longest pleasure beach on the planet? The 35 miles of sandy shores are made up of three beaches which include Chesapeake Bay Beach, Sandbridge Beach, and Virginia Beach.
​The Virginia Beach Convention and Visitors Bureau announced Virginia Beach set a new tourism milestone for total visitors and visitor spending in 2017, welcoming 19 million domestic visitors who spent $2.45 billion. Virginia Beach is a resort area, which explains the tourism numbers.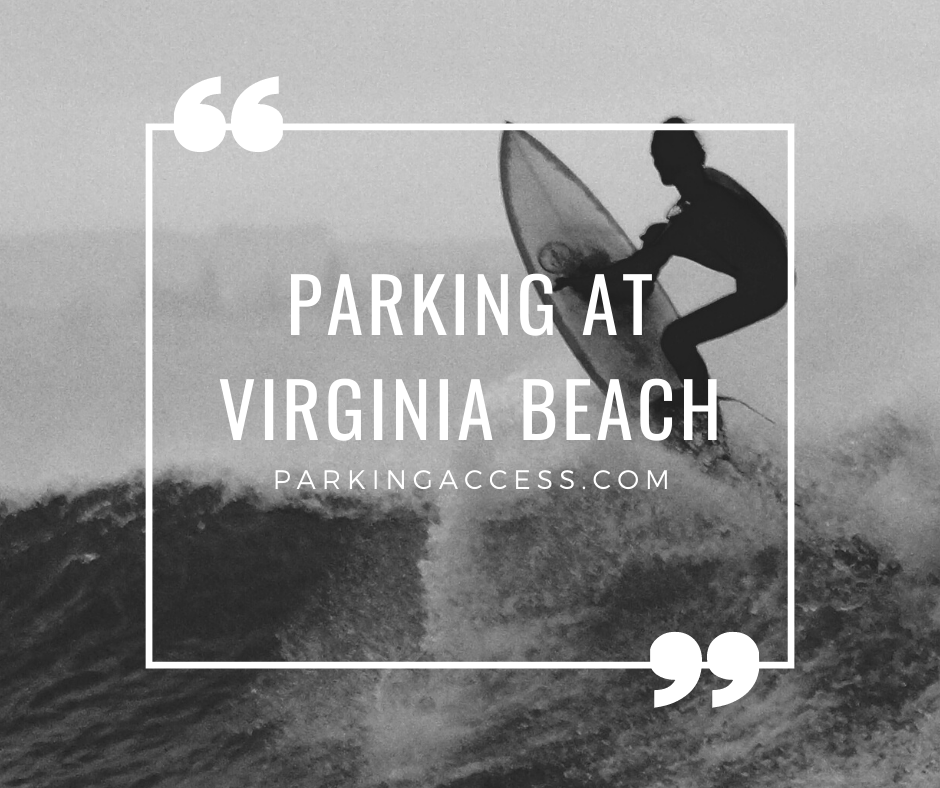 With those numbers in mind, one can imagine the amount of parking space needed, not to mention the revenue generated from parking fees. Virginia Beach offers almost 3,500 city-owned/leased municipal parking spaces accessible for your parking convenience. However, this is not inclusive of the private lots and garages available to visitors and patrons of the Virginia Beach restaurants and hotels.
Here's the thing with parking, it all depends on timing. If you are to find parking, Below are some of the top parking spots on VA Beach:
2nd Street: The 2nd Street parking lot has over 100 parking spaces. It is open daily between 8 am to midnight. You get to pay $7 per weekday and $10 per weekend day or holiday.
Rudee Lot: The Rudee lot area has over 150 parking spots. During the weekdays, you get to pay $7 and $10 per day on weekends and holidays. The parking lot opens daily between 8 am and midnight.
4th Street: This parking lot has 65 spaces. The 4th street parking space is also able to function as a charter bus park. For day parking, you will pay $7 a day and $10 a day on weekdays and holidays. As for buses, it's going to cost you $15 for daily day parking and $25 for overnight parking.
9th Street parking garage: This is one of the most sought after parking spaces in the city of Virginia Beach. The 9th Street garage has over 600 parking spots. This street lot is open 24 hours a day between May and September. Although between October and April, the garage is only available between 8 am and 10 pm. The cool thing about this parking space is that it accepts credit cards. Most parking garages in the city of Virginia Beach have meters. This area accepts credit cards. The rate for the 9th street parking garage is $2 for up to 2 hours, $4 for three hours, $6 above three hours, and $10 for the day. Monthly parking is available for $40.
19th Street Lots: The 19th Street garage has over 500 public parking spaces available. It is open between 8 am and 2 am. It will cost you $7 for you to park on the weekdays and $10 for you to park on 19th Street during the weekends/holidays.
25th Street lot: The 25th Street lot reopened in 2015 as a parking garage.
31st Street parking garage: This street garage has over 530 parking spots. Parking on 31st Street is available between 8 am and 12 midnight. The rates for 31st Street parking are $2 for an hour, $4 for 2 hours, $6 for 3 hours, and $10 for daily parking access.
Sandbridge: The Sandbridge parking lots have over 170 spaces. They are open between 8 am and 5 pm. The rates for both weekdays and weekends is $5 per day. Whether you're here for the day or just a few hours, with paddleboards in tow or just a beach chair, generous parking is part of what makes Sandbridge Beach so welcoming.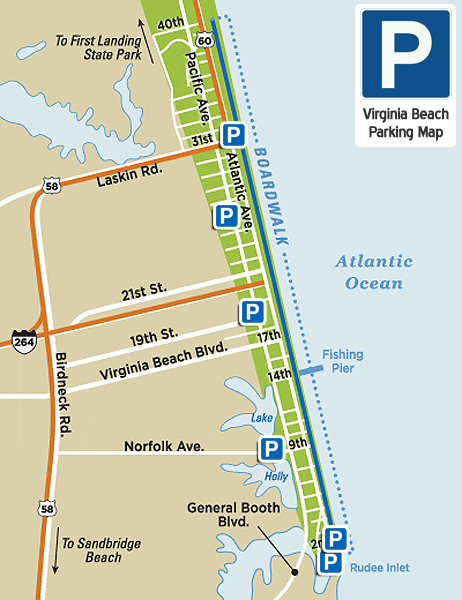 Croatan parking: Croatan parking has over 500 parking spaces. It is open all year round, but between April and September, it is available between 6 am to 8 pm. From October to March, it is open between 7 am and 5.30 pm.
Things You Should Know
Municipal Parking Lots
Municipal parking lots are found on Atlantic Avenue at 2nd Street, 4th Street, Rudee Loop. They are also on Pacific Avenue at Croatan Beach and at 19th Street. These lots impose a daily fee between Spring and Fall. There are other municipal parking garages at 25th Street, 9th Street, and 31st Street. The highest fees you can pay at these city-owned garages is $10, a $300 monthly fee unless you want to stay overnight.
You can also find other municipal parking lots in the vicinity of Sandbridge Market at the corner of Sandbridge Road and Sandfiddler Road. The lots charge $5 between Memorial Day and Labor Day.
Little Island Park offers municipal parking also. Little Island Park is a beach park that extends 122 acres in Sandbridge. It is enormous with unique recreational amenities for your fun. And finding a great parking spot is part of the vacation experience.
Virginia Beach VA Oceanfront Parking
Virginia Beach Oceanfront parking is available, but you have to plan ahead. That way, you have access to all the razzmatazz going on the boardwalk and the Virginia Beach resort ecosystem. Multiple city-owned parking spots will have you within eyeshot of where everything is going down.
The Oceanfront is always teeming with activity, which means parking space is highly competitive. People even book monthly for this prime spot. There is free seasonal parking on the Oceanfront as well, along Atlantic Avenue.
As a parking hack, you ned to remember there is more than one way to get to the Oceanfront. The Birdneck Road exit off I-264 is a great way to bypass traffic congestion to get to the Oceanfront.
Residential Parking
Virginia Beach (VA) parking offers residential parking passes. You can park at any time. Virginia Beach (VA) parking requires that residents display a Resident Permit or Guest Pass between the hours of 8 pm and 6 am. Virginia Beach (VA) has parking prohibitions for holidays and the resident permit should be on display constantly. These holidays are:
The 4th of July celebrations- from 2nd July to 6th July at 6 am.
Labor Day Weekend- from Friday to Tuesday.
Residents get a residential parking decal and 2 guest passes.
Virginia Beach parking grants parking discounts for residents. Only if you have a valid driver's license and a Virginia Beach address. The discount is $3 at Croatan Beach and all municipal parking garages and lots upon entrance past 5 pm.
On-Street Parking
It is given to people with disabilities. This parking is also available near the access ramps to the beach. Municipal garages offer on-street parking spaces between Fort Story and Little Creek, not to mention Shore Drive and the beach between the former.
Metered Parking
Virginia Beach (VA) has metered parking available in the entire resort area. You will be charged $2 every hour between April 1st and October 31. Virginia Beach (VA) has it that each meter can accept coins, credit cards, or debit cards. Furthermore, payments can be made via your phone.
Free Parking
Virginia Beach (VA) offers free parking at meters between 5th Street and Rudee Loop from the hours of 5 am and 10 am. But parking is not granted after midnight. Along the 200 block of Atlantic Avenue, Multi-Space Meters have been deployed.
On the 23rd of October this year, specific areas along Atlantic Avenue at the Virginia Beach Oceanfront reopened, offering 2hrs free parking until April 1, 2021.
Currently, Virginia Beach gives limited free parking along Atlantic Avenue all the way through to Spring next year.
However, according to people familiar with the matter, Virginia Beach is setting up a pilot program offering free parking come Summer next year. This program is open for Virginia Beach residents in the resort section parking garages.
Bottom Line
Always ensure you use your parking time wisely. Having the necessary information is always a plus when you want to find a great parking space.