This post also contains affiliate links and we will be compensated if you make a purchase after clicking on our links.
Whenever you search for convenient valet parking or an affordable self-parking spot, Parking Access will provide you with all the parking information you need. We offer relevant details like locations, hourly parking fees, driving directions, and tips. The Ball Arena Parking Guide tells you where to park your vehicle, which short-term parking lots are the best, and how much time you need to reach the former Pepsi Center. Go through all the event parking options, as well as the Ball Arena/Pepsi Center parking tips before you make a reservation!
Ball Arena
Formerly known as Pepsi Center, Ball Arena is one of the most popular Denver venues, where you can attend a variety of sporting events and concerts. This multi-purpose arena has a convenient location, a several-minute drive from the city center. Ball Arena is home to several professional sports teams: the NBA Denver Nuggets, the NHL Colorado Avalanche, and the NLL Colorado Mammoth. So, this is a great place for basketball, ice hockey, and lacrosse fans. Apart from exciting sporting events, the center has been organizing many concerts and conventions. 
The venue is situated at 1000 Chopper Circle—see the driving directions to Ball Arena if you're going for the first time. Drivers looking for affordable Denver Nuggets parking or a spot for any other game can see all the parking options below. We have listed the locations of visitor parking lots and covered parking garages at or near the former Pepsi Center.
Ball Arena Parking
Many Toyota parking facilities are available as the venue's official lots, and our Ball Arena (formerly Pepsi Center) parking map shows their locations. There's a handicap parking area, as well as 10 additional car parking structures: 4Runner lots, Camry lots, RAV4, Tundra, Tacoma, TRD Pro, and Corolla Parking Lot. The valet service is available in TRD Pro Lot, premier parking is in RAV4 Lot, while other areas offer general parking services.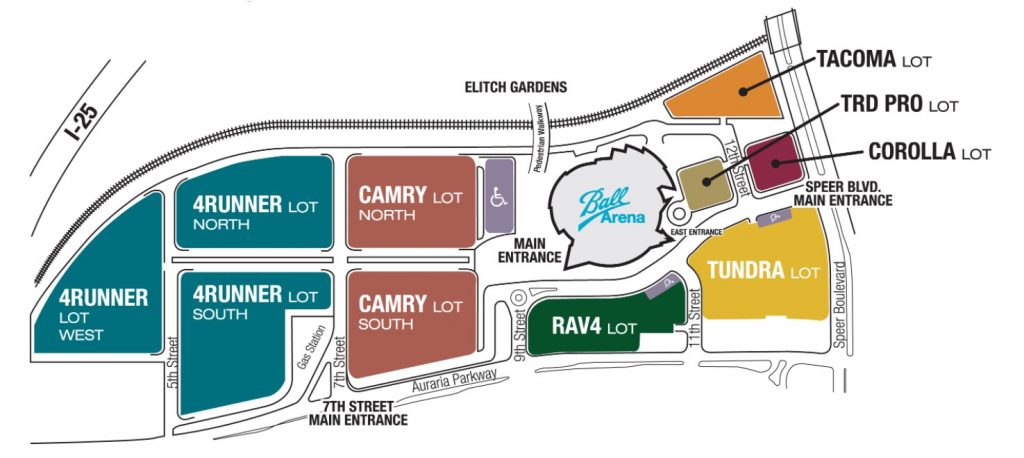 The standard parking rates vary based on the type of event, and some areas require a reserved parking pass or permit. To find out the exact daily parking rate for your spot, check out our list below. Note that the lower rates apply when you pay using a debit or credit card. >>Reserve on Vivid Seats
| | | | | |
| --- | --- | --- | --- | --- |
| Parking Lot | Nuggets Game | Avalanche Game | Mammoth Game | Other Events |
| TDR Pro Lot | Permit only | Permit only | $30-$35 | $35-$45 |
| 4Runner Lot | $20-$25 | $20-$25 | $15-$20 | $20-$30 |
| Tundra Lot | $20-$25 | $20-$25 | $15-$20 | $20-$30 |
| RAV4 Lot | $25-$30 | $25-$30 | $20-$25 | $25-$35 |
| Camry Lot | Permit only | Permit only | Permit + $15-$20 | $20-$30 |
| Tacoma Lot | Not available | Not available | $15-$20 | Not available |
| Elitch's Lot | $20-$25 | $20-$25 | $15-$20 | Not available |
To reserve parking in advance, we suggest using reliable platforms like Vivid Seats! It covers most Ball Arena events and offers a wide selection of parking services for each day.

Accessible Parking 
ADA parking is obtainable on a first-come, first-served basis and available to all visitors who own a disabled parking permit, placard, or license plate. Camry North Lot offers many handicapped parking spots, including over 100 standard spots and 7 spaces for oversized vehicles. People with disabilities can also park in Tundra Lot or RAV4 Lot.
Affordable Parking Near Ball Arena
Want to reduce your expenses? Choose a car parking facility placed a short walk away from the stadium. We looked into the economy parking alternatives nearby and found several great lots. If you choose one of the structures below, make sure you give yourself enough time and arrive earlier than usual. The rates are average and subject to change, but you'll be able to find parking for as low as $5.
| | | | |
| --- | --- | --- | --- |
| Parking Garage/Lot | Daily Rate | Address | Walking Distance |
| Blake St. Lot | $16 | 1501 Blake St. | 7 minutes |
| Wynkoop Street Garage | $8 | 1515 Wynkoop St. | 5 minutes |
| Wewatta Street Garage | $7 | 1400 Wewatta St. | 2 minutes |
| Sugar Cube Garage | $7 | 1555 Blake St. | 8 minutes |
| Elk Lot | $6 | 1637 Blake St. | 10 minutes |
| 1660 Wynkoop Garage | $5 | 1660 Wynkoop St. | 7 minutes |
| VIP Event Lot | $5 | 405 Walnut St. | 7 minutes |
| Riverpoint Lot | $5 | 2332 15th St. | 12 minutes |
Tailgating at Ball Arena
Although tailgating is allowed, it's not encouraged, and there's no tailgating area on-site. Note that open consumption of alcohol is prohibited in all the lots, as well as open fires. If you wish to grab a beer or a bite before a Denver Nuggets/Colorado Avalanche/Colorado Mammoth game, we have some great suggestions. Several sports bars located nearby provide draft brews, cocktails, and comfort food. Listed below are the best Denver bars in the vicinity:
Transportation to the Former Pepsi Center
Visitors who wish to use ground transportation services have suitable public transit options. The RTD light-rail lines serve the Pepsi Center–Elitch Gardens station, which is a short walk away. There's also a bus stop across from the center, and the rideshare area is on Chopper Circle between 9th and 11th Street. The RTD 3-hour pass is $3, while the day pass costs $6. Alternatively, you may arrange Uber or Lyft to and from a Rideshare zone, which is placed along Toyota RAV4 Lot.
Find Parking Anywhere in Denver
Our guides offer info on countless locations nationwide, and Denver residents or visitors can use our help to find and reserve parking wherever they go! Aside from Ball Arena parking, we offer a comprehensive Denver Monthly Parking guide, as well as information about major venues and city attractions, including:
Plan on flying out of the city? Need a cheap long-term parking space near your terminal? Discover all about Denver Airport Parking rates and off-site lots, and use our booking system to book a spot ahead of time!