This post also contains affiliate links and we will be compensated if you purchase after clicking on our links.
Formerly known as KeyArena at Seattle Center, Climate Pledge Arena is mainly a sports venue located north of downtown Seattle. It's home to the NHL Seattle Kraken team, as well as the WNBA Seattle Storm and the Seattle University Redhawks basketball team. If you're driving to the arena for the first time, the address is 334 1st Ave N, Seattle, WA 98109. The Parking Access team will take you through all the event parking options and help you choose the most suitable one. Check out the Climate Pledge Arena parking services and public transit options, compare prices, and reserve parking on the spot to get the best deal!
Climate Pledge Arena Parking Garages
The Seattle Kraken fans and other visitors can choose from a wide range of car parking structures. The arena's official website suggests the following garages as the closest and most convenient options:
Arena Underground Garage
5th Ave. N. Garage
1st Ave. N. Garage
According to multiple guests, the 5th Ave. N. Garage is significantly safer and more affordable than the one on 1st Avenue, so remember that when planning your visit. >>Reserve on Vivid Seats. The following Climate Pledge Arena photo shows the entrance to the garage on 5th Avenue.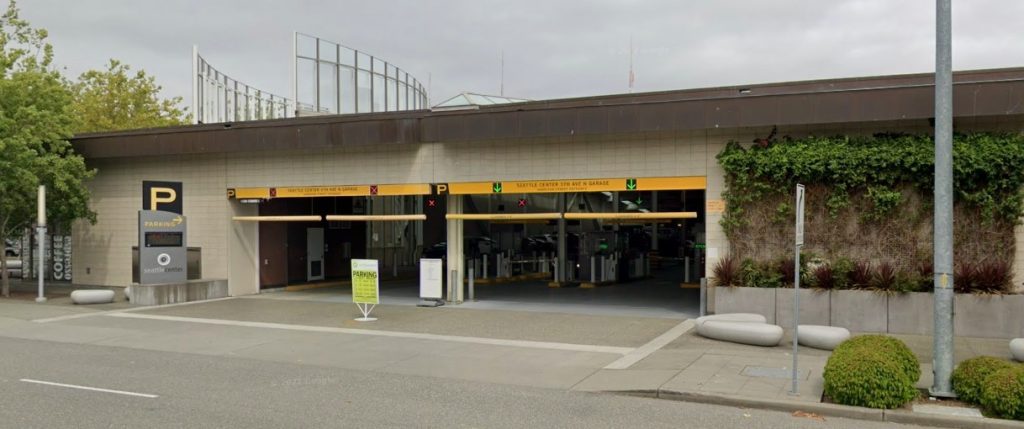 Event parking fees vary depending on the location and whether you reserve parking ahead of time or pay on the spot. Here are the standard rates for Kraken home games in the nearby garages—they are subject to change:
5th Ave. N. Garage: $30
1st Ave. N. Garage $50
PacSci Garage: $35
Komo Plaza Garage: $35 
The most effortless way to save both time and money is by pre-purchasing a Climate Pledge Arena parking pass on Vivid Seats. The platform covers most upcoming events and offers Seattle Kraken parking for as low as $20! 

Accessible Parking
If searching for nearby ADA parking, Climate Pledge Arena suggests the following parking facilities: Arena Underground Garage, 5th Ave. N. Garage, or 1st Ave. N. Garage. These are the closest options, but physically impaired guests can find suitable parking spaces in many lots in the area. Note that these spots are obtainable on a first-come, first-served basis, so it's recommended that you arrive early. Also, in addition to the Climate Pledge Arena mobile parking pass, a vehicle must display a valid disabled parking permit or placard.
Seattle Kraken Parking Near Climate Pledge Arena
If you're comfortable with taking a walk longer than 10 minutes, you can find a parking space for as low as $5! We looked into the most cost-effective parking garages and lots placed within an approximately 15-minute stroll of Climate Pledge Arena. Go through the following list to find what works for you:
| | | | |
| --- | --- | --- | --- |
| Parking Facility | Event Rate | Address | Walking Distance |
| Olympus Parking Garage | $5 | 2801 Western Ave. | 12 minutes |
| 5th & Bell Lot | $9 | 2230 5th Ave. | 16 minutes |
| Elliott Ave. W. Lot | $15 | 410 Elliott Ave. W. | 10 minutes |
| Elliott Garage | $15 | 2600 Elliott Ave. | 15 minutes |
The City of Seattle also offers on-street parking spots near the venue. If you happen to come across one, be sure to read the sign carefully to avoid pricey Seattle parking tickets. During arena events that are expected to have more than ten thousand visitors, event parking rates apply:
$3.00 per hour during the first two hours 
Any additional hour until 10 PM will cost $8.00
These rates occur for all large events, even on Sundays and holidays.
Public Transportation in Seattle
The Seattle Department of Transportation allows arena visitors to avoid parking hassles, high parking fees, and traffic jams. Seattle Center Monorail runs daily and offers extended operation hours for Climate Pledge Arena events and games. The Seattle Center Station is a 5-minute walk from the arena entrance, and the adult fare is $3.00. You may also get a cheap parking lot in the downtown area and take the Monorail to the venue to lower your expenses. Alternatively, catch a King County Metro bus and exit at one of the stations within the Seattle Center complex. Plan your trip to save a lot of time! The bus fare is $2.75.
Tailgating Information + Nearby Bars
Seattle Kraken fans can engage in tailgating activities in multiple surface parking lots near Climate Pledge Arena. Following posted guidelines is crucial if you want to have the best game-day experience with your friends. Hitting the bars is a great alternative since many places within a couple of blocks of the venue offer a selection of craft beers and tasty food. Check out some of the best-rated properties in the vicinity:
All of them are within a 10-minute walk of Climate Pledge Arena.
Find Parking in Seattle Easily
Our team has created numerous guides for passengers across the continent headed to NHL games or other major events. Our guides will help you find a cheap spot for Vancouver Canucks, Pittsburgh Penguins, New York Islanders, Winnipeg Jets, and other games. In addition to Climate Pledge Arena parking and information regarding Seattle parking tickets, we'll assist you in booking parking for other venues in the Seattle Metropolitan Area, including:
Planning a trip and searching for awesome parking deals? Our Sea-Tac Parking guide has all the info: on-site parking rates, handicap parking availability, and off-airport lots with shuttles to and from the terminals!