Getting a safe monthly parking spot instead of paying for daily parking has many advantages. It's cost-effective, convenient, and efficient, especially if you park downtown or in any busy area in Seattle. You'll also avoid diverse street parking restrictions and pricey Seattle parking tickets! When it comes to the cost of monthly parking, Seattle residents pay from $125 to over $400, depending on the location. Our guide will provide the most affordable long-term parking options in all city neighborhoods; use our tips to save time and money!
The Nitty-Gritty of Seattle Monthly Parking
It's easy to find monthly parking in Seattle, but finding both a safe and budget-friendly option can be quite a hassle. Luckily, you have the entire Parking Access team by your side! The prices range from $125 to over $400, and the average monthly parking cost in downtown Seattle is $300.  
We went through all the options and singled out low-cost parking areas in fifteen city neighborhoods. Let's find out where to find a long-term parking space that will fit any budget!
Find Monthly Parking: Seattle Top Neighborhoods
The list below includes the most cost-effective monthly parking deals in the most desired parts of the city. Whether you search for downtown Seattle monthly parking or a spot in Capitol Hill, South Lake Union, or SoDo, we'll provide you with the top service! The following Seattle monthly parking services offer 24/7 access.
| | | |
| --- | --- | --- |
| Neighborhood | Parking Location | Monthly Parking Fee |
| Downtown Seattle | 714 1st Ave. Garage | $225 |
| Central Business District | 815 Pine St. – Premiere on Pine Garage | $200 |
| Waterfront | 2400 Elliott Ave. – Griffis Belltown  | $210 |
| Belltown | 2600 Elliott Ave. Garage | $150 |
| Capitol Hill | 850 E Republican St. – Patent 523 Garage | $260 |
| First Hill | 1048 E Cherry St. Garage | $227 |
| Uptown Seattle | 410 Elliott Ave. W. Lot | $169 |
| South Lake Union | 1111 Fairview Ave. N. – Duke's Seafood Lot | $200 |
| Westlake | 1000 Dexter Ave. N. Garage | $125 |
| SoDo | 2494 Colorado Ave. S. Lot | $175 |

Additional North Seattle Neighborhoods 
The Parking Access team also looked into the neighborhoods north of the canal and singled out the top five options! All the North Seattle monthly parking structures from our list offer 24/7 car parking service.
| | | |
| --- | --- | --- |
| Neighborhood | Parking Location | Monthly Parking Rate |
| Fremont | 936 N 34th St. + Northlake Plaza Garage | $250 |
| University District | 4730 21st Ave. – Ivy Ridge Apartment  | $160 |
| Ballard  | 5350 30th Ave. NW – Jacobson's Terminal Lot | $120 |
| Roosevelt | 7210 Roosevelt Ave. – Lot WX063 | $136 |
| Greenwood  | 329 N 85th St. – Old Medicine Man Lot | $86 |
Affordable Seattle Monthly Parking Programs
Seattle Center provides one of the best monthly parking programs in the city. It includes safe and convenient parking in a buzzing neighborhood and at an excellent price! When it comes to monthly parking, Seattle Center's top facilities include 5th Avenue N. Garage and Mercer Street Garage, and monthly parking rates start at $160.
Unfortunately, Seattle Center garages no longer sell all-hours access. The monthly parking permit allows access between noon and 5:30 PM daily, perfect for any individual who works in the area. Learn more about Seattle Center, and purchase the permit at the office within 5th Ave. N. Garage.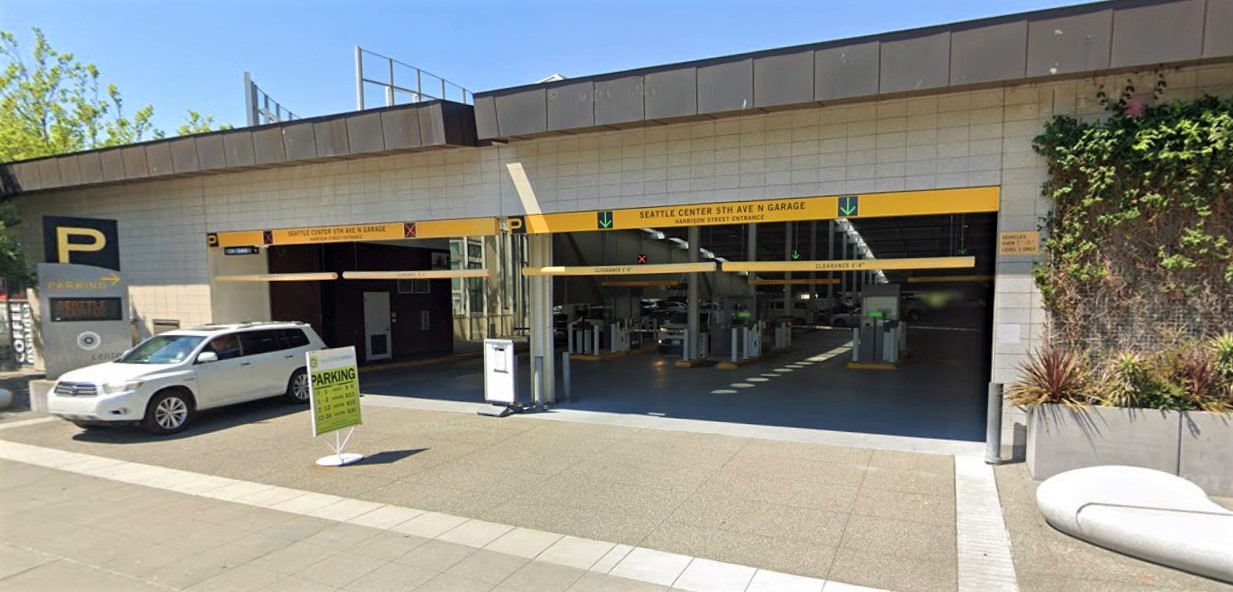 Bonus: If you're a resident in the expanded Uptown Zone 13, you can apply for a Restricted Parking Zone (RPZ) Permit. Click here for more information.
Cheap Monthly Parking Near Seattle Airport
Sea-Tac passengers have a bunch of long-term parking options! The airport's Passport Parking program offers monthly parking that Seattle residents cannot miss if they prefer convenience to affordability. Parking spaces are available in the SEA Airport Garage, and the cost is $375 per month. 
However, more affordable options are available within a short drive of the airport. The most economical off-site option is Skyway Inn Airport, which provides valet service for only $210 per month. The entrance to the Skyway outdoor parking area is at 20045 International Blvd.
Discover more information and other Seattle parking services in our guide to Sea-Tac Parking.

Helpful Tips & Additional Information
During the search for cheap monthly parking, Seattle residents can take advantage of the following tips and potentially lower the costs.
Going farther away from the buzzing downtown can save you over 50%! We suggest that you find a cheaper option near a train station and take the train downtown every day. For instance, the $136 monthly service at 7210 Roosevelt Avenue is a several-minute walk from the Roosevelt Station. The station is served by Sound Transit's 1 Line, and one-way rail fares range from $2.25 to $3.50.
You can also look for the cheapest monthly parking spot on SpotHero or Craigslist—a new, better deal might come up! Alternatively, call any city parking provider to see what they offer or negotiate a lower price.
| | |
| --- | --- |
| Parking Company | Phone Number |
| Impark | 206-381-1789 |
| SP+ | 206-623-2727 |
| U Park | 206-284-9797 |
| Diamond Parking | 206-284-6303 |
| International Parking Management | 206-254-0811 |
| Republic Parking Northwest | 206-783-4144 |
Find Parking at Any Location in Seattle!
The Parking Access team seeks to provide drivers with up-to-date car parking guides covering all major cities and their points of interest. In addition to monthly parking, Seattle residents and visitors can use our help to find cheap parking at multiple city venues. Click on any of the following links to learn more about event parking in Seattle.
We will also assist you in finding safe and budget-friendly monthly parking in other cities!