This post also contains affiliate links and we will be compensated if you make a purchase after clicking on our links.
Truist Park Parking
Plan on going to the former SunTrust Park to watch a baseball game? Our guide has the info you need to find an affordable car parking spot, including the cost, locations, and parking reservation system. Choose a Battery Atlanta parking deck or Braves lot instead of on-street spaces to avoid pricey citations. If you don't want to deal with traffic, park farther from Truist Park or use public transit with other fans. 
Opened in 2017, the ballpark is located at 755 Battery Ave SE, Atlanta, GA 30339, and it seats approximately 41,000 guests.
Truist Park
Truist Park (former SunTrust Park) is a perfect place to catch a baseball game! It has more than 40 thousand seats, modern amenities, and convenient parking services. The home of the Braves is situated in Cumberland, only 10 miles from downtown Atlanta. It is not just a stadium, there's a complete entertainment district—The Battery Atlanta—and Truist Park is the centerpiece surrounded by buildings, restaurants, and offices. Finding a secure car parking service can be stressful, especially when going to a major event. Avoid the stress with our Truist Park parking guide, which has all the important details!
Truist Park Parking/Braves Parking
Truist Park visitors can choose among a lot of parking options near the ballpark – there are many official lots with over 14,000 parking spots in the area. Wherever you come from, you will be able to easily access the Atlanta Braves parking lots. Different lots have different working hours and rates. For this reason, we divided the car parking lots into several groups and listed everything you should know about finding a great SunTrust Park parking space.
Reserve a parking spot before the Game on Vivid Seats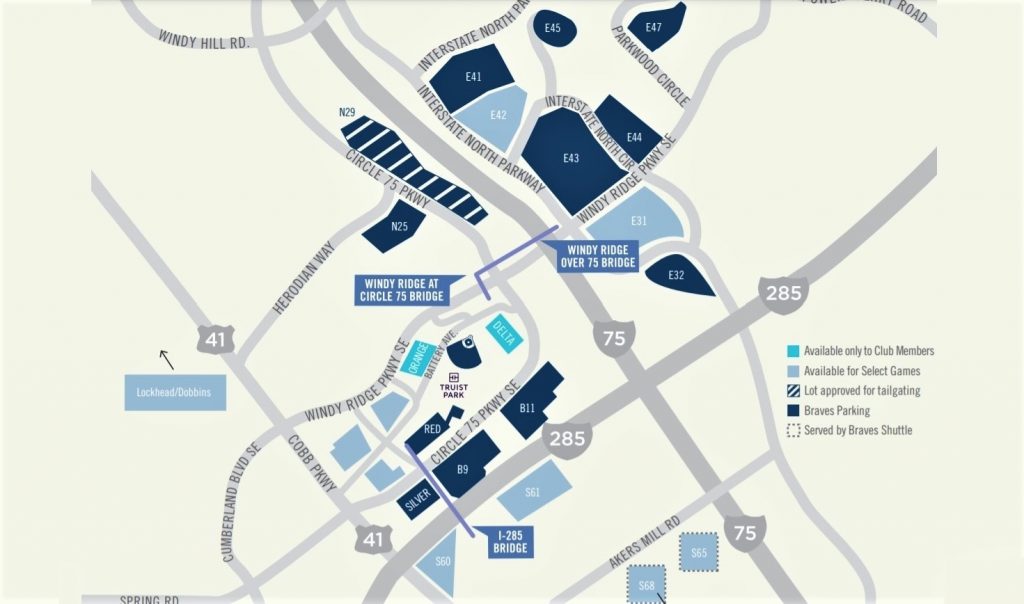 A-List Parking
The Delta and Orange decks are the closest parking options to the stadium and are available only to certain fans with season ticket holders and Club Members. Braves lots 9 and 11 are for A-List members located just a short walk away from the ballpark. Drive-up parking is not allowed, so you must purchase a permit in advance; use cash or any credit card. Also, arrive at least 2 hours before the game to avoid parking congestion.
Parking Lot
Address
Opening Hours
Delta Deck
1900 Circle 75 Parkway SE
4 hours before the first pitch. 
Delta Valet Parking SunTrust Park 
800 Battery Avenue SE
4 hours before the first pitch.
Battery Orange Deck
800 Battery Avenue SE
4 hours before the first pitch.
Braves Lot 9
900 Circle 75
Monday-Friday: 5:30 PM
Weekends: 4 hours before the first pitch
Braves Lot 11
1100 Circle 75
Monday-Friday: 5:30 PM
Weekends: 4 hours before the first pitch
Click the name of the lot to check parking rates and reservations
Public Braves Parking Lots
The following parking lots accept cash or credit card on-site payment. Customers of The Battery Atlanta and those with a Red Deck game parking pass can access their Red Deck parking spot at any time. All listed Braves lots are pretty close to the park – a 10 to 15-minute walk. Red Deck and the lot N29 also provide ADA parking.
Parking Lot
Address
Opening Hours
Rate
Red Deck
2565 Circle 75 Parkway SE
4 hours before the first pitch.
$22 
Braves Lot North 29
3050 Circle 75 Parkway
4 hours before the first pitch.
$20
Braves Lot East 31
320 Interstate North Pkwy
Fridays: 6 PM
Weekends: 2 hours before the first pitch
$20
Braves Lot East 35
290 Interstate North Circle
Monday-Friday: 5 PM
Weekends: 4 hours before the first pitch
$20
Braves Lot East 41
180 Interstate North
Monday-Friday: 5:30 PM
Weekends: 4 hours before the first pitch
$18
Braves Lot East 43
3100 Interstate North Circle SE
Monday-Friday: Opens at 5:30 PM.Weekends: Opens 4 hours before the first pitch.
$20 >Reserve
Free parking at Truist Park is available during non-game days in the Red Deck for up to 3 hours before 2 PM. Be sure not to stay longer, or you can get charged up to $50.
Parking for oversized vehicles is available in Braves East Lot 29 for as low as $25 per vehicle. Ideal lots for RVs are Braves Lot 29 and 49, and the cost for RVs is $40. Parking for buses with a valid parking pass is free!
Shuttle Parking
If you want to cut your costs, park further away on some of the lots listed below and then take a complimentary shuttle to the ballpark:
Braves Lot East 47
Braves Lot East 50
Braves Lot East 52
Braves Lot East 51
Braves Lot South 65
Parking ticket prices range from $10 to $18. Braves Lot East 52 is the farthest parking lot, but it charges only $10 and offers a free shuttle, so it's a pretty good choice. This might be the most cost-effective option near the stadium, and the free shuttle service certainly allows you to reach the ballpark hassle-free.
Handicapped Parking
Red Deck Parking Braves and the Braves Lot North 29 provide ADA parking for fans with disabilities for vehicles with a valid disabled parking permit. The N29 lot offers a courtesy shuttle to Battery Avenue, just outside the Third Base Gate. The Braves highly recommend pre-purchasing a day parking spot, and they accept any major credit card.
Book your Braves parking spot online, and you won't have to worry about limited parking on the event day. To do that, you can check out one of the following websites:
Tailgating at Truist Park
Tailgating is an amazing part of the game-day experience, and it is allowed only in one Truist Park lot, Braves Lot North 29. If you plan to tailgate with your friends, there are several important things you should know:
Open-flame cooking is not allowed on the grass, so no grilling on the pavement.
If you want to use tents for tailgating, you will need prior authorization.
You cannot take an open container out of the lot.
You have to be 21 or older if you want to drink, and there is a two-drink maximum per person.
The lot can be used for two hours after each season game.
Vehicles left unattended more than 2 hours after a game in any Braves lots (except the Battery Red Deck, Orange Deck, and Delta Deck) will be towed at the owner's expense.
Additional Atlanta Parking Guides
Atlanta visitors and residents can find out plenty of helpful parking information on Parking Access! In addition to Truist Park parking, we offer the following event parking guides:
Our team also covered a couple of other Atlanta attractions—click on the following links to find downtown parking without getting an Atlanta parking ticket:
Do you plan to travel soon? Have you considered where you're going to park your car at the airport? Our in-depth guide to Atlanta Airport Parking has everything you need: on-site parking rates and availability, handicap parking information, and private parking companies with shuttles to and from the terminals.