Address: 1017 Airline Drive, Kenner LA
Date of Review: 7/28/19
By: Andrew Doughty
Park 'N Fly New Orleans Lot Review
Summary: 4 out of 5 Stars
Shuttle: 5 out of 5
Staff: 5 out of 5
Facility: 3 out of 5
Location: 5 out of 5
Ease to Find: 5 out of 5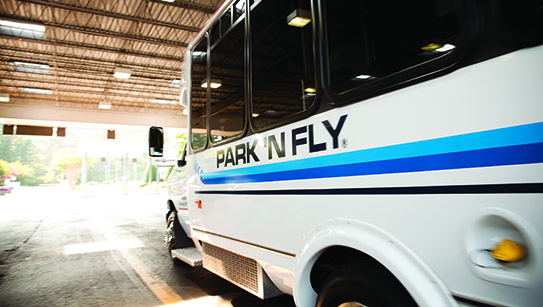 The Bottom Line: 
Park 'N Fly has a newer facility with updated systems. Even the asphalt looks nearly brand new. The shuttles look as if they were just brought in recently and even have that new car smell. The lot is large but also tightly packed and congested.
There are also no clear indicators or signs upon entering letting you know where you should park. Since it is an automated entry there is also no one there to instruct you on the best spots to park. There are also very few amenities, including no covered parking.
They have a very good working system and security cameras everywhere. The parking you must basically find one yourself, or go to the office and they will find one for you.
The cameras allow them to communicate with each other and inform the drivers where you have parked and arriver soon after you have exited your vehicle.  
Pros:
The facilities are brand new and so do not have the wear and tear that others do. -The staff is polite and does it's best to serve the customers well. The location is easy to find.
Cons: 
The lot is confusing after getting through the gate. -There is no one upon entering who will tell you where to go.  
Home >> New Orleans Airport Parking >> Park 'N Fly New Orleans

parkingaccess.com is an online aggregator of airport parking lots.   We have conducted independent reviews of airport parking lots to give you in-depth, insightful and unbiased opinions and reviews of each parking at major airports in the United States.  When you reserve a parking spot on our website, we earn a commission.  We send our own staff and pay for their time and parking-related costs, however, and do not receive any kickbacks or compensation from the parking lot owners.  
Operation Hours: 
The lot is open 24/7, though there are no signs displaying this. The shuttles run all the through all hours of the day and night for your convenience. 
Arrival Info: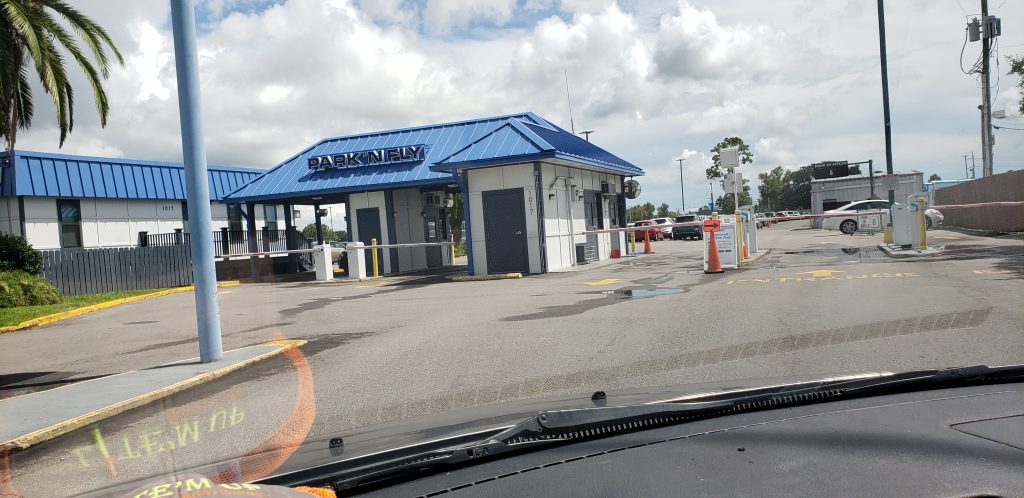 The entrance is right down the road from the airport. It is very easy to find and has signs showcasing it. Upon arrival, you will be prompted to a gate where you can pay ahead of time or simply get your ticket and pay upon leaving the lot.
The ticketing system is automatic and there is an option for valet parking though you will have to go to the office for this option. There is also an office to the left where you may go to in case you need help. When the lot is full, you will have to report here so they can find the best place to put your car, which may need to be moved later as more spots become available. Once you find a spot, a shuttle will arrive almost immediately.
The parking lot seems rather congested so you may have to spend some time searching for a spot for your vehicle. After the shuttle arrives to pick you up the driver will give you a ticket for your location.
They will quickly pick up any other passengers then drive you over to the airport. 
Shuttle: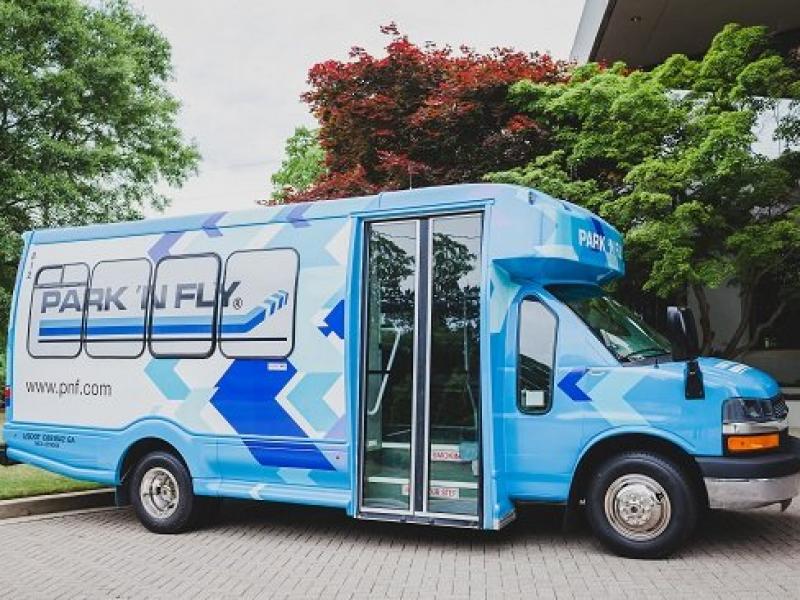 The shuttles are brand new like many of the facilities. They are quick and quiet. The drivers are polite and helpful. They promptly arrive to pick you up and then have you quickly to the airport.
Typically drivers are tipped a few dollars after delivery of passengers! The shuttle is not handicap accessible.
Typically you will only have three to five people max on a shuttle at a time though there might occasionally be times when there are more. The ride to the airport is far less crowded than the ride from the airport. 
Lot Amenities: 
One major benefit of park n fly is the internet discounts they offer. This is beneficial because you can plan ahead of time for your parking and even save money by booking it before you get there. There is valet parking available for this location, so you can also use that at your discretion though there is not a fast option like other lots, rather you must park at the office then they will handle things from there. 
Facility:          
The facility is the newest one in the are. Is also comes with a full security complement. Lights, cameras, a guard and 24/7 service. It is likely the best option in the area in terms of the facility.
Though there is not an option for covered parking. You will feel safe leaving your vehicle here knowing that the staff will make sure it is taken care of. The peace of mind that is offered by knowing this has no price.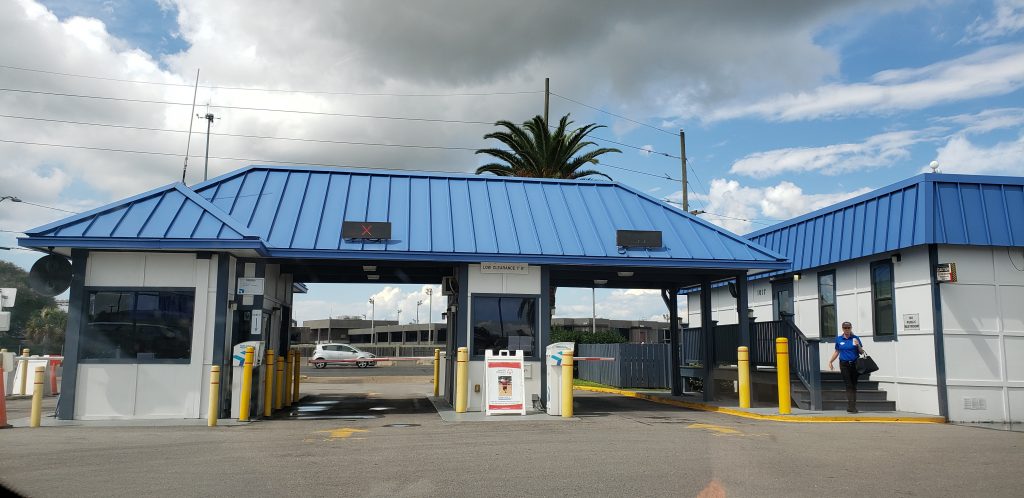 Summary: 
Great experience. The staff is very friendly and the lot is well lit and taken care of. It is easy to find but slightly confusing upon entering. While covered parking is not offered, Park N Fly for sure seems to be the most professional and well set up.
You feel safe in their hands and they have everything working like a well-oiled machine. The lot costs fourteen dollars per day to park here. The peace of mind is worth every penny. Besides the lack of instruction upon entering the lot, it was otherwise a completely great and fun experience.
From the time I stepped out of my car, the ride to the airport, the ride back it was all so fun and enlightening. The driver was wonderful and went out of her way to talk to me and make me feel welcome. She was prompt and helpful when anyone had any type of luggage that needed to be loaded or unloaded from the shuttle.
Overall I think it is a great value for what you get out of the price. It is definitely a very professional and very well organized company. You can tell from the moment they arrive that they have thought of nearly everything. 
New Orleans Airport Parking Reviews
The following table includes a complete list of all the parking lot reviews on parkingaccess.com.

All of these parking lots were visited by one of our staff.
Each staff member visits the facility as an actual parking customer, without the parking lots knowledge, leaves there car, rides on the shuttle to and from the airport and experiences as much of the parking facility as it has to offer.