This post also contains affiliate links and we will be compensated if you make a purchase after clicking on our links.
One of the largest convention centers in the country, the Georgia World Congress Center, is located in Atlanta's busy downtown area. GWCC covers millions of square feet and hosts over a million guests every year! With so many visitors and events in the area, finding a suitable spot can be a hassle, but Parking Access is here to help! Our guide will take you through all GWCC parking options, rates, and alternatives. Compare them to find the most convenient parking space in no time or learn where to find free parking near GWCC!
Georgia World Congress Center Parking Options
The convention center has ample on-campus parking suitable for those visiting GWCC but also the Home Depot Backyard, State Farm Arena, Mercedes-Benz Stadium, Centennial Olympic Park, and Georgia Aquarium. See all the facilities in the following list.
| | | |
| --- | --- | --- |
| GWCC Parking Option | Address | # of Parking Spaces |
| Red Deck | 285 Andrew Young International Blvd. | 2,041 |
| Green Deck  | 260 Marietta St. NW | 356 |
| Silver Deck  | 1414 Andrew Young International Blvd. NW | 603 |
| Gold Deck | 127 Northside Dr. NW | 310 |
| Orange Deck | 103 Mangum St. NW | ~500 |
| Blue Lot | 271 Northside Dr. NW | 722 |
| Yellow Lot | 434-450 Gray St. NW | 1,216 |
| Marshalling Yard | 362 Ivan Allen Jr. Blvd. NW | ~600 + 248  |
The Georgia World Congress Center parking map will assist you in getting around the campus, while GWCCA's Director of Parking and Parking Manager have two tips for big events—get here early and come with a bag of patience.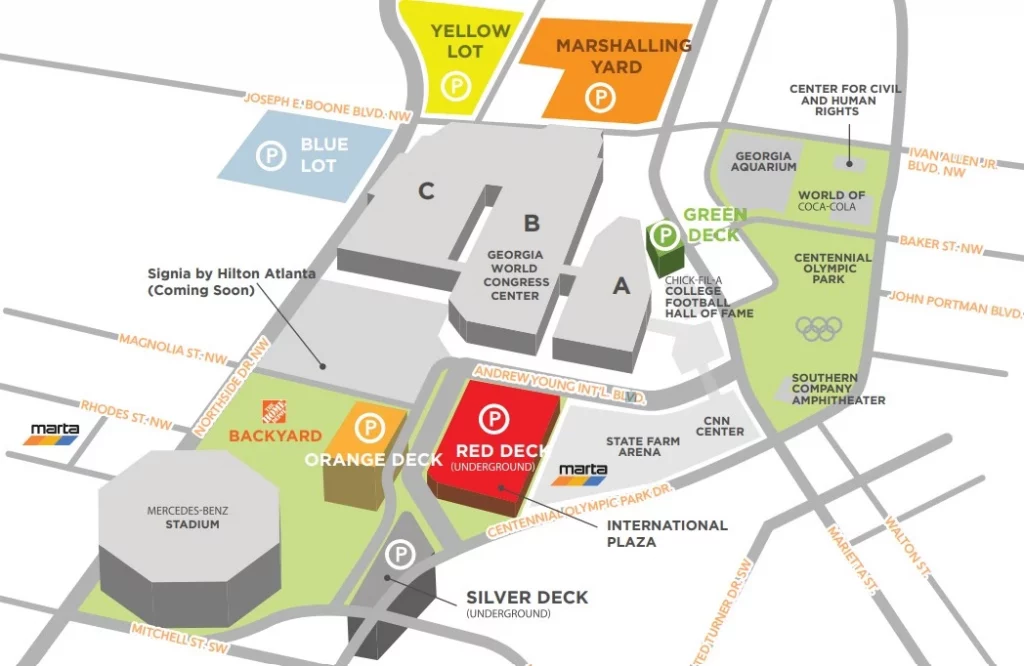 GWCC Parking Decks & Rates
The Red Parking Deck at GWCC is the largest and most popular one, but all the decks offer safe and covered parking. All Georgia World Congress Center parking garages have EV charging stations and accessible parking stalls.
While special event parking rates start at $10 and vary according to the occasion, the list below shows the standard fees.
| | |
| --- | --- |
| Duration | Parking Fee |
| Up to 1 hour | $5 |
| 1–2 hours | $10 |
| 2–3 hours | $15 |
| Over 3 hours | $20 |
You can easily purchase a GWCC parking pass online and print it out or have it ready on your phone upon entry. The GWCC decks accept cash, MasterCard, Visa, Discover, and American Express.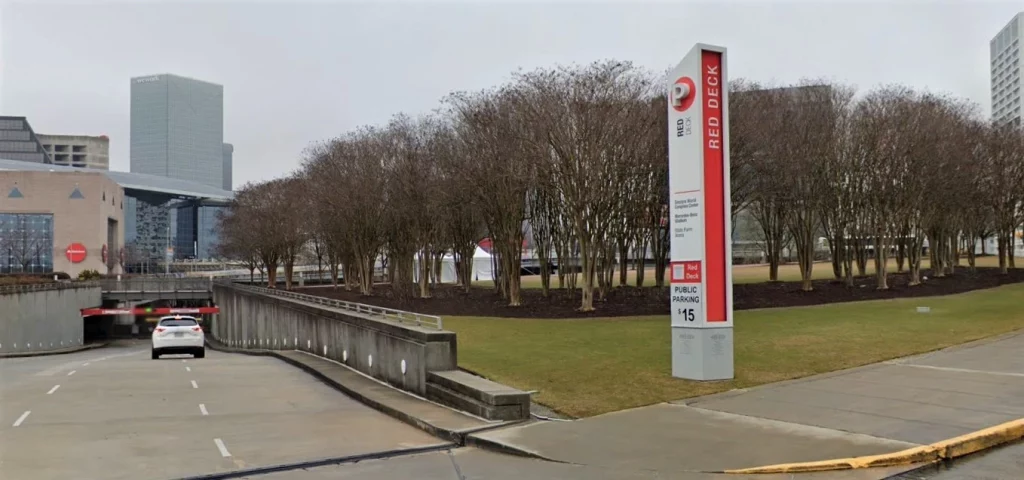 Marshalling Yard Parking & Yellow Lot
If the decks are too pricey or sold out, open-air parking lots will be your best option! Marshalling Yard and Yellow Lot are also ideal for those who need safe Georgia World Congress Center RV parking. 
GWCC Marshalling Yard provides around 600 spots for oversized vehicles like trucks and nearly 250 for standard cars. It's adjacent to the Yellow Lot, which is even bigger and also offers RV and bus parking. Click here to pre-purchase the GWCC Yellow Lot parking pass or Marshalling Yard Parking—the daily parking cost varies, but it's $30 for most events. 
How To Choose the Most Convenient Parking Option
If you're wondering where's the best place to park on campus, we can help! Choose the most suitable parking at GWCC based on your destination or the event you plan to attend.
For Centennial Olympic Park

:

Green Deck;

MBS games or concerts: Silver or Red Deck (alternatively, Blue or Yellow Lot);

For GWCC Building A: Green or Red Deck;

Building B: Red or Silver Deck.

Building C: Gold, Blue, or Yellow Deck.
Additional Parking Resources & Links
Several major venues and attractions are located on the GWCC campus—check out our guides to event parking at MBS, State Farm Arena, and Georgia Aquarium for additional info:
If searching for off-campus parking lots, check out the following section.
Where To Find Free or Cheap Parking Near GWCC
Free parking near Georgia World Congress Center is extremely limited and obtainable on specific days only. 
Free on-street parking is available on the surrounding streets on Sundays and holidays

. If you come across a vacant spot nearby, be sure to read the signs carefully to avoid getting an

Atlanta parking ticket

.

Georgia State G Deck offers free parking from 7 AM to 10 PM on Saturdays and between 11 AM and 10 PM on Sundays.

This applies to those using the Collins Street entrance. You may also enter from Central Avenue on a Saturday between 7 AM and 5 PM and possibly find a free spot. Note that G Deck is a 15-minute walk from GWCC.
If you're planning a weekday visit and searching for an alternative to the official GWCC parking service, there are many downtown parking structures. We checked the rates for 3 hours of parking on a weekday afternoon and singled out the most affordable facilities below.
| | | | |
| --- | --- | --- | --- |
| Parking Structure | 3-Hour Fee | Entrance Address | Walking Distance |
| 236 Williams St. NW Lot | $9 | 104 John Portman Blvd. NW | 9 minutes |
| American Cancer Society Garage | $10 | 112 Baker St. NW | 10 minutes |
| 123 Marietta St. NW. Lot | $15 | 142 Centennial Olympic Park Dr. NW. | 6 minutes |
Park & Ride + Public Transit Information
Avoid paying the Georgia World Congress Center parking fee by taking a train to downtown Atlanta. If there are no MARTA stations near your home, find the closest one with a parking lot, leave your vehicle there, and hop on a train to GWCC. For instance, the first three stations on the Blue Line's west side offer parking, and the Blue Line trains run to the GWCCA campus for a single $2.50 fare.
Several MARTA stations are located near the convention center:
GWCC/CNN Center Station
Vine City Station
Peachtree Center Station
GWCC guests flying into the city can also take advantage of the punctual MARTA rail service; Atlanta Airport trains pick up passengers at the Domestic Terminal. If you have a packed schedule, consider getting a Lyft from ATL or arranging an Atlanta Airport Shuttle in advance.
Once you reach downtown, you may take advantage of a free Atlanta Streetcar to travel around the area.
Find Cheap Parking in Atlanta Without Any Hassle!
In addition to the GWCC parking guide, our team will help you find and reserve parking at locations across the country! Atlanta residents and visitors may use our assistance to learn more about parking at the following venues and city attractions.
If you're organizing a trip out of ATL and searching for discounted parking, we have everything you need. Check out our Atlanta Airport Parking guide to discover the best on-site and off-site parking deals and make a reservation on the spot!