Zoo Atlanta has a long and colorful history. It offers a diversified animal collection, interesting events for adults and kids alike, as well as amazing experiences. The zoo is situated at 800 Cherokee Ave SE in Atlanta, and it's just a 5-minute drive away from the city center. Before you visit the zoo, you should learn some important things! Keep reading to find out information on general admission tickets, Zoo Atlanta parking services, and tips on saving money.
How Much Are Tickets to the Atlanta Zoo?
Zoo Atlanta is open to the public from 9 AM to 5 PM daily. Due to the pandemic, it transitioned to a timed ticketing system, and the tickets can only be purchased online. The zoo offers several types of admission tickets; see below for prices and additional info.
General admission is as low as $26.99 (and as high as $29.99) for adults, i.e. anyone older than 12. A ticket for a child costs $20.99, while seniors pay between $24.99 and $27.99. Children younger than 3 get free access to Zoo Atlanta.
Group tickets are available as well and allow the zoo guests to cut their costs. The discounted rate applies to groups of 15 or more, and the ticket price is $19.99 per visitor. Note that you must make a reservation two weeks in advance.
If you plan a field trip to the Atlanta Zoo, you can do it on your own at a discounted group rate! For youth groups of at least 10 guests, the zoo provides a self-guided field trip rate of $10.99 per person. Fun fact: virtual field trips are now available, too!
Frequent visitors should consider getting a Zoo Atlanta Membership. The price starts at $109 per year and includes unlimited and free admission all year round, invitations to special events, discounts, and 10% off admission for accompanying guests.
Zoo Atlanta Parking Options
All zoo visitors are able to easily find a convenient parking spot in one of the two Zoo Atlanta parking lots: the Cherokee Avenue parking lot and the Grant Park Gateway parking structure. Both car parking areas are within a short walking distance (2 to 5 minutes) from the zoo. Effective as of January 2021, the City of Atlanta has transitioned to a paid parking program in both lots. Also, now you may use the ParkMobile app to expedite your stay.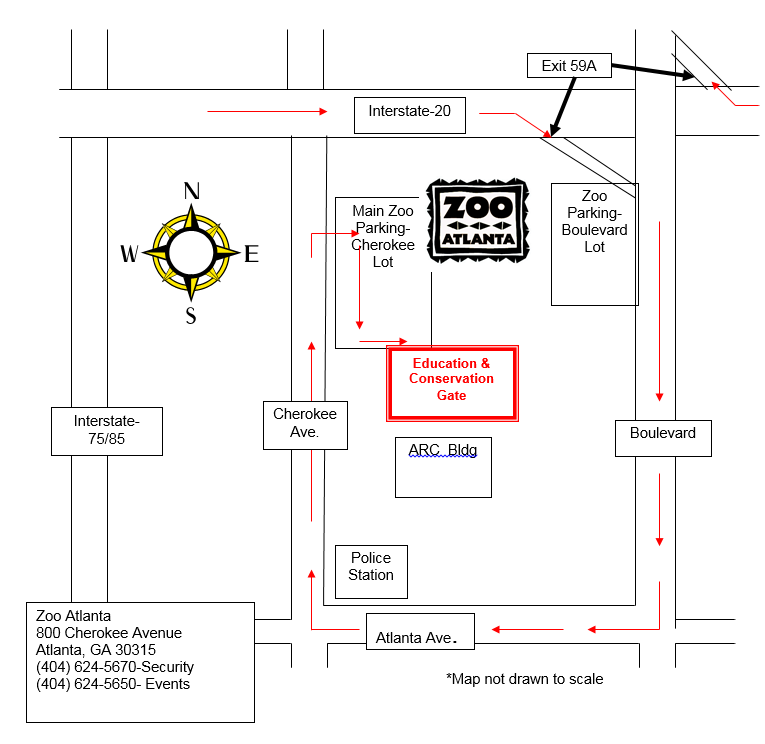 How Much is Parking at Zoo Atlanta?
Zoo Atlanta Parking is conveniently situated in the lot at 800 Cherokee Avenue and in the Grant Park Gateway parking facility at 759 Boulevard. Both public parking structures are the property of the City of Atlanta and are managed by AAA Parking.
Parking rates are as follows:
the hourly parking cost is $3;
the daily parking rate is $12.
The pay-on-foot machines are placed in the Cherokee Avenue lot and on each level of the Grant Park Gateway parking garage. Enter your parking ticket at the machine and follow the simple instructions.
Accessible parking at Zoo Atlanta is available on a first-come, first-served basis in both lots. Visitors need to own/display a disabled parking permit or license plate to use them. Standard parking rates apply. 
According to some visitors, Zoo Atlanta offers a limited number of free parking spots, but no information on this has been found on the official zoo website.
Zoo Atlanta Parking Alternatives
Since the two official lots provide a sufficient number of spots, guests don't usually look for off-site parking services. However, if you're searching for alternatives, we have a couple of suggestions. Check them out below!
Street Parking
The city offers on-street metered parking spaces convenient for short-term parking. Most city parking meters are $2 per hour. We suggest that you find out more about on-street parking in Atlanta, city parking zones, and regulations before your visit.
Public Transportation
If you're searching for a cheap public transportation service to the Atlanta Zoo, hop on MARTA Route 832 or Route 9 bus. These buses arrive at Zoo Atlanta every 30 minutes, and the standard bus fare is $2.50. It includes 4 free transfers within a three-hour period. Visitors can also use the Gold or Red Line; go to the West End Station and then take the Route 832 bus. If you ride the Green or Blue Line, take off at the King Memorial Station and ride the Route 9 bus.
Groupon
Trying to find a way to lower your costs? While the zoo offers discounts for seniors and children, a Groupon is the best deal for adults. So, be sure to look for a Zoo Atlanta Groupon before your visit, and you may find some great discounts!
Bottom Line
Overall, parking at Zoo Atlanta is simple, quick, and quite affordable. Both lots are close to the zoo and provide plenty of uncovered and covered parking spots. If looking for the closest option, choose the Cherokee Avenue lot; it's just a couple of minutes away. Guests who search for a low-cost alternative may use reliable and budget-friendly public transit. 
Flying out of Hartsfield–Jackson Atlanta International Airport? Be sure to compare parking rates, check out ATL coupons, and read customer reviews before booking. Parking Access can also help you find a cheap spot at Georgia Aquarium, another great place for all animal enthusiasts in Atlanta.