The Field Museum of Natural History is one of the top attractions in Chicago and one of the world's largest museums. The natural history museum offers a wide range of high-quality exhibitions and collections that attract up to two million visitors every year. Visit the Field Museum to set out on a journey of discovery across time. It's open between 9 AM and 5 PM (but closed on Tuesdays and Wednesdays). Keep reading our guide to find out the admission fee, Field Museum parking options, car parking prices, and some tips on saving money. 
Let's get started!
How Much Are Tickets to the Field Museum?
Start planning your visit by purchasing an admission ticket or pass online. The ticket price varies based on several factors, including your age and place of residence. For example, Chicago residents receive discounts. The list below shows all the basic admission prices. Basic admission includes general exhibitions on animals, birds, plants, etc.
| | |
| --- | --- |
| Visitor | Price |
| Adults | $26 |
| Seniors & Students | $23 |
| Children (3-11 years) | $19 |
| Adult Chicago Residents | $18 |
| Senior Chicago Residents & Students | $15 |
| Children (Chicago Residents) | $11 |
| Adult Illinois Residents | $24 |
| Senior Illinois Residents & Students | $21 |
Apart from general admission, guests can purchase two types of passes:
All-Access Pass ($40) includes general exhibitions, a 3D movie, and all ticketed exhibitions;
Discovery Pass ($34) includes general exhibitions and a 3D movie or one of the ticketed exhibitions.
A Field Museum Membership lets you discover everything at the museum all year long, including exclusive events and all exhibitions. It also has many other benefits; feel free to check them out!
If you're visiting Chicago and want to see its attractions, we recommend getting a Chicago CityPASS. It allows you to check out all the city's attractions at a discounted price! Apart from the museum, admission includes the Shedd Aquarium, Art Institute of Chicago, 360 CHICAGO Observation Deck, and Museum of Science and Industry. 
The Field Museum Parking Options
The facility is located at 1400 S Lake Shore Dr, Chicago, IL 60605, and it's easily accessible via car, bike, or public transportation. Guests who are driving to the museum may find a convenient parking space within the Museum Campus parking area. The campus offers plenty of parking spots since it also encompasses the Adler Planetarium, Shedd Aquarium, Soldier Field, and McCormick Place.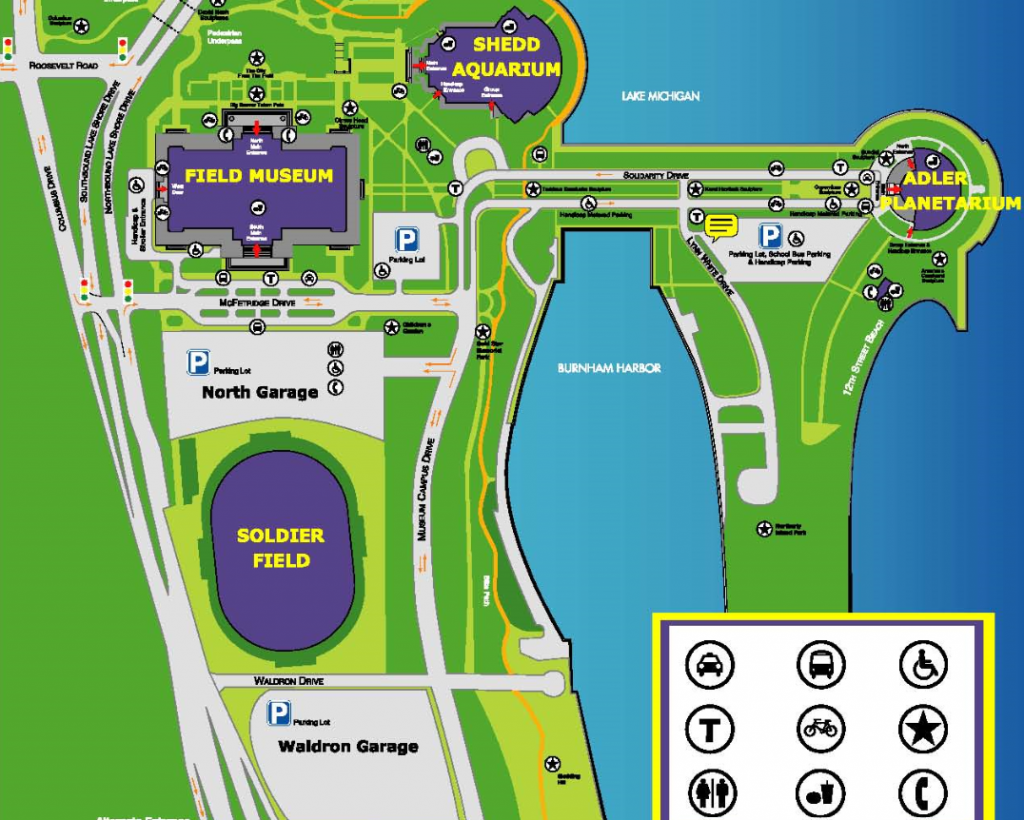 How Much is Parking at the Field Museum?
East Museum Lot is the closest option, but the Adler Lot and Soldier Field Parking Garage are also suitable. If you plan on using garage parking, note that events can affect both traffic and rates. To find out the standard Field Museum parking rates and choose an adequate public parking lot, see the list below.
East Museum Lot is a short walk away from the museum and has a flat rate of $30.
Soldier Field North Garage offers convenient and covered parking. The short-term parking rates are $25 for up to 4 hours, $30 for 4 to 12 hours, while the maximum daily cost is $50. The North Garage has a special event parking rate of $30.
Adler Lot offers an Early Bird Special — arrive before 9:30 AM (on non-event days) and pay only $12. The daily rate is $25, which is more affordable than the parking facilities listed above. There's also a night rate (applies after 4:30 PM), and it's only $15.
Accessible parking is available in each Museum Campus parking structure, but the East Museum Lot is the nearest option. Any guest who uses these spots must own a disabled parking permit, placard, or license plate.
The Field Museum Parking Alternatives
Budget-conscious visitors searching for low-cost alternatives have several ways to reduce their costs. Apart from the mentioned Early Bird Special in the Adler lot, you may use an off-site parking service, public transportation, or Groupon. 
Off-Site Parking
If you park outside the campus and take a walk to the museum, you may save over $20! Each parking facility is 10 to 15 minutes away from the Field Museum and provides more competitive rates.
| | |
| --- | --- |
| Garage/Lot | Rate |
| 801 S Wabash Ave Lot (East-West University)  | $8 |
| 835 S Wabash Ave Lot  | $10 |
| 1140 S. Wabash Ave Garage | $12 |
| 1130 S Michigan Ave Lot | $20 |
Public Transportation
Public transit is the most cost-effective way to get to the museum. The nearest CTA train stop is Roosevelt, and it services the Red, Orange, and Green lines. It also offers a connection to the #146 bus, which takes passengers directly to the Museum Campus. Apart from the #146 bus, another bus line serves the campus (#130) but only mid-May through Labor Day. If using Metra, the closest stop to the museum is at Museum Campus/11th Street.
Groupon
Use a Groupon when visiting Chicago's attractions to lower your costs. Be sure to look for a Field Museum Groupon to get a discount for general tickets, private tours, or memberships. This is the only way for adults to get a lower price.
Bottom Line
Parking near the Field Museum doesn't have to cost a fortune if you plan ahead. However, since the official lots are quite expensive on event days, we recommend discounted parking garages and lots on Wabash and Michigan Avenues. Alternatively, you can hop on a CTA train or bus and get to the Museum Campus for as low as $2.25.
Parking Access gives you all the info you need before coming to the Field Museum or any other facility, airport, or ballpark in the area, such as Wrigley Field. If you plan on flying out of Chicago O'Hare Airport or Chicago Midway Airport, don't forget to compare parking rates and read customer reviews before booking a spot!