Since 2004, we have been helping people to find parking options that meet any requirements. Due to our 15-year experience, we have made an online parking reservation process so easy that you can reserve a discounted parking space in no time, especially if you book in advance. We offer clear and upfront pricing, reviews, and a complete guide on how to reserve and where to park. You'll also discover an easy way to get the best Wrigley Field parking spot free of charge!
Wrigley Field
Wrigley Field is a popular baseball park situated on the North Side of Chicago that hosts exciting sporting events, as well as concerts and other events, throughout the entire year. It is the home of the Chicago Cubs that compete in Major League Baseball. The field has several entrances; if you want to enter through the Premier Gate, do it via Clark Street, Chicago, IL.
What is the best way to get to Wrigley Field? The ballpark is located at 1060 West Addison St, Chicago, IL 60613, and you can find driving directions to the field here.
If you plan on coming soon, you probably need information about day parking. Getting a secure parking spot is not always easy, especially when you are going to a big event or game day. Parking Access will help you save both time and money; we've listed everything you need to know about Wrigley Field parking options and rates.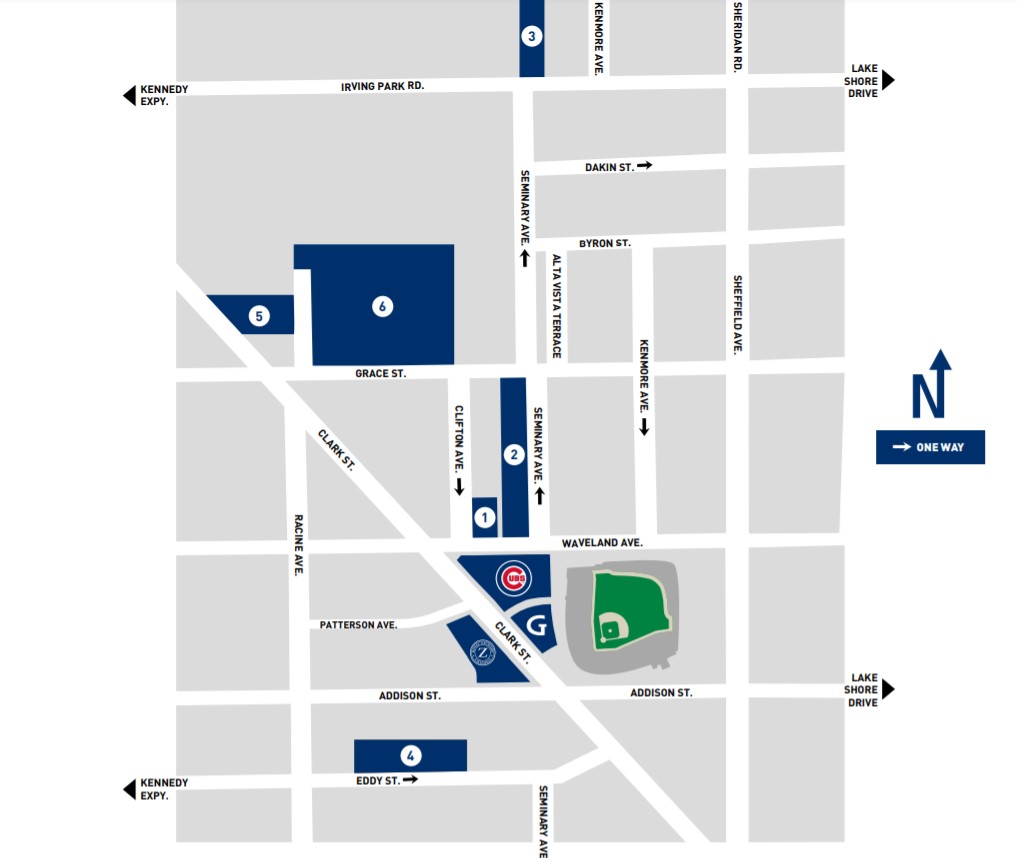 Wrigley Field Parking
Many parking lots and countless event parking spaces are available within a few blocks of the ballpark. Parking near Wrigley Field opens 3 hours before every game and works on a first-come, first-served basis, so you should enter at that time and make sure you find parking.
If convenience is your priority, you will easily find and book an on-site parking space nearby, but that comes at a price. The closer you are to the ballpark, the more you will have to pay for your space. Therefore, the best and nearest Chicago Cubs parking structures offer prices from $30. >>Reserve on Vivid Seats
Listed below are Wrigley Field Parking Rates and proximity to the stadium:

| | | | |
| --- | --- | --- | --- |
| Parking Garage/Lot | Rate | Distance to the Stadium | Walking Time |
| Outfield Gallery – Lot | $60 | 0.0 miles | 1 minute |
| 808 W. Addison St – Garage | $40 | 0.2 miles | 4 minutes |
| Camry Lot | $40 | 0.3 miles | 5 minutes |
| 835 W. Addison St – Lot | $35 | 0.2 miles | 5 minutes |
| 951 W. Cornelia Ave – Lot | $35 | 0.2 miles | 4 minutes |
| 3338 N. Seminary Ave – Lot | $35 | 0.4 miles | 9 minutes |
| Halstead Flats Garage | $30 | 0.4 miles | 9 minutes |
| 3224 N. Halstead – Garage | $30 | 0.6 miles | 12 minutes |

Accessible Parking
Limited street parking is available for people with disabilities, but you can find disabled spaces in the official Cubs car park as well. We suggest that you book these spots in advance. Call 800-THE-CUBS for accessible parking reservations. Vehicles using designated parking spots have to own a disabled parking permit, license plate, or an ADA placard. Standard parking rates apply for all events. 
Tailgating at Wrigley Field
Unfortunately, tailgating is not permitted in any Chicago Cubs parking lot. However, you can still have some fun with your friends by going to a nearby bar like Murphy's Bleachers or GMan Tavern. They offer great beer, tasty food, and affordable prices.
Find Parking Near Wrigley Field
There is a great number of parking spots a little farther away from Wrigley Field. This is a great option if you want to save some money and if you don't mind a 10-20 minute walk. Not only will you cut your costs but also avoid all the traffic around the ballpark before and after the game. These parking garages and lots offer prices starting from $10 for any game day. Check out all the options in our list below and book a car park space that fits your needs.
| | | | |
| --- | --- | --- | --- |
| Parking Lot/Garage | Rate | Distance to the Stadium | Walking Time |
| 3450 N Lake Shore – Valet Service | $35 | 1 mile | 21 minutes |
| 3130 N. Sheffield St – Garage | $33 | 0.6 miles | 12 minutes |
| 3224 N Halsted – Garage | $30 | 0.8 miles | 16 minutes |
| 3730 N Lake Shore – Lot | $20 | 0.9 miles | 18 minutes |
| 3440 N. Broadway St – Garage | $20 | 0.8 miles | 17 minutes |
| Sports Authority Garage Car Park | $18 | 0.7 miles | 14 minutes |
| 3408 N Marshfield – Under L | $10 | 1 mile | 20 minutes |
Free Remote Wrigley Parking
The Cubs also offer free parking at 3900 N. Rockwell St, Chicago, IL 60618. It is just east of the Chicago River. This car park is available for night/weekend games throughout the season. Free shuttle service to and from Wrigley Field is included, so you don't have to worry about the distance from Wrigley Field. If you wish to avoid high prices or don't want to park on an unsafe street, this free public parking area is a perfect choice. Also, you may turn your free shuttle ride into a fun adventure and use this opportunity to meet interesting people or make new friends.
Public Transportation to Wrigley
If you want to use public transportation, click here and find out all transfers and bus routes that are available in the area. This way, you will keep away from traffic and save some money. Cubs fans from the west suburbs should take Pace's Express Route that runs non-stop to Wrigley Field. For additional help or any information, please call 800-THE-CUBS.
Additional Chicago Parking Guides
Parking Access covers many locations in the area! In addition to Wrigley Field parking and the best Chicago Cubs deals, we can help you find and book other event parking services, including Guaranteed Rate Field Parking and McCormick Place Parking. Our guides also cover the most popular city attractions:
Plan on flying out of Chicago soon? Have you considered where you're going to park your car? Our comprehensive guides have everything you need: on-airport parking rates, handicap parking information, and all the off-site parking lots with shuttles to and from the terminals: