This post also contains affiliate links and we will be compensated if you make a purchase after clicking on our links.
Whenever you need a safe and cheap parking space, Parking Access is here to help! You are only a few clicks away from helpful public parking information at countless venues. Our GuaranteedRate Field Parking Guide will help you find the most convenient parking area near the baseball park! Keep reading to discover where are the safest parking garages and lots, how to find the most affordable downtown parking areas, as well as the event parking reviews.
Guaranteed Rate Field
Guaranteed Rate Field is home to MLB's Chicago White Sox, and it's situated on the South Side of Chicago, a several-minute drive away from the city center. It offers many attractions and features and hosts numerous events and games every year. The ballpark can accommodate nearly 45,000 guests. If you need driving directions to Guaranteed Rate Field, type the following address into your phone mapping app: 333 West 35th Street. We'll help you learn all about the car parking services at and near the baseball park, as well as their hourly parking prices and precise locations.
Guaranteed Rate Field Parking
The park provides over 7,000 parking spaces in 8 main parking lots placed both to the north and to the south of the stadium: Lots A, B, C, D, E, F, G, and L. All parking areas are within a short walking distance. Lots A, B, and C are for pre-paid customers only who own red coupons. Visitors with green coupons can use the car parks F and L. Pre-purchased tickets are more affordable, and individuals with coupons are guaranteed a reserved parking spot in one of the listed lots. Drivers who want to pay in cash should use the F, G, and L lots. >>Reserve on Vivid Seats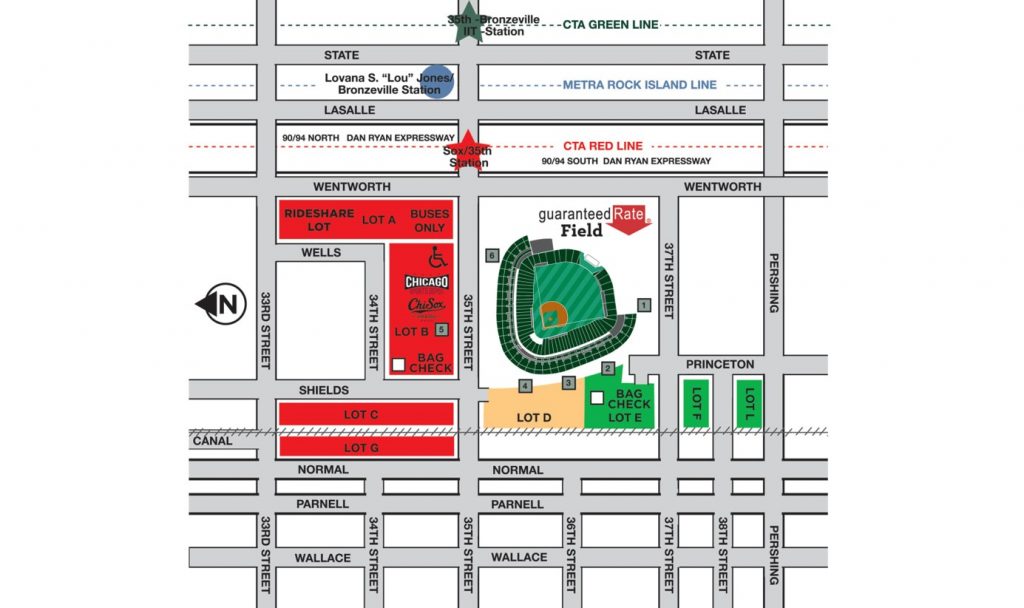 The daily parking rates vary; if you purchase the ticket on the day of the game, the cost will be $25. But, visitors who get their parking pass in advance will pay $20 for any game from Monday to Saturday. All Sunday passes are only $10. All major credit cards are accepted in the Chicago White Sox parking facilities, which open two hours before each game and close 30 minutes after. >>Reserve on Vivid Seats

Accessible Parking
Handicapped parking is available in Lot B, right next to Gate 5 (this entrance has an elevator for guests who need it). To use these spots, every visitor has to display a disabled parking permit or license plate. The CTA also provides transportation for physically-challenged guests, and it can be arranged by calling 312-836-7000.
Parking Near Guaranteed Rate Field 
Even though most of the drivers park in the official parking structures, there are some inexpensive alternatives in the area. If you want to lower your expenses, you will have to take a long walk to the ballpark since the cheaper spots are farther than the official lots. Buffalo Wings and Rings on Halsted Street (west of the stadium) offers a free parking structure, as well as free shuttles to Guaranteed Rate Field. The establishment is a 10-minute walk away from the park, so you can take a walk to the ballpark, too. Since free parking is rarely available, you can use metered parking on or near Halsted Street. Don't forget to check the street parking signs, but meters are usually monitored until 6 PM. Peruse the parking signs to avoid Chicago parking tickets!
Tailgating at Guaranteed Rate Field
Tailgating is a big part of a game-day experience, and game fans will be happy to hear that it is permitted in Lots A – F. It ends with the first pitch, so it's not allowed after games. Consumption of alcohol is also permitted, and visitors can use small coal grills.
If you wish to grab a drink with your fellow White Sox fans, visit some of the restaurants or bars near Guaranteed Rate Field. If you aren't familiar with this part of the city, we have a few suggestions — listed below are the best-rated bars near the park.
Transportation to the Venue
Visitors who want to use public transit or other transportation services have several options. The CTA's Rapid Transit system is a punctual and affordable choice — use the Sox–35th station for the Red Line or 35-Bronzeville-IIT for the Green Line. Sox–35th is only a minute away from the ballpark, while the Green Line's station is a 5-minute walk away. Public transportation is always the best choice for budget-conscious guests. Ridesharing apps are a suitable alternative; Uber picks up and drops off in Lot A, minutes away from the park. Using any of the listed means of transport allows you to avoid the time-consuming search for convenient parking spots. 
Additional Chicago Parking Guides
In addition to Guaranteed Rate Field Parking information, our guides cover an array of venues and locations in Chicago! Some of the event parking services are Wrigley Field Parking and McCormick Place Parking, but we can also help you find and book:
Plan on flying out of Chicago? Have you considered how you're going to park your car at the airport? Our comprehensive guides have all the information: on-airport parking rates, handicap parking availability, and all the off-site parking lots with airport shuttles: