This post also contains affiliate links and we will be compensated if you make a purchase after clicking on our links.
If you plan on watching a Houston Astros game soon or attending another event, our in-depth guide to Minute Maid Park parking will save your time and money! Discover more about the baseball park location, event parking options, rates, and alternatives. You'll also find information on parking near Minute Maid Park, tailgating, and transportation. Let's dive in!
Minute Maid Park
Minute Maid Park is a popular baseball park located in downtown Houston that hosts exciting sporting events, as well as concerts and other major events, throughout the entire year. It's the home of the Houston Astros which compete in Major League Baseball. To enter the park, use the main entrance inside the former Houston's Union Station. The stadium is located at 501 Crawford St, Houston, TX 77002. Wondering where to find cheap and convenient parking near Minute Maid Park? We listed everything you need to know about event parking options and prices. 
Minute Maid Park Parking Lots
Getting an affordable Minute Maid Park parking space won't be a problem if you plan. Several public parking facilities are available around the ballpark and approximately 25,000 event parking spaces. To make sure you find a suitable spot, we suggest pre-booking. This way, you can also get a discounted parking rate for all the stadium events, including Houston Astros games. The Minute Maid Park parking map shows the location of the official lots: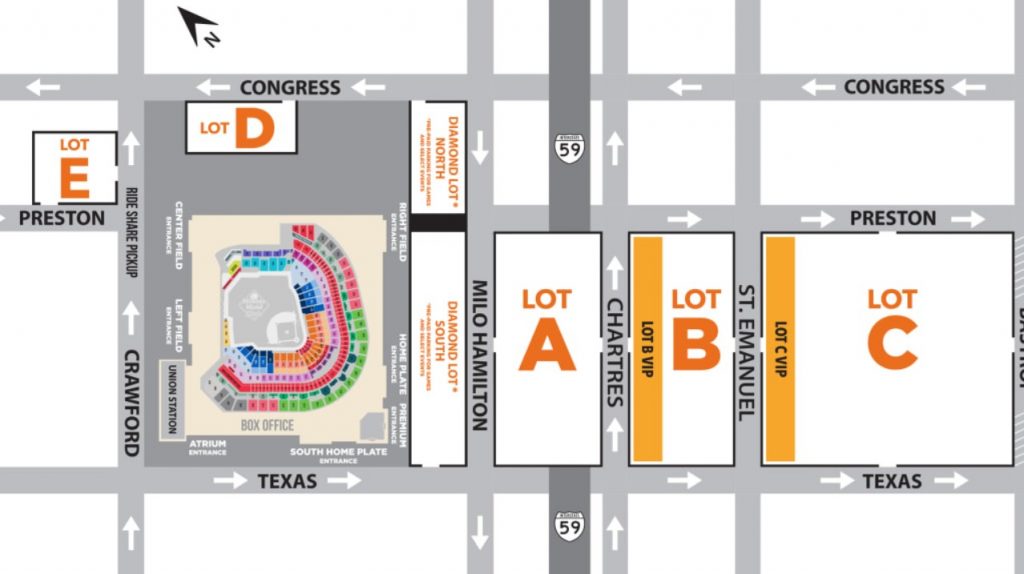 Here are all Minute Maid Park parking facilities, which are situated a short walk from the park:
Diamond Lot—the closest parking option
Lot A—right across from the South Diamond lot
Lot B—access from St. Emanuel or Charters St. >>Reserve on Vivid Seats
Lot C—access from St. Emanuel or Bastrop St.
Lot Done of the closest parking lots, access from Congress St.
Lot E—access from Preston St.
See our list below to discover Minute Maid Park parking rates for Houston Astros games. Note that prices are subject to change and vary based on the event.
| | | | |
| --- | --- | --- | --- |
| Parking Lot | Pre-Paid Rates | Day of Game | Day of Game on Weekend |
| Diamond Lot | $9 | $10 | $10 |
| Lot B | $35 | $50 | $50 |
| Lot C | $9 | $10 | $15 |
| Lot D | $9 | $10 | $15 |

Accessible Parking Availability
Limited on-street Houston Astros parking is available on a first-come, first-served basis for people with disabilities. On-site disabled parking is also available in the official Minute Maid Park parking lots— head to the Diamond Lot or Lot A. Vehicles using handicapped parking spaces have to own a disabled parking permit, license plate, or an ADA placard. Standard parking rates apply. 
Houston Astros Parking Near Minute Maid Park
Many car parking spots are available within an easy walk of Minute Maid Park. If you wish to lower your costs and don't mind a 10 to 20-minute walk to the stadium, these self-parking facilities are a decent alternative. The downtown area offers not only cheap parking structures but also valet parking and covered parking garages for Minute Maid Park visitors. Prices start at $5.
| | | | |
| --- | --- | --- | --- |
| Parking Lot/Garage | Rates | Distance | Walking Time |
| 314 La Branch Street – Garage | $5 | 0.3 miles | 5 minutes |
| 1415 Travis St. – Filly Lot | $5 | 1 mile | 20 minutes |
| 870 Clay St. (1400 Travis St.) – Church Lot | $5 | 0.9 miles | 19 minutes |
| 1515 San Jacinto St. – Athens Hotel Lot | $7 | 0.8 miles | 17 minutes |
| 916 Dallas St. – Courtyard – Valet Garage | $7 | 0.8 miles | 16 minutes |
| 111 Travis St. – Dooley Lot | $8 | 0.5 miles | 11 minutes |
| 703 Fannin St. – Star Garage | $14 | 0.4 miles | 7 minutes |
| 803 Fannin St. – Parking Garage | $15 | 0.5 miles | 10 minutes |
Tailgating at Minute Maid Park
One of the best parts of the gameday experience is pulling into a parking lot and tailgating before an MLB Houston Astros game. Unfortunately, on-site tailgating is not permitted at any Minute Maid Park parking area. You and your friends can still have a good time before or after the game by going to a nearby bar and grabbing some food or drinks. Many bars and pubs are located near the stadium. We recommend Biggio's, Home Plate Bar & Grill, and Jackson Street BBQ, great Houston downtown bars located minutes from the park.
Transportation to Minute Maid Park
The best and most affordable transportation service to the ballpark is provided by METRO; you may use either rail or buses on a game day. The Convention District Station is a several-minute walk away from Minute Maid Park, and it's served by Green and Purple Lines. Preston Station, also served by the Red Line, is six blocks to the west. You can use one of the many METRO bus lines, which have the lowest prices. Ridesharing is a great alternative to public transportation, and the rideshare pickup/drop-off location is outside the Center Field Gate. Last but not least, guests who need a quick transfer to the Houston Astros games can get a taxi cab to Minute Maid Park.
Find Parking in Houston Without Any Hassle!
The Parking Access team can assist you in finding and booking parking at multiple points of interest in Houston! Apart from Minute Maid Park parking, we will help you find cheap parking at the following locations.
If you plan on flying out of any Houston Airport, check out the following guides: