This post also contains affiliate links and we will be compensated if you make a purchase after clicking on our links.
Soldier Field Parking
Solder Field seats up to 61,500 people and is located in an urban city neighborhood. Therefore, finding an on-street parking spot without getting a parking ticket is tough during major events. Parking Access is here to grant you access to the best event parking deals for any stadium's NFL or MLS game. With our help, drivers can park their vehicles in safe, well-lit facilities and walk or take a free shuttle to the stadium. To save you time, we'll provide event rates for regular season games and the most reliable parking platforms for reservations.
Parking Options near Soldier Field
The venue is located at 1410 Museum Campus Drive, Chicago, IL 60605. Whether visiting the stadium, Shedd Aquarium, or Field Museum, you'll easily find a secure parking service in the vicinity. We listed all of them along with their charges, but note that the stadium parking prices are subject to change. Working hours are from 6 AM to 11 PM.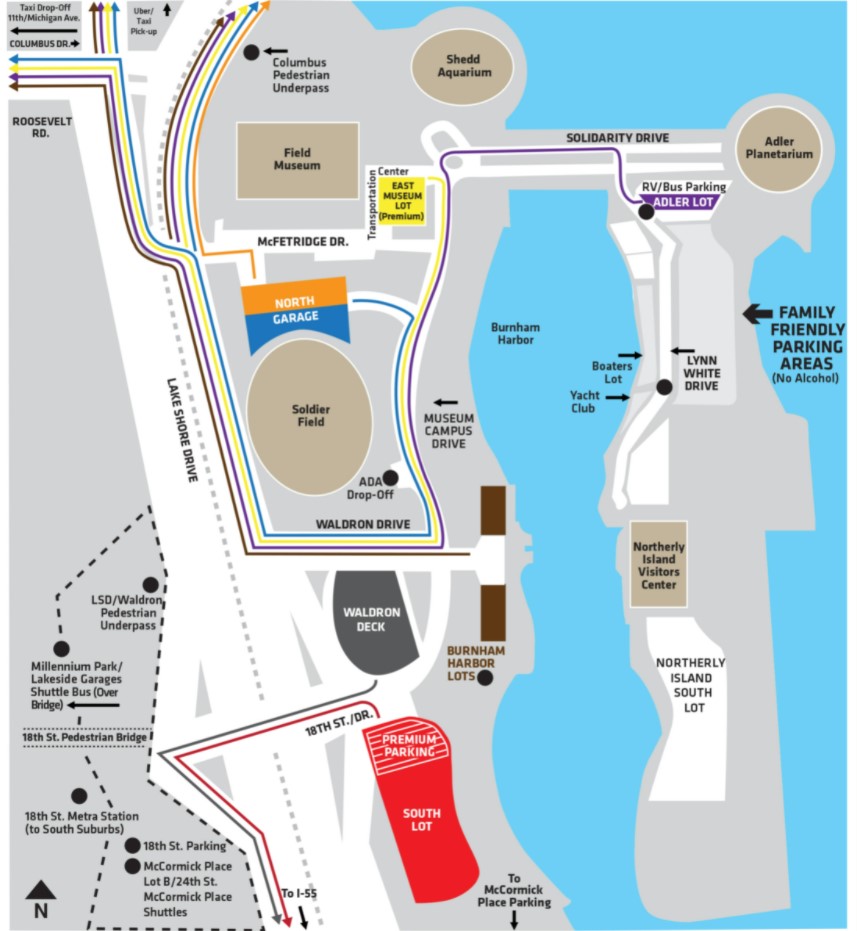 North Garage Parking
This is the best option for those visiting Children's Garden, Burnham Harbor, Gold Star Memorial Park, or Water Wall. Over 2500 underground day parking spots and two entrances are available from Museum Campus Drive and from McFetridge Drive. Here are the standard parking rates:
The cost of a Soldier Field North Garage parking pass for most sporting events, such as Chicago Fire FC games, is $40.
East Museum Parking Lot
This surface parking area offers additional parking close to the North Garage with the entrance located on Museum Campus Drive. The East Museum lot has one flat rate for up to 12 hours of parking: $30. The lot is open 9 AM to 3 PM; guests can leave after closing hours, but overnight parking is prohibited in all Museum Campus parking lots.
Waldron Parking Garage
Situated just south of Soldier Field, this double-deck garage provides 1500 parking spaces for people visiting Soldier Field or the Sledding Hill. The rate is $25 for non-major Soldier Field events but can increase significantly for significant events. >>Reserve on Vivid Seats

South Lot 
This day parking structure is south of the Waldron parking deck, and it serves events at Soldier Field, as well as McCormick Place and Burnham Harbor. The rate starts at $25 for selected Soldier Field and McCormick Place events, but it's subject to change. >>Reserve on Vivid Seats
Adler Planetarium Lot
Those visiting the Adler Planetarium or the Northerly Island's Lakefront Pavilion will find this surface car park on Lynn White Drive very convenient. The entrance is on Linn White Drive, and it's suitable for RVs, campers, and buses. The Chicago Bears parking fee for standard-sized vehicles is $50, while parking for oversized vehicles is $155.
Additional Parking Near Soldier Field
Millenium parking garages and McCormick Place lots are the most popular alternatives. While 18th Street Lot offers $60 pre-paid parking, these two options are more convenient and more affordable.
Millennium Garages
For those headed to a Chicago Bears game, we recommend the Millennium garages because of their convenient location with a free shuttle that picks up at lower Randolph. Check out the parking prices for all Bears football games.
On the day of the game:

$38

Online, pre-paid rate:

$20-$31

Season Pass:

$316.50
McCormick Place Lots
Two McCormick parking areas offer game-day cash parking: 31st Street McCormick Place Lot B and Lakeside Garage Lot C. The first one provides shuttle services, while the second lot doesn't. Chicago Bears parking rates vary from $35 to $40 on the day of the game, while pre-paid parking at Lot B is $50. Lot B also allows tailgating. Check out our full guide to McCormick Place Parking for additional info.

Accessible Parking at Soldier Field
ADA parking stalls are available in each Soldier Field car park. If you don't have a pre-paid parking coupon for Chicago Bears parking, head to the McCormick Place Lot B or any Millennium Park garage. They are serviced by free ADA shuttles that make stops at Soldier Field Gate 14. Standard parking rates apply for Soldier Field handicap parking.
Tailgating at Soldier Field
Pulling into a Soldier Field parking lot before a Bears game on a beautiful morning is an amazing part of the gameday experience. All outdoor lots allow tailgating, including the Adler Planetarium Lot, Southwest Parking Facilities, and the upper level of the Waldron Deck. Note that alcohol consumption isn't allowed in the Family Friendly lots. It can be quite crowded, so if you don't have a parking pass, you should get there as early as possible.

Find Parking in Chicago Without Any Hassle!
In addition to Soldier Field parking, we can assist you in getting budget-friendly Chicago monthly parking or comparing rates at the most popular locations throughout the city, including the following.
We can also help you find and reserve a discounted parking spot at or near any city airport.