Last Updated on December 31, 2020 by Greg
Find and Pre-Book a cheap Soldier Field parking spot.
Compare reviews and features with top nearby parking companies.
Chicago's Soldier Field hosts thrilling sporting events, as well as concerts and banquets, throughout the entire year providing numerous options to its visitors, such as the Field Museum, Adler Planetarium, Shedd Aquarium, and of course the Chicago Bears.
Soldier Field's colonnades are accessible to the general public every day as well. You can take a walk, have lunch, or simply enjoy the view of the city. Additionally, there is a beautiful 17-acre parkland where you can go for a run or throw a birthday party; you have so many options. If you plan on visiting the stadium, you can check out the calendar of their events here.
Finding a safe parking space without getting a Chicago parking ticket is not always easy, but that won't be an issue if you find out more about the official and street parking garages and lots. Call Customer Service at 312-235-7724 or take a look at the Chicago Bears parking services below.
Soldier Field Parking Map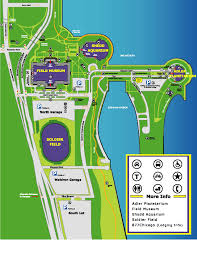 Soldier Field Parking
The venue is located at 1410 Museum Campus Drive, Chicago, IL 60605. It offers many parking options and countless event parking spaces for its guests. Whether visiting Soldier Field, the Lakefront Pavilion, or the Museum Campus, you will easily find a secure parking service nearby. Note that the stadium parking prices are subject to change on event days, and working hours are from 6 AM to 11 PM.
The North Garage
This is the best option for those visiting Children's Garden, Burnham Harbor, Gold Star Memorial Park, or Water Wall. Over 2500 underground day parking spots and two entrances are available from Museum Campus Drive and from McFetridge Drive. The regular event day rates are as follows:
$20 – up to 4 hours
$25 – 4 to 12 hours
$45 – 12 to 24 hours
Overnight parking is also an option but only if pre-booked online; check out the rates below:
$25 – up to 12 hours
$45 – over 12 hours
The East Museum
This surface parking area offers additional parking close to the North Garage with the entrance located on Museum Campus Drive as well. The East Museum has one flat rate for up to 12 hours of parking – $25. The rate for Soldier Field overnight parking is the same.
The Waldron Parking Garage
Situated just south of Soldier Field, this double-deck garage provides 1500 parking spaces for people visiting Soldier Field or the Sledding Hill. The rate is $22 but only for non-major Soldier Field events. In the case of major events, the rates will be slightly higher.
The South Lot
This day parking structure is south of the Waldron parking deck, and it serves events at Soldier Field, as well as McCormick Place and Burnham Harbor. The rate is the same as in the Waldron garage – $22 – but it also applies only for non-major Soldier Field and McCormick Place events.
The Adler Planetarium Lot
Those visiting the Adler Planetarium or the Northerly Island's Lakefront Pavilion will find this surface car park on Lynn White Drive very convenient. Take a look at the standard parking rates on non-event days:
$11 – Early Bird Special (for those who park before 9:30 AM);
$13 – Night Rate (after 4 PM);
$20 – Day Rate (between 9:30 AM and 4 PM);
$25 – Overnight Parking Rate.
The Adler Lot also offers suitable parking for buses and campers. The standard bus/RV rates for the stadium visitors are as follows:
$25 – Early Bird special (for those who park before 9:30 AM);
$29 – Night Rate (after 4 PM);
$35 – Day Rate (9:30 AM to 4 PM).
Millennium Garages
For those headed to a Chicago Bears game, we recommend the Millennium garages because of their convenient location with a free shuttle that picks up at lower Randolph and runs 3 hours prior to each game and hours after the last whistle. Soldier Field shuttles run every 20 minutes.
Tailgating at Soldier Field
Pulling into a parking lot before a Bears game on a beautiful morning is an amazing part of the gameday experience. You can tailgate four hours before the game and two hours after it ends (not during the game). Apart from parking tickets, please be sure to have a ticket for the game if you want to tailgate.
Most of the outdoor parking lots around Soldier Field allow tailgating:
all surface lots in the Museum Campus;
the Waldron deck's upper level;
Lot B of the 31st Street McCormick Place.
It can be quite crowded, so if you don't have a parking pass, you should get there before 7 AM for a noon game to find parking. Lots open at 8 AM, and every cash parking spot will almost certainly be gone by 8:30 AM. A limited number of cash parking spaces is available at the Alder Planetarium and Burnham Harbor for $50.
For more information and updates, click here.
Handicap Parking at Soldier Field
Numerous parking spaces for people with disabilities are available in each Soldier Field car park. There is also additional parking in the East Museum lot available between 8 AM and 3 PM.
Additional Information
Pre-book your Soldier Field parking spot online, and don't worry about getting limited parking on the event day. If coming for some major event, check out the general parking prices first by calling Soldier Field Parking Customer Service at 312-235-7724.
If searching for a street or driving directions, look at the Soldier Field Parking map.
For more information on Chicago Bears Parking, please click here.
We hope you answered all your Soldier Field questions! ParkingAccess is dedicated to providing the cheapest and most convenient online airport parking options (including Chicago Midway and Chicago O'Hare).