Placed between the Midtown and Virginia Highland neighborhoods, Piedmont Park is accessible from any point. It's only a mile away from downtown Atlanta, and the parking process is as painless as getting to the park. However, if you're not familiar with the area, you'll find our guide extremely useful and learn some hot tips. Keep reading to learn about Piedmont Park parking, short-term rates, handicap parking availability, and low-cost alternatives.
Where To Park at Piedmont Park
The park and the botanical garden share the SAGE Parking Facility, situated next to the Piedmont Park Conservancy Offices. You can use the Piedmont Avenue (Atlanta Botanical Garden) entrance or park on the first three levels via Monroe Drive. The Piedmont Park parking deck hours are 6 AM to 11 PM, and access to the park is available on the lowest floor. Note that overnight parking is prohibited.
If you're a first-time visitor, use the following address: 1320 Monroe Drive, Atlanta, GA 30306.
How Much Is Parking at Piedmont Park?
The first half an hour in the Piedmont Park parking garage are free of charge, after which you pay the following prices:
| | |
| --- | --- |
| Duration | Parking Fee |
| Up to 1 hour | $2 |
| Every additional 30 minutes | $1 |
| Maximum daily parking | $15 |
Multi-visit parking passes are available for frequent guests of the Atlanta Botanical Garden and Piedmont Park. You can purchase one in the Garden Gift Shop, and the cost for five uses is $20. Note that owning a pass doesn't guarantee a car parking space, so we recommend early arrival.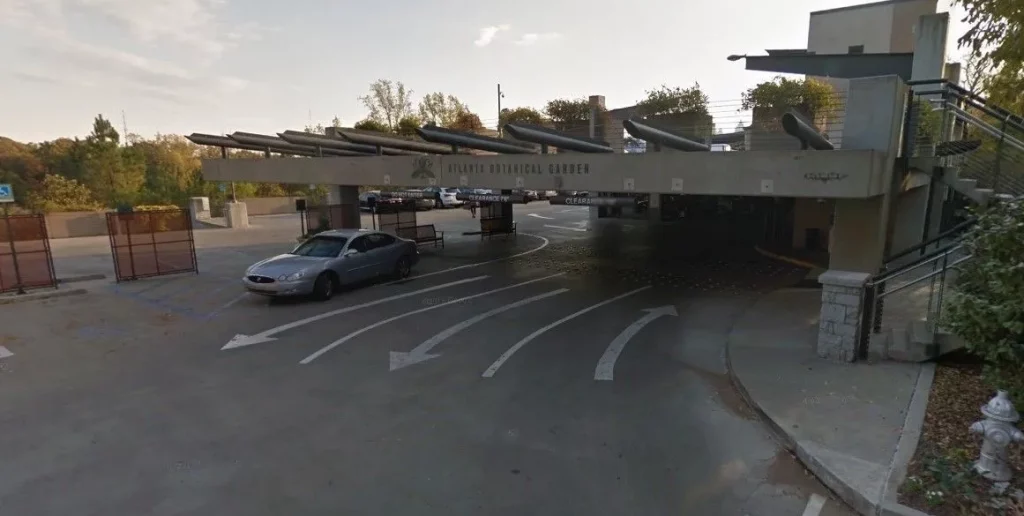 Accessible Parking 
The Botanical Garden & Piedmont Park parking deck offers a limited number of ADA parking spots, obtainable on a first-come, first-served basis. Each visitor occupying these stalls has to own and present a valid disabled parking placard. Standard parking rates apply.
Additional Parking Near Piedmont Park, Atlanta
Additional short-term parking for Piedmont Park visitors is available in the Park Tavern, placed at the park's entrance. The outdoor parking lot is adjacent to the restaurant. It charges the following rates:
| | |
| --- | --- |
| Monday – Thursday | $3 |
| Friday – Sunday | $5 |
| During Piedmont Park Events | $10–$20 |
If you happen to come across an available street parking space in the area, feel free to use it. However, you should pay attention to the signs and read them carefully to avoid pricey Atlanta parking tickets.
Using Public Transportation in Atlanta
Public transit is a great alternative to driving and parking, especially in big cities with extensive transportation networks. The best option for Atlanta residents and tourists is the MARTA, a reliable and punctual rapid transit system. Two rapid transit stations are located in the area—Midtown and Arts Center—but the walk to the park takes 15 to 20 minutes. However, bus #27 drops passengers off at the main entrance on Piedmont Avenue. The standard one-way fare is $2.50. Call 404-848-5000 for more information or use MARTA's website to plan your trip.
FAQs
How much does it cost to get into Piedmont Park?
Entry to the park is free. During summer, the pool admission rate is $5.
How much is parking at Piedmont Park?
The rate is $1 per 30 minutes, while the maximum daily cost in the Piedmont Park parking deck is $15.
Is there free parking at Piedmont Park?
The Atlanta Botanical Garden garage offers 30 minutes of complimentary parking.
Find Parking in Atlanta Easily With Parking Access
Our international team has been helping drivers find cheap and convenient parking for years! We've covered countless locations in the country, including city attractions and venues in the capital of Georgia. In addition to Piedmont Park parking in Midtown Atlanta, our guides will help all the city residents and visitors learn more about:
Also, if you plan on flying out of ATL, use our safe booking system to reserve Atlanta Airport Parking or discover the on-site parking fees, the best off-site lots with airport shuttles, hotel deals, and more!