This post also contains affiliate links and we will be compensated if you make a purchase after clicking on our links.
Opened in 2019, Dickies Arena is a multi-purpose venue designed for events of all kinds, including sports and entertainment. It's located in the Cultural District of Fort Worth, inside the Will Rogers Memorial complex. To learn more about Dickies Arena parking services, keep reading our in-depth guide; it includes all the on-site options, pricing, nearby alternatives, and money-saving tips!
If coming from Dallas, East Fort Worth, or West Fort Worth, use the following address for directions: Dickies Arena, 1911 Montgomery St, Fort Worth, TX 76107.
Dickies Arena Parking in a Nutshell
If searching for convenient parking, Dickies Arena guests have a few close-in options. Depending on your budget, tickets, or vehicle, choose one of the following:
Chevrolet Garage

offers reserved parking for premium seat holders and limited covered parking spaces for the general public. The garage has 2,200 spots and is placed at 3464 Trail Drive, near the south entrance.

Yellow Lots

include several outdoor parking areas marked as Lot A, B, C, and D. Being right across from Dickies Arena, these car parking lots are easily accessible.

RV Parking

for oversized vehicles is obtainable in Yellow Lot D, which is in the southernmost part of Yellow Lots. The entry point is situated towards the Trail Drive and Montgomery Street intersection.

Montgomery Lot and South Lot

also provide general parking spots for selected Dickies Arena events.
The map below shows the locations of all lots; use it to find your way around the area.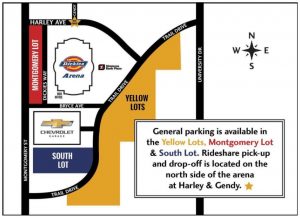 How Much Is Parking at Dickies Arena?
The Dickies Arena parking cost varies from $10 to $20 based on the event. You can pay on the spot using cash or credit card or reserve parking through Vivid Seats ahead of time. An advanced reservation would be a smart move, especially if going to a major event, and it can be cost-effective.

Accessible Parking
All parking structures, including the Dickies Arena parking garage, offer ADA spots for any guest with a valid disabled parking placard. Any Yellow Lot is a perfect choice, and visitors can then use the elevator to get to the Simmons Bank Plaza. Since parking is obtainable on a first-come, first-served basis, we suggest early arrival. Dickies Arena parking prices vary in conjunction with upcoming events.
Additional Parking Near Dickies Arena
If you wish to lower the costs, we have a few suggestions; our team looked into off-site lots in the area and discovered the most popular ones!
One of the visitors' favorite spots is the Farrington Field parking lot, which offers free parking. It's placed on the corner of West Lancaster Avenue and Trail Drive, so the stroll to Dickies Arena can take up to 20 minutes.
Some visitors also park at the Health Science Center; it's the best choice for weekend events or if you arrive after 5 PM on weekdays. You may also park in the West 7th Garage, but you'll need to have your parking ticket validated to obtain a free spot. The process can be time-consuming, so we suggest this option only if other lots are full.
Public Transportation in Fort Worth
If you live in the area, public transit is an excellent alternative to driving, but you can also park in another part of the city and then hop on a bus to the venue. The Dash, an electric bus service, runs through downtown Fort Worth and the Cultural District. A couple of bus stops are available within a short walking distance of Dickies Arena.
If you opt for ride-share services like Uber or Lyft, your driver will drop you off at the west entrance. After the event, you may request a ride from Harley Avenue, so be sure to wait for it on the north side of the building.
Find Parking in the Dallas–Fort Worth Metroplex Easily
The Parking Access team has created countless guides for drivers searching for safe and low-cost parking nationwide! If you live in the Dallas–Fort Worth metroplex, we can help you learn more about short-term parking near other venues or city attractions. Aside from Disckies Arena parking information, we offer guides to:
If you're planning a trip and flying out of DFW or DAL, use one of our in-depth guides to find the most affordable spot:
Click on any link to discover all on-site and off-site parking services and some money-saving tips!