This post also contains affiliate links and we will be compensated if you make a purchase after clicking on our links.
Located inside Fair Park, the Cotton Bowl hosts plenty of sports games and concerts a short drive away from downtown Dallas. It was home to the Cotton Bowl Classic before the game moved to AT&T Stadium, but it still organizes the Red River Showdown. If you plan to drive to the venue, read our guide to locate the best Cotton Bowl parking options in no time. You'll also find an amazing app for booking official spaces. Avoid street parking and expensive Dallas parking tickets during events; use all the info and top tips to have a stress-free event day.
The stadium's location is 3750 The Midway, Dallas, TX 75215.
Cotton Bowl Parking Passes
It's inside Fair Park, which provides a wide range of event parking lots near the Cotton Bowl. The entire complex, along with the lots directly outside of it, offers more than 14,000 car parking spots. Parking for oversized vehicles is unavailable, while bike racks are placed at the Dos Equis Pavilion and a couple of other locations. >>>Reserve on Vivid Seats.
The following map shows the location of each Fair Park parking area inside the complex.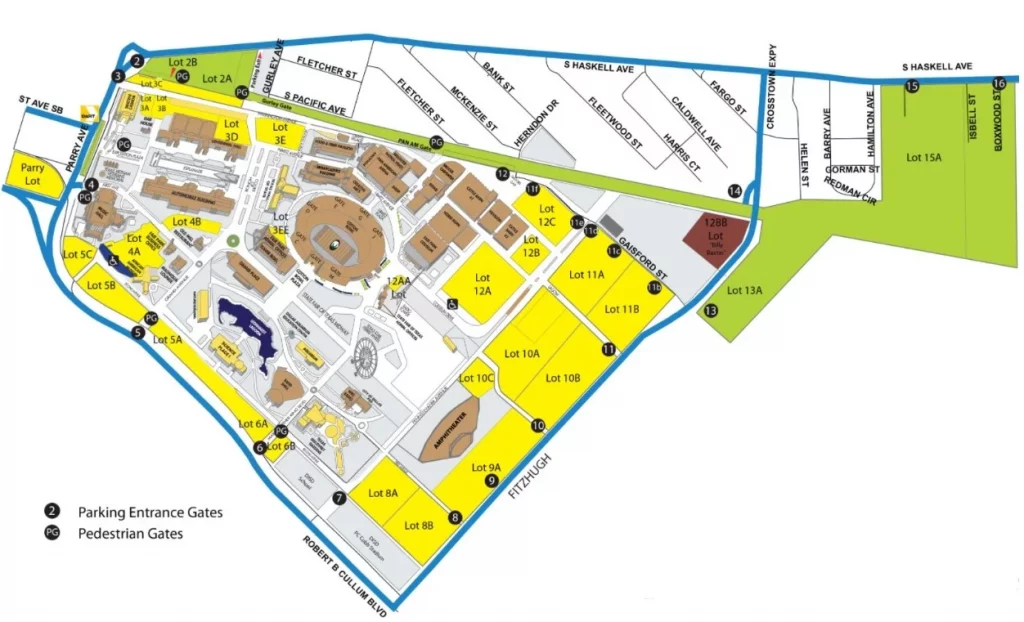 On non-game days, short-term parking at Fair Park and around the stadium is free of charge. Event parking prices range from approximately $10 to $50, and visitors spend around $20 on average. To discover the exact parking cost, visit the event page or the ticket office a few days in advance.

To avoid any hassle and have a guaranteed space near the venue, purchase a Cotton Bowl parking pass and arrive early. Reserve parking ahead of time through platforms like Vivid Seats to get the best deal!

ADA Parking Availability
Accessible parking at the Cotton Bowl Stadium is available on a first-come, first-served basis. These spots are placed at multiple lots throughout Fair Park. To find a suitable one, notify one of the parking attendants, and they'll direct you to the closest area. In addition to the Cotton Bowl Stadium parking pass, you need a valid disabled parking permit or placard.
Event Parking Near the Stadium
Multiple privately-owned parking structures are adjacent to Fair Park and offer safe parking services for around $10. For additional information or pricing inquiries, call (214) 670-8400.
A great alternative to official parking is downtown parking. Many downtown lots have competitive rates that apply on any game day, and the prices start at $4. These parking areas aren't within easy walking distance, but you can use the DART service to get to the stadium quickly and affordably. Learn more about public transit in the following section.
Public Transportation in Dallas
Using the city's light rail is the best way to avoid traffic jams and all the parking hassle, and this is the most popular option among Dallas residents.
The closest stop is Fair Park Station, which is a short walk from the Cotton Bowl and serves the Green Line. This line runs between the North Carrollton/Frankford Station and Buckner Station and passes through the downtown area. A single-ride fare is $2.50, but you can also get a daily pass for $6.00.
Tailgating at the Cotton Bowl Stadium
Tailgating activities are usually allowed at multiple lots in the vicinity, but you should check that before the event. Aside from tailgating, sports fans can have fun in a nearby bar or restaurant! If you wish to grab a bite before an event, we suggest the Pizza Lounge, while the following bars are ideal for those who want to have a drink before or after the game:
All properties are within easy walking distance of the venue.
Find Parking in the DFW Area Easily
Parking Access covers a broad range of venues and attractions across the country, including the Dallas–Fort Worth Metroplex. Aside from Cotton Bowl parking passes, Dallas residents and visitors can use our help to find parking tickets at the following locations.
Plan on flying out of the city? Don't hesitate to look us up and reserve DFW Parking or Dallas Love Field Parking. Use the booking form to quickly discover all the options and book in advance to save up to 50%!